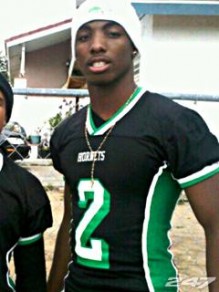 One of Chip Kelly's underappreciated qualities is his ability to get the most out of his players and maximize their potential. This has been evident throughout his whole tenure at the University of Oregon. Look at what he did with former QB Daryle Hawkins, or DB Kenjon Barner, or TE Dion Jordan (now a 1st round NFL prospect at DE). Needless to say, in Chip we trust.
With this notion, it will be very interesting to see what he does with our newest Duck Tyree Robinson. This 6'4″, 190 lb., 4-star athlete from San Diego committed to Oregon earlier this fall (along with his twin brother Tyrell Robinson) after visiting Autzen for the game against Arizona.
Back in San Diego, Tyree just capped off his high school career at Lincoln with a Division 3 San Diego Sectional title. His stats on the year, excluding playoffs, were 17 rec, 319 yds, and 8 TDs. On the defensive side of the ball, he had 60 tackles, 10 Pass def, 4 INTs, and 2 defensive TDs.
Check out Tyree's highlight tape from 2011:

Throughout a very successful 2012 season, he saw himself become much more known in the college football landscape and, in turn, shot up the recruiting rankings – transitioning from as low as a 2-star receiver into a 4-star athlete. More and more offers came after flawless performances at summer skill camps, but Robinson stuck with the Ducks (one of his first offers) through it all.
Tyree Robinson sat down with Duck Territory earlier this year to discuss his recruiting process:
---
What kind of contact have you had with Oregon since the recruiting process started for you?
"Well I talk to coach 'P' (Don Pellum), he's the one who's recruiting me. I talk to him on a daily basis. He's been sending me messages on Facebook and everything. I'm supposed to give him a call later on today, but he's always contacting me and he's been recruiting me and has came down to see me a couple times, so he's the one that's trying to get me and my brother (Tyrell Robinson)."
With coach Pellum recruiting you, does that mean he prefers you at linebacker?
"They (Oregon) like my brother at outside linebacker, I'm more of an athlete. It doesn't matter what side of the ball, wherever you need me to play at…but they're recruiting me as an athlete. Coach (John) Neal would like me to play cornerback or most likely safety."
Is offense an option for you as well when it comes to Oregon?
"As of right now, I'm not sure. I mean, I would like to play defense more, but offense has come really natural to me because it's easier for me just to catch the ball with me being bigger than most corners and everything. My speed and my athletic ability just makes me more effective on offense."
How would you describe yourself as a player?
"I'm a physical guy. Growing up, I've been playing basketball and I was very physical playing defense. I'm a defensive player first. You can line me up at corner, I've got good size — 6'4″, 210 lbs. — and I can jam receivers. At receiver, I can get off the line, I can make big plays, I can catch the ball in traffic, and I just pretty much do as much as I can. There's a lot of things I still need to work on — I'm not a perfect player — but I'm always willing to work hard."
Is there a player at the collegiate or professional level that you try to pattern your game after?
"Not really. My uncle is David Dunn and he played the league and is my head coach. His friend is Darnay Scott and they played together in the league, so they've been there, done that. They just try to make me a better player than I am. They make sure I get better at my footwork and my explosion and just being physical. They told me that the next level is going to be really difficult and they're just trying to get me there."
Basketball is something that you and your brother plan on playing at the collegiate level. Have you had conversations with Oregon basketball coach Dana Altman and his staff?
"Well I've called coach 'Stub' (Tony Stubblefield) and I talk to Altman a lot. They like me and my brother a lot just because we get after it on defense. Like I said, we're very physical, but he tells me I'm a great shooter and that I can knock down shots — the long ball and wide open jump shots — and he knows that I can bring something special to the program. Last summer, I played in the backcourt with Dominic Artis and so we got a lot of playing time. They like what they've seen with me and my brother and what we bring to the team, so I'm highly interested in them."
Have you given any thought as to what you might want to study in college?
"Well I'm thinking about majoring in business and communications, just cause I like talking and everything and I love the spotlight."
---
So what kind of player is he? And what exactly can he do for Oregon?
A guy like Tyree Robinson is the kind of player who can be plugged in just about anywhere on the football field. Line him up at receiver, stick him in at corner or safety, try him out at an outside linebacker or rover position, or let him return some kicks. Heck, even let him punt the ball! The kid can do it all.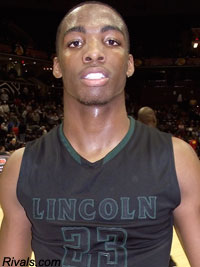 He is definitely best fit at receiver or safety, there's no doubting that. At this point it's up to the coaching staff to once again put him in the best spot to maximize his potential.
At wide receiver, Robinson would be a nice change of pace as a tall, more possession type of receiver like former Duck Lavasier Tuinei. Don't second-guess his speed, but his taller frame does make him a bit slower than a Josh Huff, Keanon Lowe, or Bralon Addison. He does, however, have tremendous jumping ability along with great hands, giving him the ability to catch the ball in traffic very well.
At safety, well, he would be something very different than what Duck fans would be used to. We've recently seen more of physical blitzing safety in John Boyett who has disrupted any teams' shot at a run offense. But at a very tall 6'4″, Robinson is definitely best at pass coverage who, with his speed, can cover a large portion of the field. One thing is for sure: no receiver or ball carrier can beat this guy deep.
Tyree Robinson, alongside his brother, will be playing some basketball for the Ducks as well. Believe it or not, during his sophomore and junior years in high school basketball was actually his main sport. Robinson is a tremendous offensive talent. He is a pure scorer who can beat defenders from anywhere on the court. He played point guard and shooting guard in high school. And as for defense, his great length backed up by speed make him a defensive threat on the shorter 1 and 2 guards
Here's his hoops mixtape from 2011:

It will be very interesting to see how Chip Kelly (and Dana Altman) will use Tyree Robinson in the years to come. Nobody can ever guarantee success as one transitions from the high school to collegiate level of football, but this unique blend of speed and size in Tyree Robinson is something to take note of and get excited about.
The Robinson brothers will soon take Eugene by storm.
Be sure to check out Tyree Robinson's full recruit page on DuckTerritory.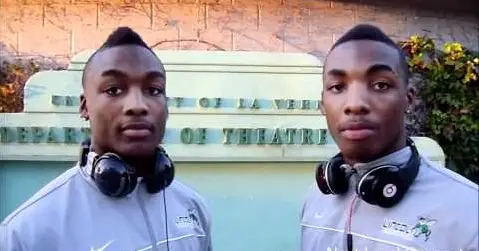 Joe Packer is a sophomore at the University of Oregon, majoring in Journalism. A Portland, Oregon native, he has been an avid Duck fan his whole life, attending his first of countless Duck football games at the age of 2. He played Lacrosse in high school, and today enjoys shooting hoops and a round of golf just about every day. As a player, referee, and youth sports coach, Joe looks to share his diverse perspective on the world of sports. He welcomes your feedback. Follow him on twitter: @JoePa_
Articles EVERY DAY Again on FishDuck!
Our focus is now on this wonderful Oregon Sports Community, and we will have at least a short article every day to begin the Duck Discussion.
You are also welcome to post other current events or items about Our Beloved Ducks in the comments as well.
Our 32 rules can be summarized to this: 1) be polite and respectful, 2) keep it clean, and 3) no reference of any kind to politics. Easy-peasy!
Take note though, there are NO STRIKES, NO WARNINGS, and NO SLACK given. Violate the rules and you are gone, as this is what the 99% who post superb comments want. (The Ban could be for weeks, months or permanent)
FishDuck members….we got your back. No Trolls Allowed!