Just kidding. But this is the next best thing.
The Oregon Ducks have created quite the reputation for themselves over the years at running back. If you think about it, the last four (hopefully five in Kenjon) starting running backs have made it to the NFL (Jonathan Stewart, Jeremiah Johnson, LeGarrette Blount, and LaMichael James). That reputation will certainly be upheld with the commitment of 4-star running back Dontre Wilson (5'10", 180 lbs). He comes from DeSoto High School and is one of the top recruits in all of Texas, the mecca of high school football.
Dontre committed to Oregon in May 2012, at his high school's spring football game.  Since then, it has been all Ducks for him, despite what the recruiting world has been publishing recently about him taking visits elsewhere.
"I'm fully committed to Oregon," Wilson says. "There have been a number of schools by to check on me but I'm not going anywhere. I'm not taking any other visits or looking around anywhere."
But what about all the Chip Kelly NFL buzz?
"I'm not worried about that either," he said. "As long as coach (Gary Campbell) Cam is there I'm going to sign with Oregon. Coach Cam has been to several of my games and to check on me. We are incredibly close and I'm happy to be playing for him at Oregon."
Hey, sounds good to me. Wilson even asked for an Oregon Fiesta Bowl victory for his birthday, which also lies on January 3rd.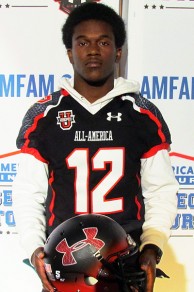 In a career free of serious injury at DeSoto, Dontre put up some staggering numbers as the marquee guy for his team. He broke many of his high school's records and earned countless district honors as he accumulated almost 3300 rushing yards, 1300 receiving yards, and 81 total touchdowns. These numbers may not be as jaw dropping as those from Thomas Tyner, but are extremely impressive nonetheless. This is especially true when you consider his tremendous competition in the dog-eat-dog world of Texas high school football.
Wilson was recently featured in Sports Illustrated "Faces In The Crowd" section, where amateur athletes are showcased in the national spotlight for their recent performance. This is what they had to say:
"Dontre, a 5-10, 180-pound senior running back at DeSoto High, had 19 carries for 120 yards and scored all three TDs in the Eagles' 24-6 victory over Arlington Bowie to advance to the Class 5A state quarterfinals. With 80 career touchdowns through Sunday, he broke the school record, previously held by Cyrus Gray, now of the Kansas City Chiefs. Dontre, who will play in the Under Armour All-America game in January, was named district MVP. He is verbally committed to Oregon."
Here are some of his Junior year highlights:
Duck fans, be sure to tune into ESPN to watch Dontre Wilson compete in the Under Armor All-American Bowl on Friday, Jan 4th at 2pm.
So what kind of player is he? And what exactly can he do for Oregon?
Well, unless he out performs the Duck greats ahead of him like De'Anthony Thomas, Byron Marshall, or Thomas Tyner on the practice field, he may not have an immediate impact despite what his talents could provide our Ducks next fall. He may play a bit of a waiting game for the starting role, but his blazing speed makes him very accessible, especially in a Chip Kelly offense.
Let's look at what happened during last year's log jam of talent of the running back position. LaMichael and Kenjon had everything under control at RB, so, the Ducks threw in De'Anthony at slot receiver and special teams returner. The result of this decision? Well, outstanding. "DAT" became the Oregon's secret weapon and instant highlight reel that left ESPN cameramen dazed and confused. Dontre would fit in very well at that position. He plays a very low, shifty, and quick game when carrying the ball and catches the ball as well as most receivers.
If you find yourself doubting his speed, just know that he runs "a true 4.4" 40 yard dash and has recorded faster track times than De'Anthony in official USATF 100m races.
Now at running back (and according to his high-school tape) this kid can be compared to LaMichael James. Same size, same speed, same state, same everything. It's simply unfair to measure this high school senior to the all-time great, fan-favorite, Autzen legend that is LaMike considering all he did for Oregon football as a team, brand, etc, but many signs show that he could have similar stat line production down the road.
This hypothesis is backed by Dontre's phenomenal breakaway speed and foot quickness, but also his knack to run between the tackles and work ethic. "We worked out more this year and that made a big difference. I was also a better leader for my team and tried to carry them when I had to. I did a much better job of hitting my holes this year and going North-South more than just using my speed on sweeps and stretch plays." His head is certainly in the right place.
Here is Dontre Wilson in Beaverton, Oregon at the Nike World Campus after their recruiting skills showcase, The Opening.
It's great to think someone as highly touted as Dontre Wilson is taking a bit of a backseat in the Oregon recruiting spotlight due to the buzz around Thomas Tyner. However, these two studs will soon share the spotlight and become Oregon's newest 1-2 punch leaving defenses, coaches, and analysts in awe.
Duck fans, you officially have NOTHING to worry about at the running back position. The future is bright.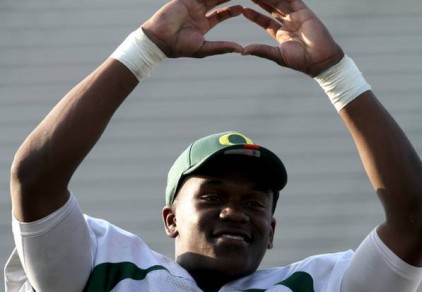 Be sure to check out Dontre Wilson's full recruiting page at DuckTerritory


Want to Watch Oregon Games on your computer?
If you do not get all the channels that have the Oregon Football games, or simply want to be able to watch the game over again as you don't have the space in the DVR to hold all the games?
Contact me by email: charles@fishduck.com and I can help.  We have fans across the nation and internationally watching the games 24/7/365 and I wish that for everyone.  Charles Fischer