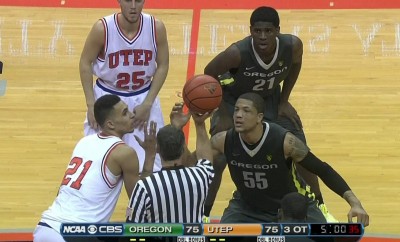 EL PASO — The Ducks battled back to take the lead in the second half of their game at UTEP Wednesday night, but failed to get key defensive stops down the stretch and missed chance after chance at the free throw line at the end of regulation and in overtime, in dropping a winnable game on the road Wednesday night, 91-84, in three overtimes.
While noting the missed opportunities at the line, Coach Dana Altman also bemoaned the lack of offensive execution for Oregon. He said, "We didn't hit free throws in a close game, we didn't get stops when we needed (them), and we didn't execute our offense."
Konner Tucker only hit one shot for the Miners from the field for the game, but it was a big one. After a near steal on a hectic scramble for a loose ball that Oregon almost got with under 20 seconds to play, the ball came to Tucker, and the guard knocked down a three-pointer to put UTEP up by five points, 89-84. After an Oregon miss, Tucker was fouled and he hit his two free throws for the final margin. Tucker finished a perfect 9 for 9 from the line.
In a game that saw 17 ties and 16 lead changes, the end was a huge disappointment for the Ducks, who dropped to 9-2 with the loss after flirting with Top-25 status again this week. Oregon put themselves in a difficult position with sluggish and tentative play early on.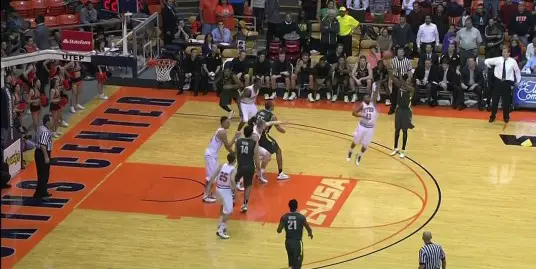 ---
 "Our guys should've known when these guys (UTEP) lost by a shot at the buzzer to UNLV on Monday that we would have our hands full."
---
UTEP (4-5) went on a 9-0 run in the first half to break open a close game before taking a 33-26 lead into intermission. It was a poorly executed half for Oregon as the Duck shooting woes followed the team to Texas. Poor shot selection helped the team shoot just 28.6% in the half. Oregon often took quick, ill-advised outside jump shots, and if not for keeping plays alive with offensive rebounds, the Ducks would have been trailing by more.
Altman said, "We stood around and didn't execute.  Bad turnovers. Bad shots. It's two games in a row we didn't move the ball."
The Ducks also appeared confused on offense, especially in the first half. UTEP Coach Tim Floyd had the Miners playing a box-and-one and a triangle-and two at various times throughout the game, and was very successful with the gimmick defenses.
Floyd singled out E.J. Singler to be the recipient of constant face-guarding and ball denial. The senior finished with two points. The gamble Floyd took was leaving other Ducks open. But Oregon's lack of any consistent shooting, especially early in the game, allowed the defenses to be effective.
The Ducks shot only 2 of 12 from beyond the arc in the first half and finished 8 of 28 for the game. With the extra periods, the Ducks managed 81 shots for the game, hitting 31, for 38.3% from the field. UTEP shot 49% for the game from the field, on 21 of 59 attempts.
From the free throw line, the Ducks could only manage 14 of 27 attempts for 51.9%, certainly the most critical statistic in the Duck loss.  The Miners were 30 of 41 from the line.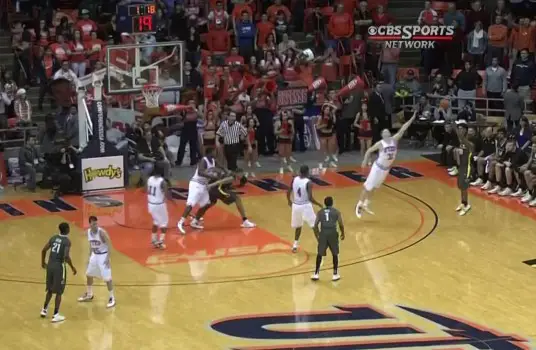 In the second half, Damyean Dotson showed up to spark Oregon's comeback. The smooth-shooting freshman finished with 20 points, after only scoring four in the opening period. But after his streak brought Oregon back, the Miners promptly gave Dotson the same treatment Singler had been getting on offense. Dotson rarely touched the ball again in the half court offense.
UTEP's Julian Washburn had a big offensive night for the Miners, finishing with 23 points. He led five Miners scoring in double figures. Washburn played 54 of 55 possible minutes in the 3-overtime game.
The Ducks have been dominating most teams they've played in the paint.
But after blitzing Nebraska last week 40-12 inside, the Ducks gave up 40 points to UTEP while scoring only 32 themselves. Most of UTEP's inside production came from John Bohannon's 21 points and Cedrick Lang's 14. The Miner transition offense also hurt the Ducks and UTEP scored 12 offensive second-chance points.
Oregon did manage to outrebound UTEP 49-44 for the game, with 24 offensive boards. Once again, Arsalan Kazemi was a workhorse for the Ducks as he grabbed 16 caroms. The first Iranian to ever play Division-I basketball in the US has an uncanny sense of anticipation and quick-jumping ability and he attacks the boards on every play, every shot.
Kazemi had another double-double for Oregon, scoring 13 points, to go along with his 16 rebounds. He was 3 of 6 from the field but managed only 7 of 15 free throws for the game. It was a physically exhausting game and Kazemi played a team-leading 49 minutes in the extended contest. He was fouled and went down awkwardly after a rebound late in the third overtime and was unable to continue.
Three other Ducks scored in double figures besides Dotson and Kazemi. Tony Woods added ten points on 4 of 6 from the field, and 2 of 5 from the free throw line. Freshman Dominic Artis scored 15 points on 6 of 23 field goal attempts, and added six assists in 45 minutes of playing time. Carlos Emory came off the bench to play 45 minutes and score 18 points on 7 of 21 field goal attempts. He also grabbed six rebounds.
Altman said, "It's hard to take right now. Hopefully, we'll be able to learn from it and get better.  We had opportunities to win the game but we couldn't get stops and we had bad ball movement."
Oregon has two more non-conference games before the first Pac-12 game on January 6 at OSU. The Ducks come home to play Houston Baptist this Saturday afternoon. The team then takes a short break for the holidays before a final home game with Nevada on New Year's Eve that finishes the 2012 portion of the season schedule.
Luke Roth (Basketball Analyst) is a retired teacher and coach who has lived in Eugene since 1977. He coached high school basketball for 34 years, including 26 years as Sheldon HS girls varsity basketball coach (1984-2010). Luke taught at Sheldon for 30 years, and in the International HS at South and Sheldon, for 20 years. He taught journalism and advised the school newspaper at Sheldon during his stint there. He is a long-time Duck fan and UO alum (MA 1985). Luke has been married to his wife Catherine for 36 years with two grown children and one eight-year-old grandson. In retirement, Luke spends his time hiking, biking, gardening, writing, and playing the stand-up bass in the Sorrel Way Jam. Follow Luke on Twitter: @luke_lukeroth
Articles EVERY DAY Again on FishDuck!
Our focus is now on this wonderful Oregon Sports Community, and we will have at least a short article every day to begin the Duck Discussion.
You are also welcome to post other current events or items about Our Beloved Ducks in the comments as well.
Our 32 rules can be summarized to this: 1) be polite and respectful, 2) keep it clean, and 3) no reference of any kind to politics. Easy-peasy!
Take note though, there are NO STRIKES, NO WARNINGS, and NO SLACK given. Violate the rules and you are gone, as this is what the 99% who post superb comments want. (The Ban could be for weeks, months or permanent)
For the 1% out there who do not have impulse-control … as you write your comment that violates our rules, ask yourself, "is this worth getting banned over?"
FishDuck members….we got your back.  No Trolls Allowed!
New at FishDuck? Learn about the site right here!