I know…this will be stating the obvious.
Watching the Alamo Bowl last night, Oregon State's defense, though ultimately unsuccessful on the scoreboard, still managed to hold Texas under four yards per carry – the average the Beavers allowed this season.  Time to step back and appreciate what that really means:
Oregon's offense is one for the ages. Now let's step back further…
During their 48-24 Civil War victory, the Ducks were never challenged from a defensive standpoint, as the Beavers surrendered 430 yards on the ground despite OSU leading the conference in rushing defense.  Oregon added the Beavers to the long list of teams left flattened by the freight train that is its offense.
With all due respect to Louisiana Tech, who narrowly edged Oregon in points per game this season (51.5 to 50.8), the Bulldogs did not face near the quality opponents that the Ducks did (Oregon's strength-of-schedule was 52nd, La. Tech's 112th).
Oregon, behind a first-year quarterback and a mangled offensive line, scored 138 more points in conference play than the next closest Pac-12 team (UCLA, 448-310) and did so while sitting starters for large chunks of games during the season. One has to wonder, what would have happened if the defense had allowed a few more opponents to stay in games, leaving the starters in? Could Oregon have scored 500 — even 600 — points in conference?
Often lost in the discussion about the Ducks offense is the fact that the foot was often taken off the pedal in many games. As I was so kindly lambasted for writing earlier in the season, what would have happened if Chip was a little more of a jerk? A little more cutthroat? Would it have mattered, say, against Stanford?
Who knows?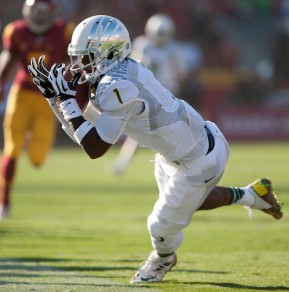 But boy, it sure would be nice to find out.
This offseason will surely bring about change to the program. Sanctions are likely to come. Chip: The Waiting Game, begins. An impact player could leave early, or transfer.
For Oregon fans — at least from an offensive standpoint — 2012 might be the top of the mountain. Even with an incoming recruiting class littered with talent, the potential loss of Chip Kelly or other factors could bring the offense down a peg or two. (This is all simply my opinion, obviously.)
So let's enjoy it and embrace it.
A stud quarterback, a loaded running back crew, and receivers coming into their own, all combining to score just over 50 a game, in a major conference. It's a special machine, this Duck offense.
They face a challenge Thursday when the Kansas State Wildcats step on the field in the Fiesta Bowl. However, after the display they put on for 11 of their 12 games this season, you have to like their chances.

Visit our Sister Site, the new Our Beloved Ducks Forum!
This new forum that is unlike anything you have ever seen between our civilized discussion, (NO TROLLS ALLOWED) complete directions available for easy usage and the delivery of all Oregon Sports News.  (That last part is a gradual transition up to Spring Football)
Go to the forum where we delve into today's article and so many more topics and the nuances within them over there.
We have a topic post begun over at the forum for today's article; it is a free site and offers more opportunity for the exchange of opinions on all the Oregon Sports subjects of the day. (And there are some very cool features!)
An introduction article about the new forum is right here.