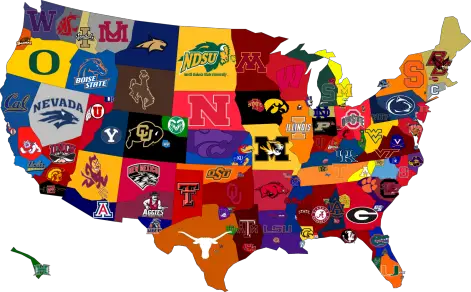 Bowl season is still going strong after another two bowl games end in great fashion on Saturday. I don't know what it is about bowl season, but every team plays like there is no tomorrow (but there is, the Mayans were wrong). If every game continues to keep coming down to the final drive or final play, then we are in for a treat when Notre Dame meets up with Alabama. Let's get into some thoughts and news from this past week.
1. Boise State lucked out. Thanks to the refs giving them a late game first down on 4th and 1, they were able to continue the drive and take the lead. Washington did have a chance to win it in the final 30 seconds, but an interception by the Boise defense sealed the 28-26 win. Coach Chris Petersen keeps finding ways to win, regardless of who is starting for him. I am sure he is being looked at by some bigger schools, but will probably end up passing and staying at Boise State…smart move. Another smart move right now would be for Boise State to stay in the Mountain West instead of going to that Big East mess.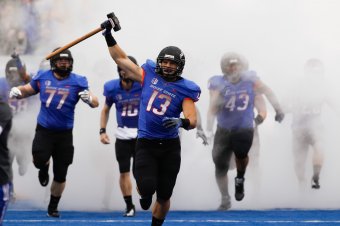 2. Speaking of coaches being hired, Wisconsin turned to Utah State coach Gary Anderson. Last week, I said he was a great coach and should be looked at, and I guess Wisconsin AD Barry Alvarez reads the blog. He will do great at Wisconsin, but will the fans accept his spread offense over the traditional power run game they know? Anderson did say he was not leaving Utah State, but then bolted two weeks later….did I mention Coach Andersen is from the Urban Meyer coaching tree? That means it is okay to lie to your fan base. Urban the Liar taught him well. At least Andersen had some class to call his players and tell them the news.
3. Mark Hudspeth is the head coach at Louisiana-Lafayette, but…for how long? He is another hot coach, leading his team to back-to-back bowl wins and 9-4 seasons. He is doing this in the Sun Belt, and with Louisiana-Lafayette. Props to his team for beating East Carolina 43-34, and also taking the Florida Gators down to the wire before losing 27-20 earlier this season. He is working in LSU's backyard with players they pass on, yet still managed nine wins in both seasons there. Someone is going to be smart for snatching him up to a BCS program. Coaches would be smart to stay at the smaller schools and be happy there. It's not BCS bowl games and chances at national titles, but a 7-5 season would make the fans happy at schools like that…not at schools like Alabama and Notre Dame.
4. This conference expansion has to stop, someone needs to say enough is enough. The Big East is now trying to get Fresno State and UNLV in football to join up. A conference is clearly desperate when they are asking UNLV football to join. The Rebels are awful, probably one of the worst programs in the FBS. Every team is smart to get out of the Big East now and move on.  If I was the Mountain West, I would be getting the league up to 12-14 teams, have a title game in Vegas every year and just start building the conference up. The WAC is dead, and it's only a matter of time until Conference USA and the Sun Belt get picked apart. You have to feel bad for the PAC-12 and Big 12 during all this, as most top teams are being picked up. Who is the PAC-12 going to go after now? Fresno State? BYU? Who is really out there that makes sense for the PAC-12? This summer, the FSU to the BIG-12 talks will heat up, while the PAC-12 stays put unless Texas and Oklahoma are willing to jump over. It is going to get heated and crazy this off season. Let's just hope the Big East crumbles, then the MWC, C-USA, MAC, and Sun Belt all form a mini-BCS conference and hold their own final four.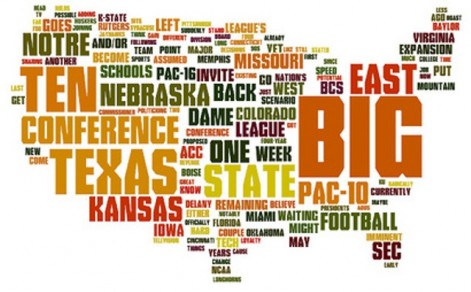 5. Last thought. Conference expansion is the only thing being talked about during the off season. Why not let the SEC make the first move to go to 16 teams. The SEC should invite Duke and North Carolina. What do they bring for football? Absolutely nothing, but they bring everything in basketball. Imagine the SEC having the best in football and now basketball. A conference with Kentucky, Duke, and North Carolina leading the charge with other great teams like Florida, Missouri, and Vanderbilt following close behind. As of this moment, I am campaigning for Duke and North Carolina to join the SEC. In ten years, we will no longer have common rivals, just conferences spread out all over the country, why not start the dominoes now? Just a thought…
I wanted to also give a shout out to UCF for winning their bowl game, doing so in such dominant fashion that no one even noticed the game was played. UCF beat Ball State 38-17 Friday night in the Beef O'Brady's Bowl, and it was not even that close. Hopefully the bowl games continue to be as great as the New Mexico Bowl or the Maaco Bowl. Bowl season is great, because it gives us a chance to see matchups we would usually not see. We still have a few more smaller schools playing this week, but come next Saturday night we should have two really good bowl games with Texas playing Oregon State in the Alamo Bowl while TCU takes on Michigan State in the newly names Buffalo Wild Wings Bowl.  Any predictions?
Until next week college football nation…
NATIONAL NEWS:
1. Recruiting is changing
2. 2012 college football in review
3. College football mailbag
4. The END of college football
5. Oregon can change colors

CAN YOU HELP US?
The pictures you see of the Ducks on FishDuck.com come from professional photographers that must be paid! Please donate through one click so we have pictures from all the games this fall to use through the year. All previous donations helped to pay our big Web Developing bills recently, and I do appreciate it.
Our staff and the photographers who have thousands of dollars invested into their equipment to provide the high quality pictures do sincerely thank you.   Charles Fischer