That's it, the regular season has come to an end. If you're a Notre Dame fan, you're stoked at how the whole season unfolded. If you're an Oregon or Kansas State fan, well, there is always next year. What a way to close the season out with an exciting Army-Navy game, and in the evening we had the Heisman Trophy presentation. Good way to finish every season — with a rivalry game and the Heisman presentation.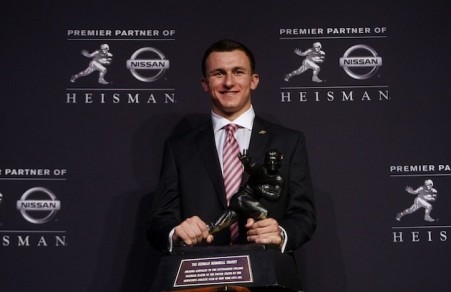 1. Congrats to Johnny Football on winning the Heisman, the first freshman in the history of the NCAA to win it. The media sure helped him on that one…and he had amazing numbers. Johnny Football will now be Johnny Heisman. Looks like his parents have another phrase to copyright.
2. With the rise of Texas A&M, what does this mean for Texas? Texas finished the season 8-4, and did not make much noise after the Red River Blowout. Can you believe Texas fans are still letting Mack Brown, the $5 million dollar man, get away with 8-4 seasons? Texas is definitely not where they want it to be, while their hated rival Texas A&M looks to be moving up in the world. Coach Kevin Sumlin led his team to a 10-2 record, upset the #1 team in the country on the road, had his player win the Heisman, and shocked the world with how great his team handled the SEC.  Looks like the move to the SEC is paying dividends already for Aggie Nation and the 12th Man.
3. Army vs Navy. When you watch all the cadets march into the stadium, it makes you proud to be an American; thankful for all the service they have done and will do for our country. They also had a pretty good football today too.  Navy was coming in with a 10-game win streak, and looked to sing second again for the 11th straight year. (The loser of Army vs Navy sings their song first and the winner gets to sing second. It has become a battle cry for both teams…"Let's sing second!") After trading scores, Army finally took a 13-10 lead, looking to pull off the upset and sing second after ten straight losses. Navy was able to put a drive together and go up 17-13. Army was only 14 yards away from the go ahead touchdown at the end and fumbled the game away…literally. Navy jumped on the fumble and was able to secure their 11th straight win in the series. It was a great game, and I always look forward to seeing it at the end of every season.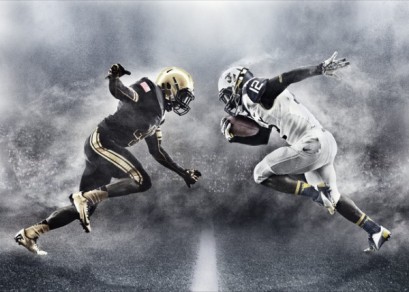 4. Bowl season is upon us. Who is excited? I know I am. It is the chance for us to see great teams play that usually don't meet up during the season, for fear of hurting their record. The BCS game I am looking forward to most is the Fiesta Bowl with Oregon vs Kansas State. There is going to be a lot of points scored in that one. The BCS game I won't watch is the Orange Bowl FSU vs Northern Illinois. What a joke; BCS busters need to be undefeated. The media had a heyday on that, and pretty much begged for the winner of the MAC title game to be in a BCS bowl game. When FSU wins 45-13 all I can say is…told you so. Another great game that will almost be like a BCS bowl game will be the Cotton Bowl with Texas A&M vs Oklahoma. Former BIG-12 South rivals will go at it…we will see if the Heisman curse strikes in this game. The last three games that should draw your interest should be the Capital One Bowl with Georgia vs Nebraska….both teams in need a win to make the offseason less painful after their conference title game losses. Another game is the Outback Bowl with South Carolina vs Michigan, to see if the Gamecock defense will be able to contain Denard Robinson like Alabama did. Last, but not least, the Chick-Fil-A Bowl of LSU vs Clemson should be a great game, defense vs. offense. Any other bowl games draw your interest?
5. The last major thing going on right now in college football is the coaching carousel. I feel they need to wait until after bowl season, and let the dust settle a little. I do know programs need their man, and need them to get back out on the recruiting trail…but let some coaches enjoy bowl season with their team one last time. Tennessee hired Butch Jones…horrible hire. Jones will probably be in and out in 3 years like Dooley was. He should have stayed at Cincinnati where he had it made. Tommy Tuberville knew Cincinnati is a good place and bolted from Texas Tech for that job ASAP. The Big East is so weak, and 8 wins every year is possible. Good move by Tuberville to leave the BIG-12, where he would be no better than the 4th or 5th best team every year. The last move that was crazy was Bret Bielema leaving Wisconsin for Arkansas. I know the grass seems greener in the SEC, but that man had it made at Wisconsin, with three trips to the Rose Bowl and two consecutive conference championship game victories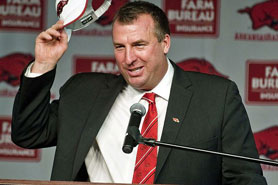 . He even had his team to win a conference title with a 7-5 record. Bielema will find his butt on the hot seat with a 7-5 season at Arkansas. They are desperate to get back to the national title picture next season, especially after this year turned into a hot mess. Good luck to him….though he should have stayed in the BIG-10. Most other coaching spots have been filled, but those three moves just strike me as odd and random. Only time will tell if any or all was a good move.
Well, the season is over. We now have the bowls and the National Championship Game to look forward to. Just one more year until the playoffs. I will be cheering for the lesser evil in my book, which will be Alabama. It will take more than the luck of the Irish to pull off the upset down in Miami this year.
One last note: congrats to the Oregon Woman's volleyball team for upsetting Nebraska and moving onto the FINAL FOUR for the first time in school history
Great season. Until next week college football fans.
NATIONAL NEWS
1. Ohio State still celebrating
2. College football mailbag
3. Freshmen who should have won Heisman
4. New coach in South Florida