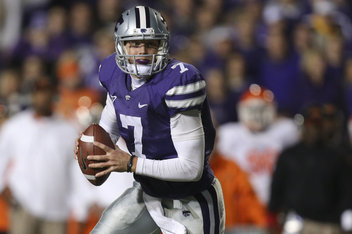 There will be plenty of matchups worth watching on January 3rd when Oregon and Kansas State collide in the Fiesta Bowl. Kansas State's special teams prowess versus Oregon's woeful coverage. Oregon's high speed athletes versus the Wildcats plodding attack.
The best, however, will be the one between two guys who will never be on the field at the same time.
Marcus Mariota vs. Collin Klein. Optimus Klein vs. Flyin' Hawaiian. Veteran savvy vs. Youthful exuberance.
Kansas State's Heisman finalist Collin Klein has been a breath of fresh air for the college football world. He's the anti-Tebow in a world full of impostors. A man of deep faith, Klein doesn't do underwear ads. He doesn't self promote. He simply goes about his business and wins football games.
Oh, yeah…he puts up gaudy stats, too.
Klein put up 2,495 yards through the air and another 895 on the ground in being a one-man wrecking crew for the Wildcats. On a team filled with less than stellar talent, Klein has truly been the MVP. If ever there were a football team reliant on one man, Kansas State is the blue-print.
Oregon's Marcus Mariota, on the other hand, entered the season as the unknown amongst a team full of stars.
The redshirt freshman from Honolulu beat out Bryan Bennett in the off season, with coaches praising his decision making and calm nature.
What they neglected to mention was his unparalleled accuracy, blazing speed and elusive pocket moves.
Mariota's stats are staggering for a freshman. WIth 2,511 yards passing and 690 on the ground, Marcus did just what was asked; he took what the defense gave him and made next to no mistakes. With only six interceptions on the year, the poise from Marcus stood out.
And the scrambling ability? Simply breathtaking.
In wins over Arizona State and Oregon State, Mariota's feet were the difference, with long touchdown runs breaking the backs of helpless defenses. When called upon to beat teams through the air, he was no slouch, either. His 377 passing yards and six touchdown passes at California thrust him into the Heisman talk alongside his counterpart Klein.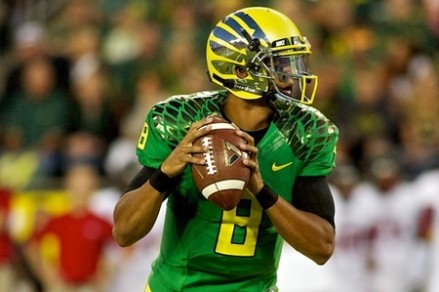 Both players suffered losses on the 12th week of the season, derailing the inevitable BCS championship showdown; now they collide on January 3rd in a highly anticipated matchup of two teams that were destined for more.
Klein and Mariota are special players and special people. Leaders amongst followers, men around boys. Both possess the special "it" factor about them, a quality that is thrown about too often, and most of the time without merit.
When these two quarterbacks step on the field, there will be no need to second guess that quality. Appreciate Klein while he's here; before long he will be riding the pine on the NFL. (that's not a knock…his college talents simply don't translate)
Let your mind wonder about just how good Mariota can be.
Oregon vs. Kansas State — the showdown that came later than expected, but is finally here. Two quarterbacks, leaders of their squads. Two quarterbacks, throwbacks in manners.
Two quarterbacks, too fun to not watch. Let the show begin…no matter which one is under center.

Joel Gunderson grew up in a small town, where the only thing he did for fun was worship the Oregon Ducks. He later moved to Eugene, where he studied journalism at the U of O. After working in radio, he married the woman of his dreams and settled down. Joel now spends his days studying Journalism and the fine world of grammar, all the while worshiping the ground that Charles "Chip" Kelly walks on! Follow him on twitter @gundy85
SIGN UP for the New FishDuck Commenting/Posting System!
The first step toward some big additions to the site is moving away from the Disqus system, to our own new commenting/posting system for the great discussions below the articles.
It takes a minute is all, and will allow us to continue our amazing discussions of Oregon Sports in a new format that will allow more flexibility over time as we add features.  Sign-up now!  
Mr. FishDuck