Oregon has a new place kicker coming to town, and for a lot of fans it is none too soon. Chip Kelly has often made a decision to go for broke on fourth down, the reasoning of which has been unclear at times. I used to think that he believed the odds were in his favor when he would forgo the field goal attempt, but after the USC game in 2011 and the Stanford game in 2012, it is reasonable to conclude that perhaps it's because Oregon's kicking game has been less than stellar.
Regardless, a great place kicker is a potent weapon in a close game and Oregon now has help on the way in North Carolina high school senior Matt Wogan. Many experts consider Wogan to have the strongest leg in the country among high school kickers. Consider that his longest field goal, in a kicking competition, measured 65 yards. In the recent North Carolina 4A State Championship semi-final game against North Davidson Wogan kicked two field goals; the first one was 58 yards followed up by a successful 49 yard attempt. The win led Porter Ridge to the State Championship game where they eventually lost 39-38.  Wogan had one FG attempt, which succeeded from 26 yards.
Porter Ridge head coach Blair Hardin in an article on Inside Carolina had this to say about his star kicker.
"He's a whole reason why we've had success the past two years. We really try to discuss the hidden yardage and how important that is. He's the reason why we've had success there – on kickoffs, on punting, if we need a long field goal. He's just such a dynamic weapon [and] we're really blessed to have him – we really are."

"He has a great leg that's very strong and each year he's gained more confidence in his accuracy. He's always had unbelievable power and his accuracy has improved to go with that."
In June of 2012 Wogan visited Oregon to participate in a kicking camp. After hitting a 60-yard field goal to win a kicking contest Chip Kelly invited him up to his office where he told him that Oregon would like to offer him a scholarship. A visit with his family after returning home sealed the deal. Wogan will arrive in the fall of 2013.
As you would expect, Wogan's strong leg is a weapon on kickoffs too. Oregon has struggled with kickoff coverage for much of the season. Lacking a kicker that can consistently put the ball in the end zone has resulted in teams getting great field position after Oregon scores. Matt's kicks consistently exceed 70 yards and 85% are not returned.
Matt Wogan is more then just a kicker though. Here are some things you may not know about him.
He is a great student. Matt has a 4.1 grade point average with a schedule that includes advanced placement and honors courses.
He is physical. Very physical. In addition to kicking, Matt helped out his team by serving as the as the starting Tight End. And he likes to hit. In fact it was the consistent flashing of red-cards being directed his way during soccer games that lead him to move to the football field in 8th grade. At 6'2″ Wogan can bench press 200 pounds and is praised by his coach as a hard worker who loves the weight room.
If it were up to him he would prefer not kicking the ball out of the end zone. Wogan put it like this while talking to the Charlotte Observer. "I would almost rather get out there and block, hit and pancake someone and put them on their butt. I like to do the dirty work and work hard in the trenches. I love to get in the weight room and all that stuff, too."
As if all this wasn't enough, Matt Wogan is also a punter. A place kicker who can punt is valuable. This can free up a spot on traveling rosters for another player since a separate back up punter is not needed. High school kicking guru Chris Sailer considers Wogan to be the strongest place-kicker and the second best kicker overall. Sailer also ranks him as the #7 high school punting prospect. In a recent playoff game Wogan punted twice-both kicks of 53 yards.
He loves to hunt and fish and finds Oregon the perfect playground for these activities.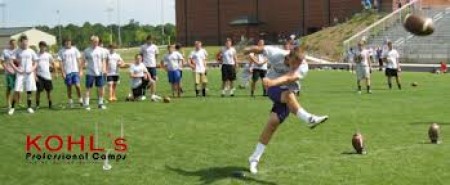 Yep, there is a lot to like about Matt Wogan and I suspect that Duck fans are going to love having a strong leg that is a threat from 50 yards out when the game is on the line. Wogan's strength, intelligence and work ethic might best be summarized by the comment he made to the Charlotte Observer. "Michael Phelps didn't get where he's at because he has huge feet and long arms and long legs," says Wogan. "You have to work for it. If he did nothing with it he wouldn't have anything."
Ted Werth is a long time Duck fan whose first game, at age 11, resulted in Bobby Moore (Ahmad Rashad) setting the Oregon single game rushing record against Utah. a record which stood for almost 30 years. A longtime season ticket holder, Ted writes the Life's Been Good blog found at Lbgtmsf.com.
For Football Season: FishDuck Back to Seven Days a Week!
I had to shut down the daily articles on July 20th because I could no longer work the extra 3 to 12 hours per week of certain managerial/editorial duties. (beyond the usual ones with FishDuck)
I've had a blast writing without those duties, and now, due to a new agreement with the writers, I can announce that we will have articles seven days a week again. I wish to thank the writers publicly for their graciousness in coming to a solution, as now I still do not have do those extra duties with our agreement, and meanwhile the writers are back having fun creating articles as I am.
Everybody is happy! So below is the new schedule through football season:
Monday: Mr. FishDuck
Tuesday: Darren Perkins
Wednesday: Joshua Whitted & Mr. FishDuck
Thursday: Coach Eric Boles & Alex Heining
Friday: David Marsh
Saturday: Mr. FishDuck (GameDay Baby!)
Sunday: Jordan Ingram
A couple of writers could not join us as they have new projects in their lives, and cannot write for anyone at the moment–but perhaps we will see them back later.
Things rarely work out so well for all parties in agreements, but this time it has and truly….everyone wins!
Our 33 rules at FishDuck can be summarized to this: 1) be polite and respectful, 2) keep it clean, and 3) no reference of any kind to politics. Easy-peasy!
FishDuck members….we got your back.  No Trolls Allowed!