6′-7″, 311lbs
Can't Block Destiny
Another in a series from our friends at Mighty Oregon, an interview with Kyle Long
by Dusty Ritter
Kyle Long has some huge shoes to fill, both literally and figuratively.  His father, Howie Long, played 13 seasons with the Oakland Raiders in the NFL and amassed eight pro bowl appearances. It earned him a spot in the NFL Hall of Fame. His older brother Chris is currently in the NFL with the St. Louis Rams.       
That motivated Long to get into baseball; he viewed it as an escape from the expected. Long excelled at the sport in high school, he had a .500 batting average and recorded 95 strikeouts in 50 innings throughout his senior year as a pitcher.
As a two-sport All-American in baseball and football for Saint Anne's-Belfield high school, and with his brother by his side, he won two Virginia State Championships in football.  He was drafted in the 23rd round of the 2008 MLB First-Year player draft by the Chicago White Sox, but he turned that down to accept a baseball scholarship from Florida State.
It was there that he realized that he couldn't escape his football destiny. He started fresh for the Saddleback College Gauchos under head coach Mark McElroy in Mission Viejo California.
Long played there for two years, initially as a defensive end and then switching to the offensive line.  With multiple offers on the table, Long chose Oregon.
Interview With Kyle Long
MO: What was your first love in sports?
KL: My first love in sports was getting on the mound: being able to pitch and playing baseball. My passion is for football though.
MO: How did high school football go for you?
KL: High school was actually the first time I ever played football.  I never made weight for Pop Warner or middle school. I didn't really understand the game, and I just put on a helmet and got out there. It was a lot of fun being able to play with my younger brother. We won two state championships, and I was an All-American which was a great experience.
MO: Describe your journey between baseball and football after high school?
KL: I had offers for both football and baseball coming out of high school and I was drafted out of high school for baseball, but I turned down a contract (MLB) and went to go play baseball for Florida State.
MO: What were some of your highlights while playing baseball?
KL: Winning a state championship with my teammates at Saint Anne's-Belfield, it was a great experience.
MO: Coming out of JC who was recruiting you?
KL: Well UCLA, USC, Oregon State, Washington, Auburn. A lot of the Pac-12 schools. What made me choose Oregon was everything about Oregon. When I came here on my visit it really opened up my eyes to how special this program is…how great the coaching staff is, the unity of the players and the coaches.
MO: How would you describe your time here?
KL: It's been great. It's been a learning experience. I was very raw when I got here and under the tutelage of coach Greatwood I've learned a lot of things about the game.
 MO: How is Steve Greatwood as a coach?
KL: Coach Greatwood has been around the block, coached in the NFL and played here at Oregon; the fact that he was once a player differentiates him from other coaches.
 MO: How hard was it to learn this system?
KL: The system is pretty basic once you can understand the terminology. Once you understand the language of the offense you can really understand where you're going, who you're double-teaming with, where you're going to.
 MO: When you're at the line of scrimmage…what are you looking for and what are your responsibilities?
KL: Every play, it's on the line, so it's important that you get up there and work hard every play.
 MO: What are some important things your father has taught you that help you while on the football field?
KL: In order to play hard you have to work hard. You have to take pride in what you do.
MO: What was it like growing up in that atmosphere, and did you feel obligated to play football?
KL: That's kind of why I chose baseball in high school. I wanted to get away from the shadow that I was under. But there comes a point when you can't run from your bloodlines. You have to do what's best.
MO: What is something people would be surprised to know about you?
KL: I was in a musical in high school. I was in Oklahoma! I played the part of Slim. So that's something people probably wouldn't know about me (laughs).
MO: What would you like to do after football?
KL: After football, I'd like to work with kids coaching. I'd like to get a degree in education and also journalism. Maybe become a sportswriter. I really enjoy that field. Who knows, I'm going to ride football until the wheels fall off, and then hopefully fall into a good career.
Coach Steve Greatwood's comments on Kyle:
MO: How has Kyle developed so far in his time at Oregon?
SG: Well it's been short. I think he's made great strides. He had a lot on his plate to digest coming in this June. I think he's picked things up very well.
MO: What are his strengths and what stands out about him?
SG: Well physically, he's very gifted. You don't run across guys with his size, strength, and speed. The athletic aspect is there, and it's just been a matter of getting his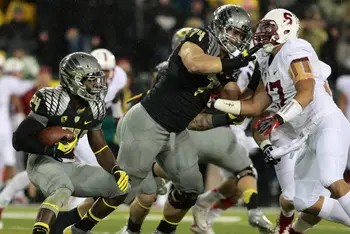 assignments down and honing his techniques.
MO: Anything about him that has surprised you so far?
SG: Just his ability to pick things up, it pleased me. The work ethic that he brings to practice everyday has been exemplary.
MO: What impact has he made this season?
SG: He gave us a huge amount of depth at the tackle spot.  His physical play has been a motivating factor for the rest of our guys to try to match.
Top Photo by Kevin Cline

Jerry Thompson is the owner and editor of Ducks Illustrated Magazine and is the writer/producer of the recently released 7-hour, 4-DVD set "Mighty Oregon" which can be ordered by emailing ducksillustrated@yahoo.com or calling/texting 541.221.3154. He earned an M.A. in Communications with an emphasis on documentary film. "Mighty Oregon" was 25 years in the making and chronicles through game film highlights and interviews the whole history of Oregon Ducks Football (1894-2012). Film footage begins with the 1917 Rose Bowl win over Penn and covers everything through the 2012 Rose Bowl win over Wisconsin. Jerry was a UO football student manager in 1969 and 1970.
FishDuck Has New Off-Season Schedule and see the OUR BELOVED DUCKS Forum!
FishDuck articles will now be on Monday-Tuesday-Wednesday only during the off-season, and then we will go back to seven days a week during the football season beginning in August.
We will have some occasional guest articles later in the week, but the hottest Oregon football information will be posted in the OBD forum!
The Our Beloved Ducks Forum (OBD) is where we we discuss the article above and many more topics, as it is so much easier in a message board format over there.  At the free OBD forum we will be posting Oregon Sports article links, the daily Press Releases from the Athletic Department and the news coming out every day.
Be a part of the forum and stay caught up!  When you wish to post there, do know that you are protected just as you were on FishDuck. Join us on the free forum right here!
Our 33 rules at the free OBD Forum can be summarized to this: 1) be polite and respectful, 2) keep it clean, and 3) no reference of any kind to politics. Easy-peasy!
OBD Forum members….we got your back.  No Trolls Allowed!