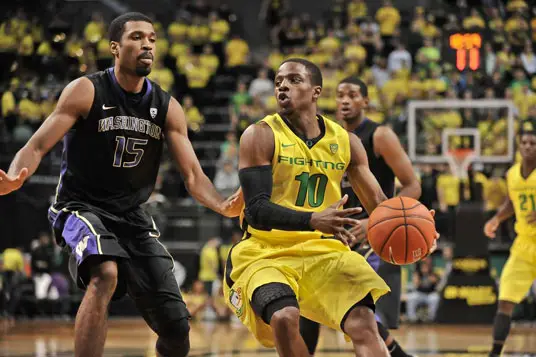 18-2 Oregon Leads Pac-12 by Two Games
It wasn't perfect. The coach still sees much work to do, but other than a rash of mystifying turnovers and missed free throws at the end, the No. 16 Ducks played some of their best basketball of the season in disposing of Washington 81-76 Saturday before a sellout crowd of 12,364 at Matthew Knight Arena.
This team just wins. Now 18-2 for the season and 7-0 in the Pac-12, its trademark is to do whatever it takes to get the W. It wins without superstars or self-first types, just increasingly confident and hard-working players who like playing the game together.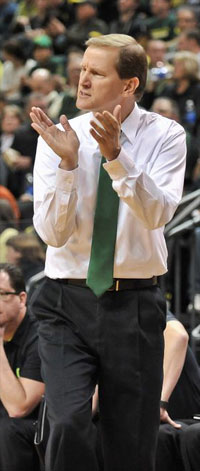 The Ducks winning ingredients against the Dawgs included playing moments of precise, fine-tuned basketball in the half court, as well as getting out and scoring in transition. The Ducks shot a sparkling 57.8% from the field as they overpowered Washington in the paint and scored 44 points inside.
But the win also showed the ugly and the frustrating side of Oregon's play as they committed 23 turnovers, and the Ducks and Huskies combined for 44. At one point in the first half, the two teams combined for eight turnovers in 12 possessions.
Coach Dana Altman said, "We made it tougher than it had to be. The gosh-darned turnovers took away from the performance. The guys are playing hard and they're battling, but the turnovers hurt."
The first half had four ties and six lead changes as Washington utilized 65% shooting from the field to make it a battle early. But the Ducks pulled away just before the intermission as senior Carlos Emory, who scored seven straight Oregon points, led the charge. His first two came on a monster dunk in transition, giving the Ducks a 30-28 lead. Washington would never lead again as Oregon stretched their advantage to 37-33 at the half.
Oregon outrebounded the Huskies 30-24.  Arsalan Kazemi led the way, his 11 boards along with 11 points gave him his fifth double-double of the season and the 50th of his career (including three seasons at Rice).
The second half saw Oregon steadily pull away, as the Ducks built their lead to as much as 14 points with 7:23 left in the game. Leading to the Oregon surge was their use of full-court pressure, which got the Ducks some easy baskets.
Altman said, "The press really gave us a big boost. I was a little worried that it wouldn't be effective for us, but it helped take us from a two point lead to 10. It really helped us."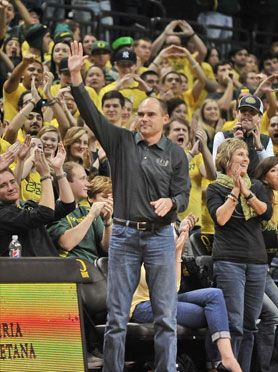 But just when it looked like Oregon could coast in for their 20th straight home win, enough missed free throws and turnovers at the end allowed the Dawgs to hang around and pull within four points twice in the final minute.
The largest crowd of the year at Matthew Knight Arena certainly enjoyed the show. Perhaps the loudest reaction from the crowd, other than Emory's powerhouse first half dunk, was the introduction of new football coach Mark Helfrich during a second-half timeout.
The players noticed the crowd. Singler said, "This was the best crowd since I've been here. I was really happy about it. It really got us going."When the Ducks pulled away in the second half, the crowd was rocking.
Singler had a stellar shooting performance for the Ducks. His 7 of 9 performance from the field contributed to his game-high 18 points.  Emory joined Singler and Kazemi in double figures with 11 points.
It is a team of expanding depth, as witnessed against the Huskies. Because freshman point guard Dominic Artis missed the game due to injury, junior Jonathan Loyd got the start and helped the Ducks to a quick 8-3 early advantage, playing a season-high 31 minutes. His ability to run the team at the point and his tenacity on defense was not surprising to his teammates.
E.J. Singler said, "Johnny gave us a lot of energy in the first four minutes. We don't drop off with him. He's been there before."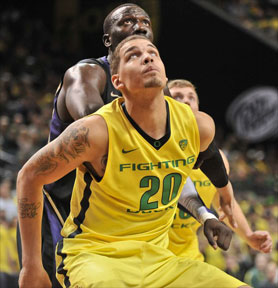 Another example of Oregon's improving depth was Waverly Austin's impact on the game in some dynamic moments backing up Tony Woods. Austin scored seven points and blocked three shots in 20 minutes of action.  Singler said, "Austin's coming on. He gave us a lot, some big blocks, big finishes. He was big."
With the loss, Washington dropped to 12-8 and 4-3 in the Pac-12, and have now lost three straight games. Five Huskies finished in double figures, with Andrew Andrews leading the way with 15.
Other than the coaching staff, this Oregon group has no one that has previously experienced the heady success that is presently surrounding this basketball team. These young Ducks are continuing to figure out what this league-leading business, the national attention, the winning streaks, and the uncharted territory is all about. Leading the conference by two games in late January has Eugene excited.
However, as Altman reminded his team, "We're not even halfway through."  A weekend in the Bay Area awaits. The Ducks historically have not had much success on this trip.
Singler said, "I don't think we've ever got two games down there. Playing at Cal has been tough. We need to continue to grind it out. Grind it out. It [the weekend] will be a big test for us."
Altman said, "Being ranked playing at home is one thing. Being ranked playing on the road is another. It's harder. The crowd is more intense. Our guys haven't been through this before. We're going to be tested a lot more on the road."
He added, "Being 7-0 is nice, but we've got a lot of road ahead of us."
With the Ducks learning as they go, the results have been the same. Not always pretty, but very effective. The next test comes next Wednesday night at Stanford.
Luke Roth (Basketball Analyst) is a retired teacher and coach who has lived in Eugene since 1977. He coached high school basketball for 34 years, including 26 years as Sheldon HS girls varsity basketball coach (1984-2010). Luke taught at Sheldon for 30 years, and in the International HS at South and Sheldon, for 20 years. He taught journalism and advised the school newspaper at Sheldon during his stint there. He is a long-time Duck fan and UO alum (MA 1985). Luke has been married to his wife Catherine for 36 years with two grown children and one eight-year-old grandson. In retirement, Luke spends his time hiking, biking, gardening, writing, and playing the stand-up bass in the Sorrel Way Jam. Follow Luke on Twitter: @luke_lukeroth
Articles EVERY DAY Again on FishDuck!
Our focus is now on this wonderful Oregon Sports Community, and we will have at least a short article every day to begin the Duck Discussion.
You are also welcome to post other current events or items about Our Beloved Ducks in the comments as well.
Our 32 rules can be summarized to this: 1) be polite and respectful, 2) keep it clean, and 3) no reference of any kind to politics. Easy-peasy!
Take note though, there are NO STRIKES, NO WARNINGS, and NO SLACK given. Violate the rules and you are gone, as this is what the 99% who post superb comments want. (The Ban could be for weeks, months or permanent)
For the 1% out there who do not have impulse-control … as you write your comment that violates our rules, ask yourself, "is this worth getting banned over?"
FishDuck members….we got your back.  No Trolls Allowed!
New at FishDuck? Learn about the site right here!