With the release of the 2013 football schedule this week, Oregon fans were given the blueprint to the 2014 National championship game.  Oregon's tougher non-conference slate gives way to a manageable PAC-12 schedule, which features a big Thursday night showdown at Stanford in November.  Looking at the schedule is fun and all, but it won't determine where Oregon ends next season.  Instead, one factor will make that determination: De'Anthony Thomas.
Marcus Mariota may drive the car and the defense gives it the horsepower, but no individual player in the country can single-handedly affect the outcome of a game more than the 5'9″ Thomas, whose career has been defined by breathtaking plays and mind-numbing absences.
Through 27 career games, DAT has carried the ball 147 times, with 91 career catches.  That's just over eight touches per game (not counting special teams).
The dilemma with Thomas is obviously his lack of size, and the wear-and-tear he will sustain with more touches.  Can his small frame hold up with 13-16 touches per game?  There's no way to know until the Ducks try, and the coaches surely realize that.  In the Civil War, he had his best game of the season, carrying the ball 17 times for 122 yards and two touchdowns.
Thomas likely has two years remaining at Oregon; I don't see any reason for him leaving to the NFL early.  If Oregon wants to continue its run of success, DAT being more involved with the offense is imperative, especially with the loss of Kenjon Barner.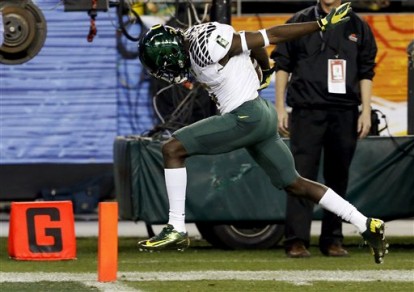 Will Chip Kelly go along with that line of thinking?  He said all the right things before last season.
"There are some things in practice that he's done that just make you go, 'Wow!'" Kelly said.  "He was like that from the start last year… He's a smart kid, he understands concepts well.  We'll keep adding to his plate a little bit."
Then the season began and it was the same old routine: big plays, yet light on dirty work.
I'm not asking for De'Anthony to run the ball 15 times per game.  His most effective tool — his speed in and out of cuts — would be lost by the third quarter.  Where Thomas can have the biggest impact is in the passing game, which figures to see a huge uptick in 2013.
For the first time since Dennis Dixon, Kelly has a quarterback who is just as dangerous with his arms as his feet.  If the influx of freshmen at running back can't mitigate the loss of Kenjon Barner, next season could be the year of the Air Attack in Eugene.
This is where Thomas needs to explode.
We saw it from him as a freshman, the ability to terrorize opposing secondaries.  Remember the California game in 2011?  They had no answer for his speed.  With a player like Thomas, getting the ball to him in open space is essential; he is almost untouchable if he finds space.
You only get one De'Anthony Thomas; a transcendent talent in the perfect offense.  I know Chip and his staff are aware of what they have, but they also want to keep him upright.  I just hope they don't waste him.
De'Anthony Thomas can potentially win the Heisman next season.  What position he does it at is entirely up to the coaches.

Joel Gunderson grew up in a small town, where the only thing he did for fun was worship the Oregon Ducks. He later moved to Eugene, where he studied journalism at the U of O. After working in radio, he married the woman of his dreams and settled down. Joel now spends his days studying Journalism and the fine world of grammar, all the while worshiping the ground that Charles "Chip" Kelly walks on! Follow him on twitter @gundy85
SIGN UP for the New FishDuck Commenting/Posting System!
The first step toward some big additions to the site is moving away from the Disqus system, to our own new commenting/posting system for the great discussions below the articles.
It takes a minute is all, and will allow us to continue our amazing discussions of Oregon Sports in a new format that will allow more flexibility over time as we add features.  Sign-up now!  
Mr. FishDuck