Well… kinda.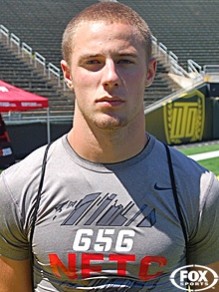 After a rather stagnant October and November in the Oregon recruiting landscape, the Ducks have recently landed a 4-star stud named Danny Mattingly.  Coming out of Spokane, WA, at Mead High School, Mattingly has created the reputation of being an extremely physical and disciplined athlete.  He committed to Oregon on Dec 23rd after de-committing from Notre Dame earlier this fall.
Led by Mattingly, the Mead Panthers managed to have one of their best seasons to date after finishing the regular season at 9-1 then losing in the quarterfinals of the Washington Division 4A State Playoffs.  Starting at both ends of the ball at tight end and outside linebacker, he managed to rack up some impressive statistics with 250 receiving yards, 6 TDs, 62 tackles, 4 interceptions, 2 forced fumbles, and a defensive touchdown.
Strangely enough, Mattingly had almost the same exact production throughout his junior season.  But his impressive showings at prospect camps earlier in the year and in the summer put a target on his back and made him a hot commodity up in Washington.
Here are some of his junior season highlights.  He is wearing number 4.

The 2013 recruiting class has been chock full of these hybrid athletes that can be plugged in all over the field.  Danny Mattingly certainly fits the bill in that aspect as he excels as a tight end and linebacker.  Since he was recruited by linebackers coach Don Pellum, one would assume he'll be playing some defense and special teams.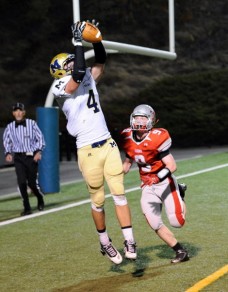 So as a linebacker, standing at 6'4″, 225 lbs., Danny Mattingly can be compared to current Duck linebacker Kiko Alonso.  While there's no guarantee that Mattingly will become that kind of elite player, Duck fans should still marvel at his potential and tough athleticism.  The kid is a true ball hawk.  His great strength makes him an asset in Oregon's complex blitzing schemes and he has a knack for peeling out of man/zone coverage and stopping runners in their tracks with big-hit potential.  Additionally, while in coverage he does a solid job marking up tight ends and knocking smaller receivers off of their routes.
If Mattingly were to see some snaps at tight end throughout his career here, expect him to fill in just fine.  His comparison player would be former Duck David Paulson, whose claim to fame was his consistency and work ethic.  This is what Mattingly can offer our illustrious offense, and Chip Kelly would love to use this kids strength and tenacity on the line. With a solid set of receiving skills and great pass/run blocking ability, he would serve as a multi-purpose tight end lacking big-play potential (leave that to our other offensive stars).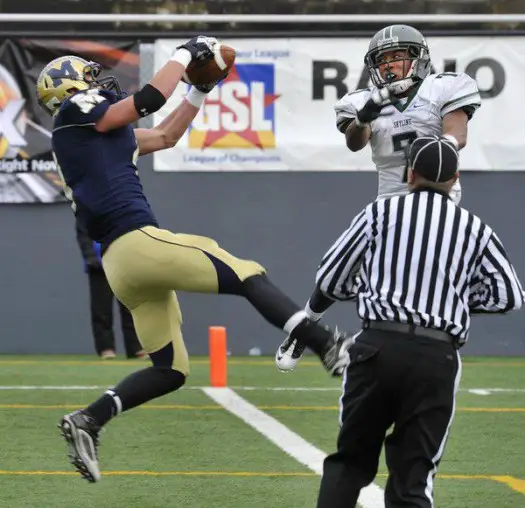 With the speculation of Chip Kelly jumping to the NFL and upcoming NCAA sanctions, Duck fans should be impressed with how our team has done in the recruiting world this year.  A couple of blue chip commitments have headlined this diverse and athletic class in the national landscape, and the commitment of 4-star Danny Mattingly re-affirms the notion that the Ducks are here to stay among the top college football teams in the nation.  Expect an exciting finish to the 2012-2013 recruiting year as many talented prospects have our Ducks atop their interest lists.
Be sure to check out DuckTerritory for Danny Mattingly's full recruit page.

Joe Packer is a sophomore at the University of Oregon, majoring in Journalism. A Portland, Oregon native, he has been an avid Duck fan his whole life, attending his first of countless Duck football games at the age of 2. He played Lacrosse in high school, and today enjoys shooting hoops and a round of golf just about every day. As a player, referee, and youth sports coach, Joe looks to share his diverse perspective on the world of sports. He welcomes your feedback. Follow him on twitter: @JoePa_
Articles EVERY DAY Again on FishDuck!
Our focus is now on this wonderful Oregon Sports Community, and we will have at least a short article every day to begin the Duck Discussion.
You are also welcome to post other current events or items about Our Beloved Ducks in the comments as well.
Our 32 rules can be summarized to this: 1) be polite and respectful, 2) keep it clean, and 3) no reference of any kind to politics. Easy-peasy!
Take note though, there are NO STRIKES, NO WARNINGS, and NO SLACK given. Violate the rules and you are gone, as this is what the 99% who post superb comments want. (The Ban could be for weeks, months or permanent)
For the 1% out there who do not have impulse-control … as you write your comment that violates our rules, ask yourself, "is this worth getting banned over?"
FishDuck members….we got your back.  No Trolls Allowed!
New at FishDuck? Learn about the site right here!