The Ducks are chock full of offensive linemen entering the latter half of their careers.  They are nowhere near in trouble of having extra bodies to plug in should a couple of starters go down next year; however, picking up some OL recruits is great for our offense given the constant rotation OL coach Steve Greatwood has in games.  Upwards of ten different linemen can see action on gameday.
So in 2013 we should all expect to welcome three new O-linemen to the team.  All are completely firm in their commitment since Chip Kelly's devastating departure.
---
Evan Voeller
Oregon's best recruit is 4-star, Under Armour All-American Evan Voeller out of our own West Linn.  He played tackle for West Linn High School and excelled into the recruiting ranks after his nationally recognized Sophomore and Junior seasons and award-winning performances at prospect camps.  He did suffer a season-ending injury to his arm earlier this fall, but was able to rehab and get back to 100% in order to compete in the Under Armour All-American game.
Here are his practice highlights from the game:
Expect Voeller to play tackle for the Ducks.  He is listed at 6'5″, 285 lbs., and is looking to only get stronger.  Recruiting services rave at this kid's speed/quickness, and more importantly his first step off of the line.  Speed will work to his benefit in the Ducks' run first offense as he does a great job making contact first and not letting DE's or CB's beating him on the edge.  Voeller's speed also allows him to peel off men he's blocking and pick up LB's downfield as our speedy offensive talents cut up and down the field.
Evan Voeller committed to Oregon on April 30th 2012.
---
Doug Brenner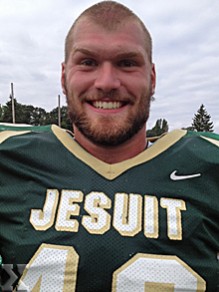 The Ducks managed to snag another great 3-star OL prospect out of Oregon, Doug Brenner.  He played at Jesuit high school and made quite the name for himself as being an athletic beast.  He was a multi-sport varsity athlete throughout his career there (focusing on football) and only became more and more dominant as he progressed.  He never received the natural attention that Voeller seemed to have, but that does not take away from his outstanding athleticism for his size.
Brenner is listed at 6'3″, 275 lbs.  He will most likely play center for the Ducks and should fit in around 3rd or 2nd string behind Hroniss Grasu.  He has a lot of the same strengths as Grasu in the sense that he plays with great speed and technique.  The center position has always had more of a skill emphasis rather than some big 300 pounder who can pancake blitzing linebackers anyways.
Doug Brenner committed to Oregon on September 9th 2012.
---
Jake Pisarcik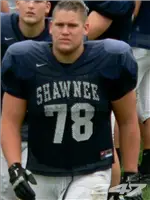 Oregon's latest O-line commit came as a bit of a surprise.  Meet 2-star recruit Jake Pisarcik out of none other than Medford, NJ.  I'm guessing he came to the Ducks after one of Chip's east coast buddies told Oregon's staff they needed to look at this kid.  Oregon was his only D1 offer and he is relatively unknown.  That is no slight on him as many great OL Ducks have not been nationally recognized; C.E. Kaiser, Jordan Holmes, Mark Asper, the list goes on and on.
Pisarcik is more of that physical and pancake-block type of guy who is always finds himself in the mix and at the bottom of piles after run plays.  At 6'4″ and 280 lbs., he will play guard for the Ducks and is coming into Eugene with a great attitude as he expressed Oregon as his dream school.  It will be interesting to see how he transitions from high school to college football and hopefully he can emerge into a dependable linemen we often see Steve Greatwood produce.
Jake Pisarcik committed to Oregon on December 18th 2012.
---
All Duck fans deserve to grieve at the loss of our savior, Chip Kelly.  However, if you believe these past four successful seasons were solely because of one man, you are simply misinformed and naïve.  No better candidate than Mark Helfrich is equipped to Win The Day and keep business as usual for the Oregon program.  So with Big Balls 'Frich (you heard it here first), our longtime assistants, outstanding current Ducks, and above average recruiting, Oregon will continue to be the feared top-10 program we, and the rest of the nation have come to know them by.
Be sure to check out DuckTerritory for their full recruiting profiles.

Joe Packer is a sophomore at the University of Oregon, majoring in Journalism. A Portland, Oregon native, he has been an avid Duck fan his whole life, attending his first of countless Duck football games at the age of 2. He played Lacrosse in high school, and today enjoys shooting hoops and a round of golf just about every day. As a player, referee, and youth sports coach, Joe looks to share his diverse perspective on the world of sports. He welcomes your feedback. Follow him on twitter: @JoePa_
FishDuck EVERY DAY! Articles Appear Seven Days a Week Beginning August 1st!
FishDuck articles will now be on every day of the week beginning August 1st, and we have some dandies planned. Check in every day and don't miss out!
The Our Beloved Ducks Forum (OBD) is where we we discuss the article above and many more topics, as it is so much easier in a message board format over there.  At the free OBD forum we will be posting Oregon Sports article links, the daily Press Releases from the Athletic Department and the news coming out every day.
Be a part of the forum and stay caught up!  When you wish to post there, do know that you are protected just as you were on FishDuck. Join us on the free forum right here!
Our 33 rules at the free OBD Forum can be summarized to this: 1) be polite and respectful, 2) keep it clean, and 3) no reference of any kind to politics. Easy-peasy!
OBD Forum members….we got your back.  No Trolls Allowed!