Another amazing week of bowl games. The bowls started with some SEC domination, but at the end it was the SEC who was being dominated. That will send a lot of mixed signals for predicting the title game tomorrow. The only conference that has excelled this bowl season is the WAC. San Jose State and Utah State won their bowl games, while most conferences are having mixed results. No one conference has stood out for dominating the competition and showing the nation they are best.
1. The week started off with Vanderbilt handling NC State 38-24. I respect Vandy coach James Franklin for winning nine games at Vandy in the SEC…then to stay put and not bolt for a bigger school. I kind of wish he did, because he is just a few players away from making his team a top dog in the SEC EAST.
2. After having so many close bowl games we were bound to have a blow out, I just didn't expect Oklahoma State to hammer Purdue 58-14. We knew the Big Ten was bad this year…but wow! Cowboys coach Mike Gundy has done great things at Oklahoma State and will continue to mold them back into a national title contender.
3. Georgia's Aaron Murray had another career day, torching the "Blackshirts" of Nebraska for 427 yards and 5 touchdowns. Nebraska made a game of it up to the 3rd quarter, until Georgia turned to playing "grown man" football and came out on top 45-31. Georgia will be a tough team to beat next year if Murray does not head to the NFL and Georgia can keep their defense swarming. So I guess we can expect Georgia to go 7-5 next season since they do horrible when predicted to do well, then shocks everyone when they are predicted to be less than amazing.
4. HIT OF THE YEAR…that is all I have to say and the whole nation knows what game I am talking about. Clowney hit Michigan's Vincent Smith so hard that his grandchildren will be feeling that one for years to come. Clowney is playing at a whole different level than any other defensive lineman in college football right now. South Carolina was able to hold off a pesky Michigan team and win 33-28. South Carolina needed backup QB Dylan Thompson to throw a touchdown pass with 11 seconds left in order to seal the win. Steve Spurrier has done an amazing job making South Carolina into a national contender, but they still seem to come up short by one or two games every year. Hopefully he will fix that in the offseason and make a BCS game.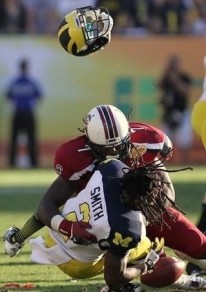 5. Rose Bowl could have been the most boring game all week. Stanford looked like they were going to run away with it early, but then held on to win 20-14. Wisconsin should have not been in that bowl game, getting in with an 8-5 record. I would have taken Utah State in the Rose Bowl over Wisconsin this year. The Big Ten had a down year, and it showed when they sent an 5-loss Wisconsin team to the Rose Bowl while "undefeated" Ohio State got to sit at home and shovel snow.
6. Another BCS dud was the Orange Bowl. NIU had no right being there instead of Louisville or Oklahoma playing FSU. Despite that, they gave FSU all they could handle until late in the game. FSU pulled away with a 31-10 win, though it should not have been that close. Rose and Orange bowl…both wastes of time this year.
7. The best BCS bowl game this year so far had to be the Sugar Bowl (unless you're a Gator fan like me). Florida was expected to handle Louisville easily, but right off the bat the Cardinals were pumped up to smack Florida in the mouth. One word to describe the game Teddy Bridgewater had…HEISMAN! On third down Teddy was the man, keeping every drive alive. He will be in my top five Heisman candidates to start next season. Coach Charlie Strong showed he's a great coach, one who was able to lead his team to a 33-23 upset of Florida. All year Florida's offense was inconsistent, and it finally caught up to them when they needed it most. Louisville hopes to ride that momentum into recruiting this offseason (four-star WR recruit James Quick said he would've picked Ohio State before Wednesday, but committed to Louisville after their win) and make a run for a title next year.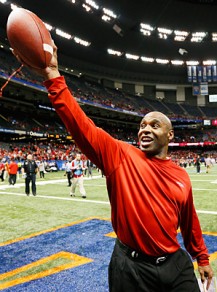 8. Speed kills….ask Kansas State. Oregon's "Black Mamba" was able to take the opening kickoff back for a touchdown, and Oregon never looked back – coasting to 35-17 win over Kansas State. I was worried the Ducks could be a little off that night from its long layoff and the players being distracted by the coach going to the NFL. Coach Chip Kelly has proven his system works 99% of the time in college, so now the NFL is calling. Coach Kelly might even pull a Pete Carroll and head to the NFL if sanctions are coming. Most coaches leave with a national title in their back pocket before they try the NFL, but Kelly might just have to go if they make an offer he can not refuse. Any thoughts on where he will go?
9. I guess when you join the SEC, you just get better. Texas A&M can vouch for that after taking care of Oklahoma 41-13. I did not see that coming at all. Johnny Football lacked the Heisman hangover and took care of business. Great job to the Aggies for having a great first season in the SEC. Texas A&M would have won the Big 12 hands down this year if they would have stayed. They are going to be a tough SEC West opponent in the future, and I am sure Alabama does not look forward to going to College Station next season.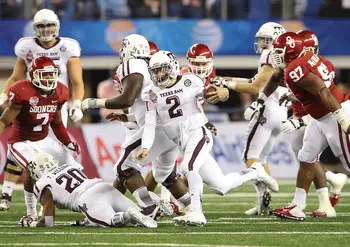 10. Ole Miss finished off the bowl week with an easy win over Pitt 38-17. Pitt was glad to make a bowl this yea,r but probably wished it was not the  BBVA Compass Bowl again for the third straight year. You might as well call it the Pitt Bowl.  Ole Miss coach Hugh Freeze hopes to carry the momentum of this win into the offseason and score some key recruits (they're rumored to be the leader for #1 overall recruit Robert Nkemdiche) to help his team in the tough SEC West. Ole miss was just a few plays off this season from finishing 9-3 this year, instead ending up 6-6. Coach Freeze will also have to teach his team how to finish come next season, or they can expect another 6-6 year.
Probably one of the saddest days of the year for most college football fans.  Only really one game left after today and then after that….it's over. Back to speculating over who will be in the Top Ten next season and who will win the Heisman Trophy.
Until next week (or season) college football nation…
NATIONAL NEWS:
1. Coach Kelly feeling Brown
2. Classic Fiesta Bowl moments
3. More news on Kelly to NFL
4. More good news for Louisville
5. Refs gone wild in the Cotton Bowl

Want to Watch Oregon Games on your computer?
If you do not get all the channels that have the Oregon Football games, or simply want to be able to watch the game over again as you don't have the space in the DVR to hold all the games?
Contact me by email: charles@fishduck.com and I can help.  We have fans across the nation and internationally watching the games 24/7/365 and I wish that for everyone.  Charles Fischer