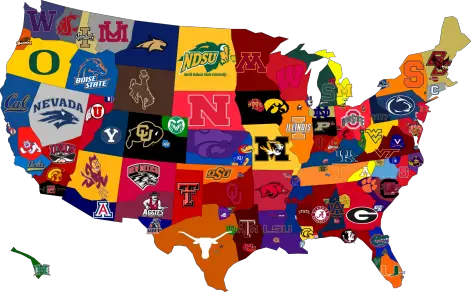 The season is over and we all can at least agree on one thing….Alabama is good!  I don't think anyone could have matched up with them in the title game this year.  In other news, coach Chip Kelly is back at Oregon.  He probably feels 2013 will be the year to end the streak of SEC national titles.
1. Did anyone even think the title game would be close?  I knew Alabama was going to win, but to be up 35-7 in the national championship game at one point….WOW!  Notre Dame now knows how Ohio State felt when they were blown out by Florida.  Alabama treated Notre Dame as just another game.  Notre Dame could not tackle on defense or move the ball on offense; it was a mismatch as soon as the game was set.  From Alabama's first drive, it was evident that Alabama was going to have their way with Notre Dame all night. Few could be surprised, as the Irish barely got by against BYU, Pitt, Purdue, and Michigan this year.  Nick Saban looks to reload and probably repeat again next season.  Maybe next season we will get the Oregon vs. Alabama match up everyone wanted so bad this year. Guess we will have to wait until next January to find out.
2. Chip Kelly is staying! The NFL almost had him, but he has some unfinished business at Oregon. Title game or bust for the 2013 season. I still do not understand why Kelly would want to go to the NFL. Look at Steve Spurrier, Nick Saban, and Pete Carroll (the first time) and how their stints in the NFL went.  At least Kelly wouldn't have to deal with things like "sanctions" in the NFL.  Chip, Oregon loves you and the success you had there is amazing, so stick around and win the title. The only job I would recommend him leaving Oregon for is an SEC team like Alabama, LSU, or Georgia. Boo the NFL!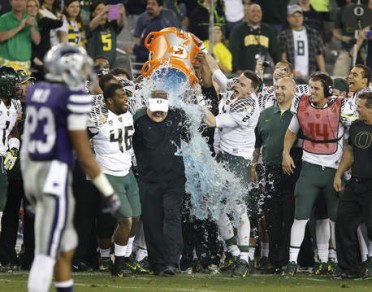 3. Another coach Kelly is staying, this time Brian Kelly of Notre Dame.  He would be another person whose jump the NFL would also be ill-advised.  Brian, I know you just got embarrassed on national television, but things are finally set in place at Notre Dame. You have a QB, a defense, and things are finally coming together. Don't jump to the NFL – nothing good would come of it.
4. Interested in something this offseason besides reading the arrest reports and NCAA witch hunt reports? Just read a book called "Swing Your Sword" by Mike Leach. It's a great read that lets you see more into the mind of Leach and also learn a little bit more about that mess that led to his exit down at Texas Tech. While not current college football news, it's something worthwhile to do during the slow offseason which will help PAC-12 fans understand Leach a little better.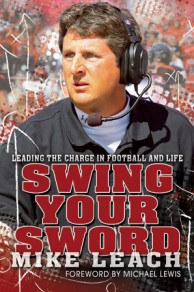 The offseason is here, so how do us die-hard college football fans handle this long lay off?  Oregon fans can be excited about a good basketball season following an upset of formerly undefeated Arizona. College basketball and March Madness will hold me over until about April, but from then until September, I am going to go crazy. I am predicting the final crumble of the Big East over the summer, the Big 12 finally getting back to 12 teams and a title game, and probably hundreds of arrests of players from top programs across the country.
Oh the off season, here we come!
NATIONAL NEWS:
1. ACC going with 8 games
2. Heisman favorites for 2013
3. College football mailbag
4. Ducks in NFL playoffs
5. Bowl review
Jeff Hostetler may not have won a Super Bowl with the Giants ( though his uncle of the same name did). He has been an obsessed college football fan living in Florida ever since the Gators beat FSU in the Sugar Bowl to earn the UF's first national championship.
Ever since Jeff has immersed himself in everything possible related to college football. He enjoys watching, writing, playing, and otherwise obsessing over all things football. A graduate of the University of Florida, he brings a perspective to FishDuck free of our extreme green & yellow homerism glasses to look at the current landscape of collegiate athletics.
Articles EVERY DAY Again on FishDuck!
Our focus is now on this wonderful Oregon Sports Community, and we will have at least a short article every day to begin the Duck Discussion.
You are also welcome to post other current events or items about Our Beloved Ducks in the comments as well.
Our 32 rules can be summarized to this: 1) be polite and respectful, 2) keep it clean, and 3) no reference of any kind to politics. Easy-peasy!
Take note though, there are NO STRIKES, NO WARNINGS, and NO SLACK given. Violate the rules and you are gone, as this is what the 99% who post superb comments want. (The Ban could be for weeks, months or permanent)
FishDuck members….we got your back. No Trolls Allowed!