Tier-3: Trevorris Johnson RB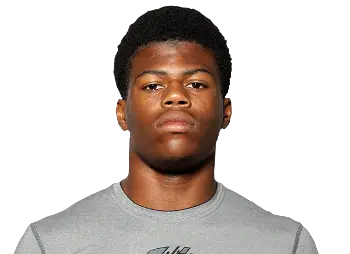 Currently committed to TCU, Johnson is set to visit Eugene this weekend.  Expect a commitment shortly thereafter.  In Oregon's search for a third back, some high profile options have chosen to go elsewhere, leaving the coaches with few remaining options.  While Johnson isn't considered an "elite" recruit, his film shows a player who has the tools to be successful at Oregon.
Johnson is a thick, physical running back who does a good job of getting yards after contact thanks to his balance and size, but lacking great top-end speed is what keeps him from being considered a Tier-1 recruit.  He does have adequate short-area quickness though, and combined with his running style, that could make him an ideal short yardage back in Oregon's offense.  Look for him to put on additional weight and find a role at the BCS level.
Johnson would be a great 3rd back for Oregon.  He's probably not a guy who's going to come in and expect a lot of carries early on, which is important (note recent Texas RB transfers).  Oregon's chances seem good given his desire to visit, and if he likes the campus and thinks he can handle the distance, look for a quack.
Tier-1: Devon Allen WR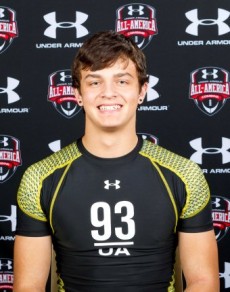 Allen was one of the few recruits who was excited when Chip Kelly left for the NFL.  Why? Because he thought it might finally mean an Oregon offer.  Kelly told Allen he had a spot on the football team but would have to rely on a track and field scholarship (Allen is an elite track athlete).  With Helfrich taking over, Allen has finally received his coveted offer and adds it to an impressive list of suitors that includes Texas, Notre Dame, Michigan, Ohio State, UCLA, Stanford and Oklahoma.
By all accounts, Allen is a polished high school wideout.  He has good hands, runs good routes, and has great speed to boot.  Reports out of the Semper-Fidelis All-American game were that Allen was tearing up the practices.  His advanced routerunning skills were evident throughout the week and he became a favorite target, even while nursing an ankle injury.
The fact that Allen hasn't committed anywhere yet is a great sign for Oregon, especially when combined with his obvious interest in the school.  UCLA will be the biggest competition for this talented recruit, but if the coaches show him some love, he could very well be a Duck.
(Editor update:  It was reported on the evening of Friday, 1/25, that Allen is a verbal commit for the Ducks.)
Tier-1: Cameron Hunt OL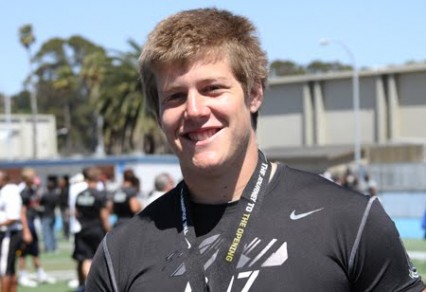 Despite being committed to Cal, Hunt lists his "top-2" as Ohio St. and Oregon after recently visiting both schools.  The Oregon visitwas said to have gone very well and some in the know feel confident with Oregon's position here.  The talented lineman is set to officially visit Cal this weekend.
Hunt is the perfect fit for Oregon's line.  He's big and athletic with quick feet and a mean streak.  He's a dominant run-blocker and is developing as a pass protector.  He is fairly polished and could see early playing time at the next level, especially along the interior.  Given Oregon's interior depth, a redshirt year might not be necessary.  This might be the best lineman on the west coast.  This would be a huge pull for Oregon.
Hunt is saying that he won't announce until signing day.  Given the amount of offers Ohio State has out and the minimal room they have left, his spot could very well be gone by then.  That leaves Oregon as the only school left in his self-proclaimed top-2.  Hunt knows that, of course, another good sign for the Ducks.  Oregon always had a better shot than OSU because of distance, which was always a factor.  The Cal visit this weekend will be the difference, one way or another.  At this point, it could go either way.  He committed to Cal for a reason and he's likely to enjoy his visit.  I'm sure he'll spend plenty of time with the new coach Sonny Dykes. Hopefully Oregon has enough of a lead to overcome his upcoming visit.  It's 50/50 right now.

Chris was born in Montevideo, Uruguay, but made his way to Oregon by the age of five, when he attended his first game at Autzen Stadium. A huge sports fan at a young age, Chris grew up playing football, basketball and golf. Although realizing he isn't likely to play in the NFL or NBA, Chris still holds on to hopes of being a professional golfer should his unfortunate putting woes take a turn for the better. A bit of a platypus, he attended both Oregon State and Oregon during his collegiate days where he earned a business degree in Finance and Business Administration. Chris works for Daimler Trucks North America in Portland, and plans to get his MBA from the University of Oregon.
Chris has been an active member in the recruiting community since 2005. He studies the intricacies of recruiting and is particularly intrigued by talent evaluation techniques. He is currently working on developing his own scouting reports for every scholarship player on the UO roster. Chris lives with his wife, Katrina, and his two-year-old son Lucas (a future dual-threat QB).
SIGN UP for the New FishDuck Commenting/Posting System!
The first step toward some big additions to the site is moving away from the Disqus system, to our own new commenting/posting system for the great discussions below the articles.  Signing up now will automatically have you registered in the new forum that will be released in the next three weeks.
It takes a minute is all, and will allow us to continue our amazing discussions of Oregon Sports in a new format that will allow more flexibility over time as we add features.  Sign-up now!  
Mr. FishDuck