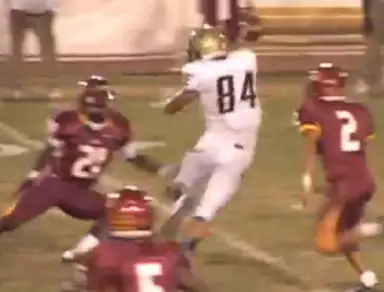 Chip Kelly has reiterated many times that when it comes to an ideal Oregon Duck quarterback he looks for a great passing QB who can run, not a running back who can throw.  Although it has not been said as such, I believe  similar criteria can be applied to the ideal Oregon Duck tight end.
What Oregon looks for in a TE is a great blocker who can also catch, and not a receiver who can block. Oregon Duck quarterbacks are called on infrequently to run, but when they do it often results in significant gains.  The threat of the QB run forces a defense to account for the threat of the extra runner.
Oregon tight ends are rarely called on to receive a pass, but when they do it are usually for a significant gain.  This, too, forces the defense to account for the threat of the extra receiver.
In the same manner that Oregon needs a quarterback who can primarily be a decision maker on the variety of read options and a passer, the Oregon tight end is primarily a blocker who is a critical asset to the running game.
Oregon's latest tight end recruit, 6′-5″ 235 lb John Mundt from Modesto, California, fits this profile almost perfectly.  While averaging only two catches a game he has posted an average of 20 yards per completion for his Central Catholic team.  There is little doubt that John Mundt can catch the ball. He has soft hands that would make many a receiver jealous.  Mundt has also shown wide receiver-like abilities when it comes to using his athleticism to adjust to the ball in order to make a difficult catch.
But this all misses the point.  As we previously discussed, what Oregon requires is a tight end that can make the necessary blocks at both the line of scrimmage and downfield.  This is where Mundt excels.  He brings a defensive end mentality to his blocking game.  In fact, as a defensive end Mundt accumulated 14.5 sacks in his senior year.  I suspect it was this underlying nasty attitude combined with great athletic ability that lead Oregon to take a closer look. His receiver skills perhaps sealed the deal.
So what else do we know about John Mundt?
Like many Duck recruits, he is an excellent student, posting a 3.8 GPA.
He is a team player. One reason he committed to Oregon last June was so that he could focus on his team's success and not be distracted by the temptation to make himself look good.
His team won the California Division IV State Championship
He recently moved up in the Scout.com rankings to the #13 TE nationally and was given a 4-star rating.
In the Nike SPARQ agility tests Mundt posted a score of 114.57, the second highest score nationally for a tight end and the 51st highest score overall.
If you are still not convinced that John Mundt was destined to be an Oregon Duck consider this, as reported by Scout.com:
"I love overcast, rainy weather."
Well then, welcome to Oregon, John Mundt!

Ted Werth is a long time Duck fan whose first game, at age 11, resulted in Bobby Moore (Ahmad Rashad) setting the Oregon single game rushing record against Utah. a record which stood for almost 30 years. A longtime season ticket holder, Ted writes the Life's Been Good blog found at Lbgtmsf.com.
For Greybeards … the EYES Have it!
Want to know a secret about web behavior? Readers don't like long stretches of sentences in comment posts without any breaks, and most readers don't even like long paragraphs.
Break it up! After every third sentence in your post…hit "enter" on your keyboard twice if your computer is a PC, or "return" twice if you have a Mac.
This creates natural breaks between scads of sentences, and so many of us thank you for making it easier on our "Greybeard-age" eyes!