It is good to be a Duck right now!  The University of Oregon football program has been in the Top 10 for a few years now, and because of that people all over the country think of football when they think of Oregon.  Now it seems like Oregon's men's basketball team is going to give their fellow Duck athletes some competition as they surge into the #10 spot in the AP poll, and continue grabbing the attention of basketball fans everywhere.
The Ducks broke into the Top 10 for the first time since the Elite Eight run in 2007, and we can hope that this time the run ends in the number one spot.  At the very least it looks like they could go deep in the NCAA tournament, and even be on the level of the great teams we had in the 2000's!
Oregon jumped six spots in the AP poll after beating both the Washington schools in what were some heart stopping games.  In the game against Washington State, Oregon initially fell behind 39-29 at half before pulling away to win the game; thanks in part to E.J Singler, who had 19 points in total of which 14 were in the second half.  Arsalan Kazemi and Damyean Dotson helped out with 16 and 11 points each with a career-high nine rebounds thrown in for Dotson.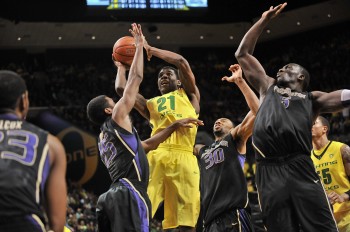 After news of Dominic Artis's foot injury spread, there were fears that the Ducks wouldn't' be able to hold it together without him and run the offense as successfully as they have been this season.  The team proved everyone wrong, however, when they pounded the Huskies and didn't seem to miss a beat without Artis.  This gave Duck fans hope that the team will be able to keep playing as well as they have until Artis is back, which we hope is sooner rather than later.
In non-Duck news, UCLA thumped Arizona, which was a surprise to most everyone watching or projecting the game.  It looked like the Bruins were still smarting from their loss to the Ducks the previous week and they took their anger out on the Wildcats.
UCLA then proceeded to do a turnabout two days later when they could not seem to get the ball in the basket and were thumped by Arizona State. There seemed to be world of difference between the team that played Arizona and the one that showed up against Arizona State.  This isn't the first time this season that UCLA has shown a Jekyll-and-Hyde team persona.  How else does one explain a beatdown of AZ from a team that lost to Cal-Poly?  UCLA fans must be going nuts – not that we mind that here in Eugene.
All the surprise beatings being delivered were good for the Ducks, however, and this week's conference shuffle has left the Ducks with a solid two game lead in the conference.  This leaves Oregon in a very good position for the rest of the season, both nationally and in the conference.  The Ducks also benifit from not having to play the next 3 teams behind them — UCLA, Arizona, and Arizona St. — again in the regular season.  Oregon also comes out on top if it comes down to a tiebreaker situation.  Is an undefeated conference season in the works?  While there is still the second half of the conference schedule yet to play, the Ducks are positioned nicely.  It's a possibility now, especially with this team that's never out of it until the final buzzer sounds.
If the selection for the NCAA tournament were to take place today, the Ducks would be a #3 seed.  Not bad for a team no one expected to be even close to the Top 10 in the preseason!  That's also where our last Elite Eight team was seeded.  Can this team maintain that — or rank even higher?
Next up for the Ducks is Stanford (January 30, @Stanford, 8 pm).  The Cardinal is 12-8, 3-4 in PAC 12 play.  Stanford has had a lackluster start in conference play but have been improving of late, and they are always a dangerous opponent.  The Ducks traditionally have struggled when playing in the Bay Area.  We will see what the Ducks can do against a team that seems to have trouble showing up in certain games, but is on the upswing.
Pat Pannu (Editor and Writer) is a recent graduate of the University of Oregon. Pat's been a crazy Duck fan since she moved to Oregon in early 2004 and has been 95% of all home games since the 2005 football season. She loves to talk about sports though those talks somehow always end in arguments. Pat loves to hear other's view of the sports and teams that she loves and can't wait to hear from you all. Follow her on twitter @patpannu
Daily Articles NO MORE on FishDuck
Please see this explanation right here… and to learn about the impact of FishDuck on so many–check the summary right here.  I will be writing intermittently on FishDuck (as the mood strikes) this summer, and a couple of times a week during the football season, and those articles and analyses will be posted here on FishDuck, and the links to my articles will also be available on the new site PuddleHuddle, when it is up soon.
New at FishDuck? Learn about the site right here!
Our 32 rules can be summarized to this: 1) be polite and respectful, 2) keep it clean, and 3) no reference of any kind to politics. Easy-peasy!
Take note though, there are NO STRIKES, NO WARNINGS, and NO SLACK given. Violate the rules and you are gone, as this is what the 99% who post superb comments want. (The Ban could be for weeks, months or permanent) For the less than 1% out there who do not have impulse-control … as you write your comment that violates our rules, ask yourself, "is this worth getting banned over?"
FishDuck members….we got your back.  No Trolls Allowed!