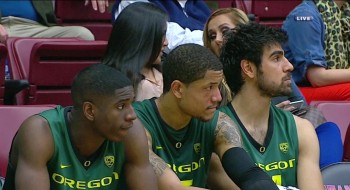 PALO ALTO, Calif. — Back in November, the undefeated, league-leading Oregon Ducks ran into Stanford's football team at Autzen Stadium, and Oregon's national championship dreams were squashed. Last night at Maples Pavilion on the Stanford campus, the Cardinal basketball team faced another highly-ranked and undefeated Pac-12-leading Oregon squad. Stanford didn't blink.
The No. 10 Ducks, leading the conference by two games and winners of nine straight contests coming into the game, fell hard to the Cardinal 76-52. It was the first win by a Stanford mens basketball team over a top-ten team since beating UCLA in 2007. After taking their first lead at 7-6, the Cardinal never trailed again as they raced to a ten-point lead after the first seven minutes, and took a 35-22 lead into intermission.
Since Oregon had come from behind to win after trailing at halftime three other times already this season in league play, Duck fans were still hopeful. But there was no half-time talk that could inspire the Ducks this night. Stanford dashed any possible thoughts of a comeback when they outscored Oregon 12-3 to open the second period and take a commanding 47-25 lead just five minutes in.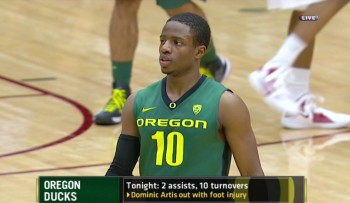 Coach Dana Altman said, "We got beat in every phase of the game. We didn't have much pop. We didn't move the ball — we only had four assists — turnovers were a problem for us, a lot of things were disappointing. It wasn't a good outing for us."
Stanford entered last night's contest with the worst field goal percentage in the conference.  Against Oregon, the Cardinal shot 52% for the game, and 8/14 from beyond the three-point arc for a sizzling 57%.  That's the kind of night it was, as the Ducks managed to shoot only 35% for the game, they missed all six of their three-point attempts in the first half, and only hit three for the contest.  Oregon had only four assists on the night, a season low; meanwhile, Stanford had assists on 13 baskets.

Four Stanford players were in double figures, led by Chasson Randle with 17. Two had double-doubles: Josh Huestis, 14 points and 13 rebounds; and Andy Brown, 12 points and 13 rebounds. Led by Huestis and Brown, the Stanford inside game outmuscled the Ducks all night, winning the rebound battle 35-31, and outscoring the Ducks in the paint, 26-20.
Senior Carlos Emory was the only Oregon player in double figures as he scored 12 points on 5/9 shooting. No one else (on a team that has five players averaging in double figures), scored more than seven.  Arsalan Kazemi pulled down nine rebounds to lead the Ducks in that category.
Turnovers continued to be Oregon's Achilles heel as the Ducks committed 20, while the Cardinal coughed up 16. One of the most startling statistics of the game was that Oregon was only able to score four points off Stanford miscues, while Stanford turned Oregon's mistakes into 21 points.
Altman bemoaned his team's hiccup-like performance. "It's as much my fault as anyone else's. We didn't make it any better in the second half. Our turnovers came because we tried to do too much on our own, with no ball movement. I had no idea what we were doing out there. We tried to get them into something, but our execution was awful."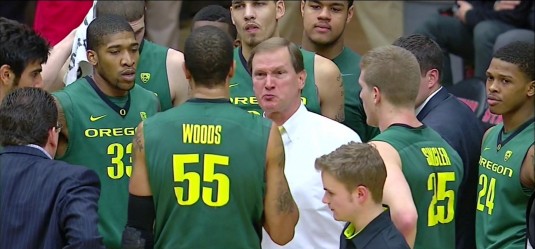 Missing regular point guard Dominic Artis for the second straight game affected the team more on the road against Stanford than in Oregon's home win against Washington. Stanford played aggressive defense from the opening whistle and Oregon never matched the Cardinal intensity level.
Altman said, "We didn't bring it, and Stanford was the better team tonight."
Since first becoming ranked a few weeks ago, Oregon has played as if the national attention and hoopla that accompanied their glossy record had no affect on them. Altman cautioned his team and his seniors have tried to carry the message that the rankings and prestige can evaporate just as fast as they appear.
Last night, with two minutes left, but the game long over, the Stanford students let the Ducks know what they thought of their No. 10 ranking. "Overrated!" they chanted again and again.
It's been over a month since Oregon, now 18-3 overall and 7-1 in league play, has had to deal with losing a game. How the Ducks bounce back against California will tell a lot about the true strength of this team. The Bears are the only school in the conference that Altman has not beaten in his tenure at Oregon.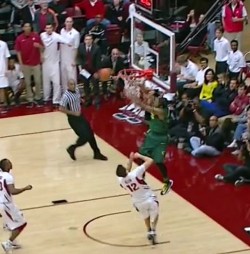 He said, "We have a quick turnaround." Because of television and the scheduling quirks of the Pac-12 Conference, the Ducks flew home on a chartered flight after the game to attend classes today and tomorrow, and return to the Bay Area Friday after practice to play Cal Saturday afternoon.
Altman knows that his team can't let the Stanford game affect its play against Cal on Saturday. The Ducks need to flush the loss and bounce back and play with the confidence, discipline and execution that helped them ascend to the conference lead and take early control of the Pac-12 race.

Luke Roth (Basketball Analyst) is a retired teacher and coach who has lived in Eugene since 1977. He coached high school basketball for 34 years, including 26 years as Sheldon HS girls varsity basketball coach (1984-2010). Luke taught at Sheldon for 30 years, and in the International HS at South and Sheldon, for 20 years. He taught journalism and advised the school newspaper at Sheldon during his stint there. He is a long-time Duck fan and UO alum (MA 1985). Luke has been married to his wife Catherine for 36 years with two grown children and one eight-year-old grandson. In retirement, Luke spends his time hiking, biking, gardening, writing, and playing the stand-up bass in the Sorrel Way Jam. Follow Luke on Twitter: @luke_lukeroth
Articles EVERY DAY Again on FishDuck!
Our focus is now on this wonderful Oregon Sports Community, and we will have at least a short article every day to begin the Duck Discussion.
You are also welcome to post other current events or items about Our Beloved Ducks in the comments as well.
Our 32 rules can be summarized to this: 1) be polite and respectful, 2) keep it clean, and 3) no reference of any kind to politics. Easy-peasy!
Take note though, there are NO STRIKES, NO WARNINGS, and NO SLACK given. Violate the rules and you are gone, as this is what the 99% who post superb comments want. (The Ban could be for weeks, months or permanent)
For the 1% out there who do not have impulse-control … as you write your comment that violates our rules, ask yourself, "is this worth getting banned over?"
FishDuck members….we got your back.  No Trolls Allowed!
New at FishDuck? Learn about the site right here!