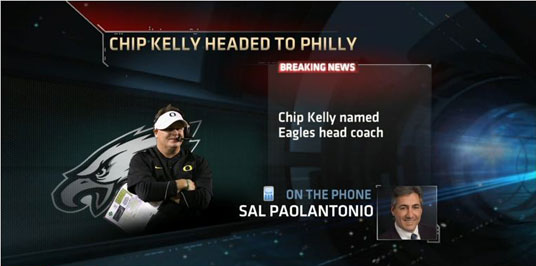 When the news of Chip Kelly's departure from the U of O broke this morning, and after I cleaned the spit-up Wheat Chex I had been eating from my table and floor, my mind began racing. I had read the first report from ESPN's Chris Mortensen on Twitter, and then I read it again. And again.
"This must be an old tweet or something," I thought.
But then came another tweet from another source, then dozens more; nearly all of them from a wide range of legitimate industry "insiders." All of the sudden Twitter was blowing up, this had to be real. I sent out a panic-induced text to some close Duck fan friends about the news and tried to go about my day. After all, I had to focus as much as I could on the ever-growing pile of work eagerly awaiting my arrival at the office.
As the day went along, I became more and more at ease with the news, and began again to excitedly ponder about the future of Duck football.
Full disclosure: I am a licensed Realtor based in Eugene, so curiosity about properties and the numbers that go with them are a natural place my brain often wanders to.
After the day was over while driving home, I began to think about Chip Kelly's house.
After all, he just had that house built not long ago. My family and I  live not far from the huge grey castle-on-the-corner in the North Gilham area of Eugene. Though sometimes I wish it did, my house bears absolutely no resemblance, other than general location, to the CK mansion. However, I have personally toured many of the homes that have been for sale in that area for the past five-plus years. There are some big and beautiful homes in that desirable corner of Eugene, but really nothing quite like Chip's house. It is in a newer section of nice homes – mostly consisting of "McMansions", with Kelly's serving as the Big Mac.
"How big is that place anyway, and who else would buy it?" I thought.
When I got home, I began to surf some public records information (that is available to anyone) and also look at the current market to see how Chip's place would look if it were listed today. The numbers below bolster my thinking that the property would be an anomaly in the Eugene market. In fact, anomaly might be an understatement. According to Lane County public records and some MLS data, here is a look at that details of that property, by the measure of a few cursory numbers:
TOTAL HOMES CURRENTLY ON THE MARKET IN THAT AREA OF EUGENE
85
The number of active listings in that market, regardless of price range or other criteria.
TOTAL SQUARE FEET
CK: 6,281 not including 2,001 sq ft garage
Existing on market: one other listing over 6,000*
Translation: That's a pretty big house. For example, 70 of the 85 listings are under 3,500 square feet
BEDROOM COUNT
CK: 6 Bedrooms
Existing on market: Zero six-bedroom homes 
Note: There are 11 five-bedroom homes though!
BATHROOM COUNT
CK: 5.5
Existing on market: Two other listings with at least five bathrooms
PROPERTY TAXES 2012
CK: $13,865.47
Existing on market: one over $10,000*
This is a big one, and an item that potential buyers ask about all the time. In Lane County, rarely do property taxes exceed $10,000 per year, and the majority of single-family homes are under $5,000 per year.
TAX ASSESSED VALUE 
CK: $954,639
Average Home Price in Lane County (as of 12/2012): $200,700
# of sales over $850,000 in that area in the past 24 months: 1
*Only other home of at least 6,000 sq ft and over $10,000 in taxes was first listed on 10/29/2007.
By just looking at those very basic numbers, it's obvious that we are talking about a rare property. But how rare will buyers be for that house? Judging by the fact that the only other home over 6,000 sq ft and over $10,000 in annual property taxes has been on the market going on five years is not exactly a good sign. Million dollar sales, and up, do occur more frequently in other parts of Eugene, and 6,200 square feet is by no means the largest home in town. But usually when someone builds something of that caliber, they intend to enjoy it a little longer.
However, listings often do have a certain appeal when interesting facts or history is attached to the deed. My guess is that Kelly's home, if/when he does decide to sell it, will not spend five years on the market like its 6,000 square foot associate. In fact, I would expect a number of people would likely be interested.
Maybe a nice big family, like say, the Helfrichs?