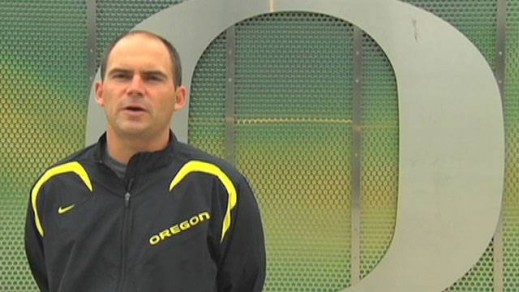 When — not if — Chip Kelly accepts an NFL offer, a collective sigh of relief will be heard from Corvallis, Los Angeles and the like. Opponents of the Ducks will rejoice the day when Oregon fell from the ranks of the elite. They will look into their crystal balls and see conference titles staring back at them. They will, undoubtedly, view Kelly as the mythical beast that has vanished from their nightmares.
To that I say…not so fast my friends.
Let me introduce Mark Helfrich, head coach-in-waiting. The hand-picked successor to the most successful, popular and polarizing coach the state of Oregon has ever seen. He's the man tasked with stepping into rather large shoes; ones that have walked the sidelines at four consecutive BCS bowls, including a title game.
The four-year run under Kelly has been a wild ride, filled with quirky press conferences, awkward halftime interviews and uncomfortable Twitter questions. It's been fast-talking, fast-moving and fast-scoring. A revolutionary coach is imperative for a revolutionary offense, and that's exactly what we got under Chip. There will never be another like him, no matter how successful any successor is.
That's what Helfrich is tasked with doing; replacing a legend who took a team and a program to uncharted waters. A man who did it his way, no matter how many feathers he ruffled.
HIS OWN MAN
Helfrich, by comparison, is the polar opposite of Kelly; at least in terms of personality. Reserved, yet open with the media and humble as can be, Mark will endear himself to boosters off the field in a way Kelly never could. He's the coach a mom wants watching over her son. His soft smile and genuine care will win over recruits and earn a player's trust.
But make no mistake: Mark Helfrich can coach, too.
After his playing career at Southern Oregon, and following a short stint as a graduate assistant with the Ducks, Helfrich took over as quarterback coach at Boise State under offensive coordinator Dirk Koetter (who previously coached at Oregon) in 1998. He would eventually follow Koetter to Arizona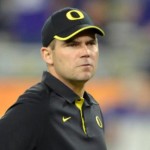 State, where he helped Andrew Walter become one of the most dynamic quarterbacks the PAC-12 has ever had. After three seasons in Colorado, Helfrich took the coordinator spot at Oregon in 2009, and has helped orchestrate Chip's Blur offense the last four seasons.
Working under some of the brightest coaches in the game has turned Helfrich into a hot commodity. The fact that Kelly has chosen him to be his successor at Oregon should give Oregon fans — and Oregon haters alike — reason to believe that the Ducks will be in good hands.
MAKING HIS OWN MARK
Nothing in sports is ever guaranteed, the least of which being how a coach will do in his first head job, though I like Helfrich's chances.
Chip had something about him that was so unique on an individual level. His way of thinking, the way he moved the chess pieces, was different than what anyone else was doing. His football IQ was off the charts, but it was the other aspects of coaching that separated him from his peers.
The last four years under Kelly, Helfrich has been sitting quietly in the booth, taking notes. He's been studying the master at work, readying himself for when his name will be called.
It appears that time is now.
If Helfrich takes what he has learned and is able to see his plan through, Oregon's dominance can continue. He has the players, the facilities, and the backing. The plate has been handed to him, full of all the fixings he needs.
It's up to him to serve it.

Want to Watch Oregon Games on your computer?
If you do not get all the channels that have the Oregon Football games, or simply want to be able to watch the game over again as you don't have the space in the DVR to hold all the games?
Contact me by email: charles@fishduck.com and I can help.  We have fans across the nation and internationally watching the games 24/7/365 and I wish that for everyone.  Charles Fischer