For me, it seems that a byproduct of getting older is a certain jadedness. There isn't a whole lot anymore that emotionally stuns me the same as it might have in years past. I'm still surprised now and then, but rarely do I get blindsided and emotionally drained.
I suppose that after experiencing gut-wrenching events in my life, the impact of future events of the same nature lose their punch. I was an emotional wreck for a lot of years after my first divorce. The second divorce carried none of the sting of the first. It was unfortunate, yes; but it didn't completely spin me out like I was the first time. Sadly; been there, done that.
When Chip Kelly left for Tampa Bay last year, it was impossible not to be blind-sided. No true Duck fan would exist that did not feel sucker punched. Then, in the span of mere hours, Chip was back. The only day as a Duck fan that was more emotionally draining for me than that day last year was the day Dennis Dixon went down.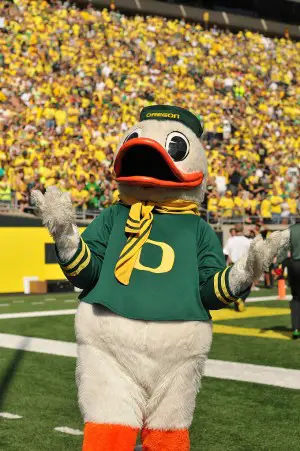 I'm jaded. With the talk after the Fiesta Bowl that Chip was as good as gone, I was ready. Then he said that he would be returning to the Ducks, and I was thinking that we'll have him for another year, someone will come calling again, and we'll be doing this carousel again. I was surprised to wake up on Wednesday and find out that Kelly had, in fact, been hired by the Eagles, but that's all it was – surprise. The air has not been let out of my balloon. I'm not emotionally drained. I don't feel anything except perhaps a sense of relief.
Last year we were wounded. Chip Kelly came back, and our wound was bandaged. The way I see it, the wound is the same and Kelly staying on is still just a bandage. After the Fiesta Bowl, it seemed to me that whatever anxiety I was going to feel was just like pulling off a bandage – you can pull it off slow, and labor over the endless pain and discomfort of it, or you can just rip the sucker off and get it over with.
RIP!! Well, what do you know … the bandage is off and the wound has healed up nicely.
I'm not torn up about Chip Kelly leaving. We're going to be fine. It would be different if the Ducks were a struggling program that fired a staff wholesale, and then brought Kelly on board — but that's not what happened. Kelly inherited a long term stable of assistant coaches – coaches in every facet of team play, that have been here for a long time.
They're still here.
They're the ones that have built up relationships with recruits. They're the ones that will provide the continuity that will exist every day between now and the beginning of the 2013 football season.
These assistants were here when Chip took over. This is why I've always maintained that the success we've experienced at Oregon is partly to do with Chip Kelly, but it's equally — equally — in part because Oregon was already good when he took over. Chip Kelly did not have to build a program from scratch. Would Chip Kelly be as successful had he been hired by Washington State? Colorado? I highly doubt it. Chip's success is not just his success, it's our success; the trainers, assistants, players, staff, facilities — all the things that were here when he arrived and are still here.
The wound is healed. Now we move on. I have a suspicion that we're going to be very happy with our new football coach and continue the success that Mighty Oregon has experienced in becoming a national collegiate football power.

Carl (Editor and Writer) has been an avid fan of the Ducks for nearly 20 years. He worked in a great variety of professions, as well as being a business owner and manager, before lending his talents to the Fishduck team.
Carl does writing, but is mostly behind the scenes at Fishduck, in providing management and vision support, and as the Publisher and Senior Editor.
Mr. FishDuck … You Simply Can't Handle MY Opinions!

Baloney. I want all opinions here as it enables us see the full spectrum of ideas and helps us to learn from others and modify our own views as a result. In fact, this is the only Duck website where you can safely share your full-spectrum views on Oregon Sports.
If there is a problem … it is with your behaviors, and not your opinion, even if unpopular. Be polite and courteous to others and you will be reciprocated, and consequently you'll have a tremendous experience on FishDuck.
The majority of our rules can be summarized to this: 1) be polite and respectful, 2) keep it clean for grandchildren reading, and 3) no reference to politics.
Easy-Peasy!