It's the multi-million dollar question, isn't it?  Why would a rising star decide to abandon a sure shot at coaching in the big show, only to return to a small town college football program?  Personally, I hope it's because Chip Kelly was listening to "Max and Marcellus" a few weeks back on ESPN Radio.  Neither Max Kellerman nor Marcellus Wiley was on the air, as it was December 21st, and both were out for the holidays.  Local L.A. sports talk personality A. Martinez welcomed former NFL wideout Keyshawn Johnson to the show, and the crew discussed the sports topics of the day.  (You may remember Keyshawn from two memorable years at USC, three Pro Bowl seasons in the NFL, and his claim to fame as the Father of Diva Wide Receivers.)
The topic of Kelly's potential departure came up and Johnson said something I just can't shake:  "Oregons don't win national championships," Johnson said.  "…I don't care if he (Kelly) stayed for 40 years …teams like Oregon don't win championships….they just aren't built that way."  The rest of the on-air personalities challenged Johnson, citing four straight BCS berths, including a BCS National Championship appearance.  Johnson didn't back down.  I was seething.
So could that be it?  Could it be that Chip refuses to leave the college ranks until he's proven all the doubters wrong — that a west coast team besides USC can beat the best teams in the country?  Some would say perhaps Kelly got cold feet.  Kelly was called a players' coach by former Ducks in the NFL.  But we know he's more than that.  He's a disciplinarian.  He's a mentor.  He created a culture in Oregon's locker room, and in the NFL you don't have that luxury.  You win games or you go home.  Win the day?  Sure.  Fast, hard, finish?  Fine.  Just get to the playoffs or go back to the farm.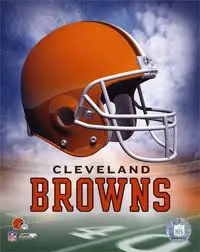 From the NFL's perspective, it's a curious case study.  Not many college coaches have turned down such a heavy courtship from the NFL.  And with so many job openings, Kelly had his proverbial pick of the litter.  The Browns came out lusting after Kelly, with media folks talking about seven hour meetings, hinting that a deal was in the works.  Until it wasn't.  But in examining the lovable losers in Cleveland, it probably wasn't a perfect match.  The Browns offer a young back in Trent Richardson, combined with a slow, old pocket passer in QB Brandon Weeden.  Weeden was also a first round draft pick, so good luck explaining to the Browns faithful that they are re-re-restarting over at signal caller.  Or worse, that Kelly would dig up the corpse of a slightly more mobile Colt McCoy.  I thought the Eagles seemed like the most desirable landing place for Kelly:  a great franchise, crazy-dedicated fans and some nice pieces to work with in DeSean Jackson and the running back tandem of Shady McCoy and Bryce Brown.  Throw in Michael Vick, literally on his last legs, and the potential of Nick Foles under center, for good measure.  Personally, I think Kelly was holding out hope that Carolina would excuse Ron Rivera, and he could unleash his up-tempo spread with Cam Newton, Jonathan Stewart and company.  Or maybe he's waiting for Bill Belichick to move upstairs to the GM suite, so he can take the reigns of Tom Brady's Hall of Fame arm?
Anyhow, Chip didn't bite.  Phew.  So, now we have our coach back.  We have the Black Mamba back.  We have the coolest QB on the mainland, Marcus Mariota, back.  What's going to stop us from flying through the 2013 season and into Pasadena for another shot at the title?  Well, naysayers, Beaver fans and headline seekers will mention the other 3,000 pound elephant in the room: the NCAA investigation.  Kelly undoubtedly knows that along with coming back for Oregon's spring drills, he'll be drilled in a COI (committee on infractions) hearing featuring NCAA pit bulls that would make Michael Vick nervous.  Recruiting services are the new "scourge" of college sports, and goshdarnit the NCAA isn't going to stand for it anymore (even though they've basically turned a blind eye to it for the past 10 years).   I'll take solace in the fact that Chip knows more than anyone what the Ducks are up against when the hearings begin.  And we'll all swallow a little bile when the name Willie Lyles surfaces for another 15 minutes of infamy.
But doubters be damned, Charles "Chip" Kelly is going to get that crystal football.  Not because the fans desperately want a title.  Not because it's what everyone will be predicting next spring.  Not to stop the SEC's damn-near-a-decade long reign.  He's going to get it because Big Balls Chip does whatever the hell he wants, and no one is going to tell him otherwise.  Then maybe then if the NFL teams still want to talk, he'll have a listen.

Dan Hendricks is a graduate of the University of Oregon, where he spent four years working in the Athletic Media Relations office. He also served a year in Public Relations at the Pac-12 Conference, and worked game nights for the Golden State Warriors. His favorite journalism moment was being threatened by Rasheed Wallace during a post-game interview. He currently resides in Los Angeles, where he's constantly irritated by USC fans.
You can follow him on Twitter @DanHustle
Trust me: A FORUM is going to HAPPEN!
Our Beloved Ducks Forum:
The forum is a boatload of work, and we are still chipping away at it and will have it available sometime this season.  It will be a blast when we do with this community!
We will also have something up every day; either an article or a Ponder-Point being published on FishDuck.  Participate in the comments!
Do Register to Post Comments! 
It takes a minute is all, and will allow us to continue our amazing discussions of Oregon Sports. Register here… 
Our 29 rules about posting a comment at FishDuck can be summarized to this: 1) be polite and respectful, 2) keep it clean for the grandchildren reading, and 3) no reference to politics!
Easy-Peasy!
Want to add a link to your comment?
Go to this page for directions and you'll be able to do it 30 seconds and share other articles with this great community!