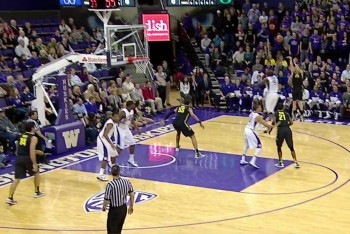 SEATTLE – When Oregon's E.J. Singler hit a fade-away, falling out of bounds three-pointer to complete a quick 7-0 run to open the game Wednesday night at Hec Edmundson Pavilion, the Ducks sent a strong message to the Washington players and the Seattle crowd. Oregon was back — back to playing the kind of basketball that has pretty much been absent over the last three weeks.
Led by a dominating defense that held Washington to a paltry 35% shooting performance, and a gutty overall effort by Jonathan Loyd, Oregon took a solid six-point halftime advantage and rolled to a 65-52 victory over the Huskies for their 20th victory of the year. The win moves the Ducks to the top of the Pac-12 conference with a 9-3 record, ½ game in front of Arizona and UCLA. It also gives Oregon a season sweep over their northwest rivals.
 "A lot of guys playing together, found a way," Coach Dana Altman said after the satisfying road win.  He added, "Johnny stepped up and hit some big shots that were critical for us."  Loyd finished with 11 points and two steals while handling the basketball with confidence most of the night.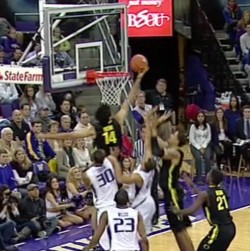 Back in action after a six game hiatus was the crisp ball movement for which Altman's teams are known.  Five Oregon players scored in double figures, the first time in recent memory.  It wasn't a perfect game, as the Ducks were out-rebounded 37-32, and only converted on 56% from the free throw line.  Defensively, however, the Ducks were easily the best team on the floor, and many possessions ended with the Huskies throwing up poor attempts late in the shot clock, with many shots altered or blocked by Oregon inside defenders.
Altman said, "Two big stats jump out: their 35% shooting — our defensive intensity was really good — and only nine turnovers for us. We really took care of the ball."
Not being able to handle the basketball down the stretch was the primary reason the Ducks picked up two of their three recent losses. In the late stages of this game, Oregon pulled away. The biggest difference: taking care of the ball and getting defensive stops.
Altman said, "Our defense did a great job. We never let their big two (C.J. Wilcox and Scott Suggs) get going." C.J. Wilcox, averaging 17 ppg, and Scott Suggs, averaging 12 ppg, were held to a combined 13 points.  Abdul Gabby was Washington's lone player in double figures, finishing with 17 points to lead all scorers, and Aziz N'Diaye hauled down 11 rebounds.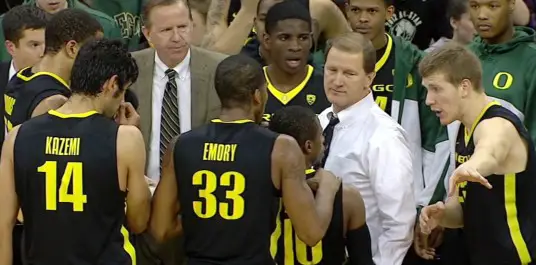 Oregon came out shooting a sparkling 56.5% in the first half, and 49% for the game; not normally the way things go for the Ducks in Seattle. Damyean Dotson led the scoring effort with 13 points, while Arsalan Kazemi and Singler joined Loyd with 11 points each, and Carlos Emory added 10.  Kazemi led Duck rebounders with seven and Emory pulled down six.
After starting 7-0 in conference play and then dropping three in a row, the Ducks were floundering without starting point guard Dominic Artis' poise, ball handling, and scoring ability. In the polls, the Ducks plummeted from 10th to 23rd in two weeks' time. Saturday, the Ducks came from behind after an emotional halftime talk from Kazemi to defeat lowly Utah at home, snapping their losing streak. But that was Utah — a team that's struggling to keep from being in last place in the PAC-12.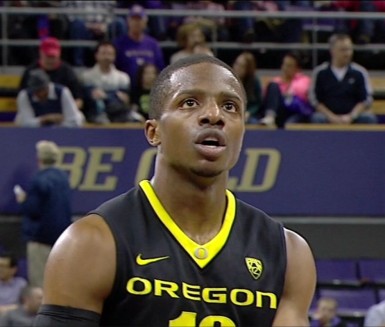 Going on the road again, many questioned Oregon's depth and lack of outside firepower, and Jonathan Loyd was tired of hearing about his shooting liabilities. He knew he had to step up and hit some shots. Going 0 of 7 against Cal two weeks ago stung him badly.  Against Utah, he hit  2 of 7, despite an injured shooting hand.  Last night he knocked down 4 of 7 from the field, including 1 of 1 from behind the three-point line. Two of the long perimeter shots came at critical times, and then he drove to the hoop twice for buckets inside.
Prior to the Washington trip, Loyd said, "I have to knock down shots in order to help the team. If they're going to sag off me, then my teammates aren't going to be able to do what they have to do." Last night, he accomplished exactly what he said he had to do.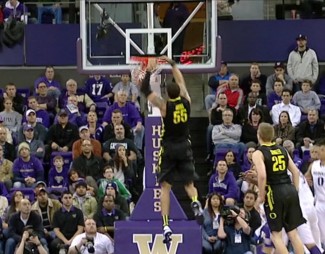 The Ducks put the game away midway through the second half, when they went on an 11-2 run that stretched their lead to 46-34, and the Ducks handled every subsequent Washington threat. The last time these two teams met, they combined to commit 44 turnovers in a sloppy Oregon win. Tonight, they had 21, less than half the first game total.
Now it's back to Eugene for two days of classes and practice before the Ducks head to the Palouse for a Saturday afternoon game against Washington State (11-14, 2-10). The Cougs, who dropped a 67-66 decision to Oregon State last night, are alone in the Pac-12 cellar after Utah upset Arizona State. 
Back alone in first place, the Ducks control their own future.  Pullman is the next step toward a future of staying atop the PAC-12.

Luke Roth (Basketball Analyst) is a retired teacher and coach who has lived in Eugene since 1977. He coached high school basketball for 34 years, including 26 years as Sheldon HS girls varsity basketball coach (1984-2010). Luke taught at Sheldon for 30 years, and in the International HS at South and Sheldon, for 20 years. He taught journalism and advised the school newspaper at Sheldon during his stint there. He is a long-time Duck fan and UO alum (MA 1985). Luke has been married to his wife Catherine for 36 years with two grown children and one eight-year-old grandson. In retirement, Luke spends his time hiking, biking, gardening, writing, and playing the stand-up bass in the Sorrel Way Jam. Follow Luke on Twitter: @luke_lukeroth
Articles EVERY DAY Again on FishDuck!
Our focus is now on this wonderful Oregon Sports Community, and we will have at least a short article every day to begin the Duck Discussion.
You are also welcome to post other current events or items about Our Beloved Ducks in the comments as well.
Our 32 rules can be summarized to this: 1) be polite and respectful, 2) keep it clean, and 3) no reference of any kind to politics. Easy-peasy!
Take note though, there are NO STRIKES, NO WARNINGS, and NO SLACK given. Violate the rules and you are gone, as this is what the 99% who post superb comments want. (The Ban could be for weeks, months or permanent)
For the 1% out there who do not have impulse-control … as you write your comment that violates our rules, ask yourself, "is this worth getting banned over?"
FishDuck members….we got your back.  No Trolls Allowed!
New at FishDuck? Learn about the site right here!