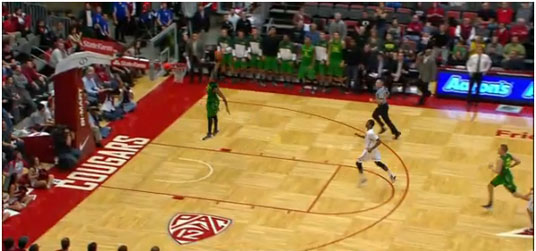 Behind by three points and the clock winding down in overtime, WSU's Royce Woolridge wanted the ball. As he dribbled toward the 3-point line from half court, the sophomore guard fired up his 36th point of the night on a long three with under 10 seconds remaining that tied No. 23 Oregon, 77-77.
The Ducks didn't hesitate and moved quickly to work for a game-winning shot, but it looked like a second overtime session was likely.
As E.J. Singler handled the ball in the front court near the half line with under five seconds to play, Dexter Kernich-Drew of WSU committed a shockingly ill-advised foul on the Duck senior with 3.8 seconds left that put Singler on the line with the game and the Pac-12 league lead at stake.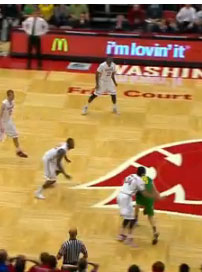 Singler calmly hit the first free throw to put the Ducks up 78-77. WSU coach Ken Bone called a timeout to ice the Duck forward and to plot a magical way for the last place Cougars to undo the previous five seconds.
Singler then hit the second free throw for the final 79-77 margin. When a long midcourt heave by Woolridge at the buzzer didn't connect, the Ducks had escaped the Palouse with a comeback win, a season sweep over the Washington schools, and still holding onto first place.
Now 21-5 overall and 10-3 in conference play, the Ducks lead second-place Arizona and UCLA by one game, both tied with 9-4 records and five conference contests remaining. The sweep of both Washington schools this year is the first time since 1990 that Oregon has accomplished that feat.
It was a game marked by heated physical play, including an Oregon ejection and a technical foul on the WSU bench. Oregon senior Tony Woods, retaliating for a brief tussle during an earlier possession, was called for a flagrant foul when he elbowed Brock Motum, WSU's leading scorer, in the head as both players were running down the court. The ejection came with 9:54 left in the first half and the Ducks trailing, 19-13.
Behind Woolridge and D.J. Shelton, Washington State built a lead that ballooned to 18 points late in the first half. Woolridge had a career night – in the first half – when he scored 22 points only 7 of 9 field goals, already besting his previous game-high of 20 points.  For the game, Woolridge finished with 36 points on 10 of 15 from the field, including 6 of 9 three-pointers, and 10 of 11 from the charity stripe.
The Ducks shot just 33% in the first half, but Oregon came back late in the opening period behind senior Carlos Emory, who came off the bench to score seven straight points to lead the Ducks on a 10-3 run to finish the half trailing just 38-27.
The comeback continued as the Ducks clearly owned early second-half momentum. Oregon defended well, and began to chip away at the Cougars, opening the half on a 16-5 run to take a 44-43 lead when Waverly Austin scored on a put-back with 14:20 in the game.
Oregon's advantage was brief. WSU's Motum scored on a layup on the next possession to retake the lead 45-44, and the Cougars maintained a small lead for the next nine minutes until Oregon made the defensive-to-offensive transition play of the game.
With WSU working the ball for a shot, Johnathan Loyd stepped in front of a crosscourt pass that he deflected to Austin. Austin then passed ahead to a streaking Loyd, who bounce-passed the ball back through his legs to a trailing Emory. Emory tried unsuccessfully to throw it down, but somehow managed to bounce the ball high off the rim, the board, and back through for an unlikely and-one play, when he was fouled. His three-point play gave Oregon back the lead, 61-59, with 5:54 left.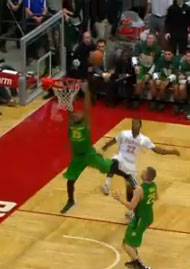 Oregon built their lead to five with 28 seconds left in regulation, but couldn't hold on. Missed opportunities from the free throw line gave the Cougars a chance, and DaVonte Lacy took advantage, burying his first 3-pointer of the game to tie the score at 71 with 8.5 seconds left. The Ducks then missed two chances to win the game in regulation before the buzzer moved the contest to overtime.
Singler led all Ducks in scoring with 25 points, one off his career high. His line included 9 of 10 from the free throw line, 6 of 11 from the field, including 4 of 8 from the three-point line, and six rebounds.
Emory had a career scoring night, netting 20 points for the Ducks and pulling down six boards. His steal and transition dunk with 2:46 left in overtime made the highlight reel.  Damyean Dotson chipped in 16 key points and five boards in the Duck come-from-behind win.
And where would the Ducks be without Arsalan Kazemi? The quiet Iranian continues to be satisfied doing the dirty work on the boards and not trying to score the basketball. For the night, Kazemi had 12 rebounds and eight points.
A play that represented his unsung contributions included another remarkable save, this one with 1:16 left in overtime, nearly identical to one he had late in the recent Utah game. As he was running out of bounds, he flipped the ball backwards and high over his head to Singler, who was promptly fouled. His ensuing free throw gave the Ducks a late two-point lead.
Kazemi's biggest accomplishment on the night, however, was his defensive effort on Motum, who was held to 12 points on 3 of 10 shooting, well below his 18 point per game average.
Three straight wins for Oregon, after losing three in a row, have re-energized the team and the confidence is back. The team is winning by playing hard, rebounding, and defending.  Despite falling behind against the Cougars and losing its center, the team didn't panic. It has adjusted to life without Dominic Artis. Their recent rash of turnovers seems to largely be under control.
With California and Stanford coming to Eugene next, the Ducks are looking forward to playing at home. In this topsy-turvy season of college basketball, holding the conference lead is now in their court.
Luke Roth (Basketball Analyst) is a retired teacher and coach who has lived in Eugene since 1977. He coached high school basketball for 34 years, including 26 years as Sheldon HS girls varsity basketball coach (1984-2010). Luke taught at Sheldon for 30 years, and in the International HS at South and Sheldon, for 20 years. He taught journalism and advised the school newspaper at Sheldon during his stint there. He is a long-time Duck fan and UO alum (MA 1985). Luke has been married to his wife Catherine for 36 years with two grown children and one eight-year-old grandson. In retirement, Luke spends his time hiking, biking, gardening, writing, and playing the stand-up bass in the Sorrel Way Jam. Follow Luke on Twitter: @luke_lukeroth
Articles EVERY DAY Again on FishDuck!
Our focus is now on this wonderful Oregon Sports Community, and we will have at least a short article every day to begin the Duck Discussion.
You are also welcome to post other current events or items about Our Beloved Ducks in the comments as well.
Our 32 rules can be summarized to this: 1) be polite and respectful, 2) keep it clean, and 3) no reference of any kind to politics. Easy-peasy!
Take note though, there are NO STRIKES, NO WARNINGS, and NO SLACK given. Violate the rules and you are gone, as this is what the 99% who post superb comments want. (The Ban could be for weeks, months or permanent)
For the 1% out there who do not have impulse-control … as you write your comment that violates our rules, ask yourself, "is this worth getting banned over?"
FishDuck members….we got your back.  No Trolls Allowed!