Juwaan Williams had an impressive high school career, with 38 touchdowns and 1,569 total yards rushing, averaging 8.5 yards per carry.   As a junior, the 6'0″ 185 pound quarterback led his Tucker, Georgia, team to a state AAAAA Football Championship.
While Williams' team was not able to repeat during his senior year, losing to the topped ranked team in the state in the final seconds of the quarterfinal, it wasn't for a lack of effort on Juwaan Williams' part.  In his final game for the Tucker Tigers, Juwaan Williams scored three touchdowns on runs of 11, 16 and 23 yards.
Last week Williams announced that he will join the Oregon Ducks, choosing Oregon over Notre Dame and Vanderbilt.  Juwaan is an excellent student and desires to pursue a pre-med path of study once he gets to Oregon.
In August 2012 Juwaan Williams discussed with Chad Simmons of Fox Sports Net the fact that he was being recruited by Notre Dame, Florida State and Vanderbilt as a receiver.  Williams recounted his conversation with Oregon coach John Neal about how, as a receiver, Oregon saw him being a slot receiver; someone they would look to get the ball to quickly so he could use his running skills.  Defense was not discussed in the interview and it is not really clear if Oregon planned to use Williams on the defensive side of the ball.  Juwaan did make it clear that while receiver was his favored position,  he was willing to play defense as well.  It  does now appear that Oregon has recruited Williams to play defense.
In that case the likely spot for Williams would be at the free safety position.
While Juwaan did play defense for the Tucker Tigers, the available highlight film consists almost exclusively of his work at the quarterback and receiver positions.  On that film we see what I suspect are two factors that won over the Oregon coaches: decisive and tenacious play.
As an Oregon football safety his decisive nature and football intelligence should give Juwaan Williams a chance to thrive.  A free safety, more than most positions, requires a quick read of what the other teams offense is doing.  The best safeties often seem as if they know what the offense is doing before anyone else and react appropriately.
One of the few defensive highlights shows Williams covering a receiver in the slot.  As the receiver comes towards him, Williams, without hesitation, breaks off coverage and sprints toward the middle of the field to take out a crossing receiver as the ball arrives.  It is as if he recognized the play before the pass was made.  We used to see this kind of play with John Boyett and it is this football intelligence and decisiveness that makes a safety stand out.  Without doubt, his extensive experience at the quarterback position has increased his defensive awareness.
Williams tenaciousness might best be shown by the series of photos below. 
This first photo shows Juwaan Williams at the top of the screen lined up as a receiver.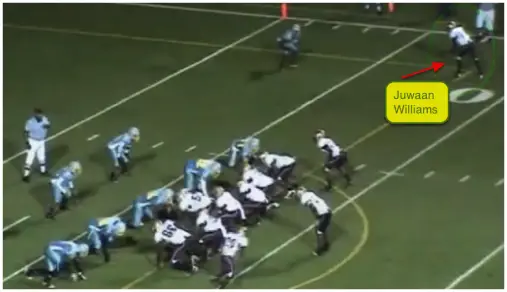 As the ball is snapped, Williams slants in to block the defender knowing the play is coming to his side.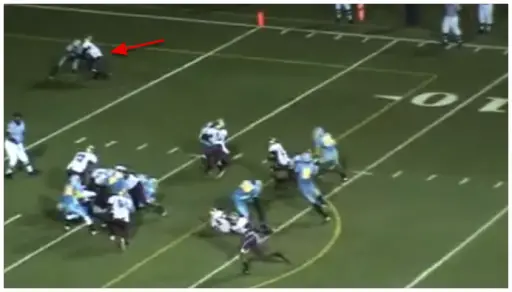 Not only does he engage the defender, he stays with the play until his opponent is blocked completely out of the endzone.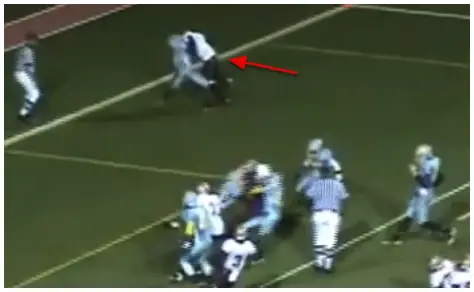 Finally putting the defender on his back.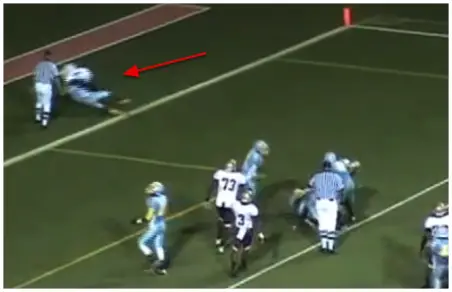 That is what you call a tenacious effort, also known playing with the Oregon Duck Football philosophy of "Fast, Hard, Finish." 
We may not know everything about Juwaan Williams, but we can be pretty safe in assuming that whatever position he plays for the Oregon Ducks he will bring a decisive, intelligent and tenacious attitude to the table.

Ted Werth is a long time Duck fan whose first game, at age 11, resulted in Bobby Moore (Ahmad Rashad) setting the Oregon single game rushing record against Utah. a record which stood for almost 30 years. A longtime season ticket holder, Ted writes the Life's Been Good blog found at Lbgtmsf.com.
FishDuck Has New Off-Season Schedule and see the OUR BELOVED DUCKS Forum!
FishDuck articles will now be on Monday-Tuesday-Wednesday only during the off-season, and then we will go back to seven days a week during the football season beginning in August.
We will have some occasional guest articles later in the week, but the hottest Oregon football information will be posted in the OBD forum!
The Our Beloved Ducks Forum (OBD) is where we we discuss the article above and many more topics, as it is so much easier in a message board format over there.  At the free OBD forum we will be posting Oregon Sports article links, the daily Press Releases from the Athletic Department and the news coming out every day.
Be a part of the forum and stay caught up!  When you wish to post there, do know that you are protected just as you were on FishDuck. Join us on the free forum right here!
Our 33 rules at the free OBD Forum can be summarized to this: 1) be polite and respectful, 2) keep it clean, and 3) no reference of any kind to politics. Easy-peasy!
OBD Forum members….we got your back.  No Trolls Allowed!