Mired in a three-game losing skid that included relinquishing late leads in their last two losses, No. 19 Oregon gave up a 13-4 run to Utah to end the first half in Saturday's conference tilt, and trailed the last-place Utes 30-22 after the first 20 minutes.

To most of the frustrated 9,014 in attendance, it felt like witnessing a total free-fall in person, one that has seen the Ducks on a hard downward spiral after such a promising start to the league season. Based on their first half performance, a positive outcome appeared bleak for Duck fans, and the thought of losing four games in a row seemed more than a real possibility.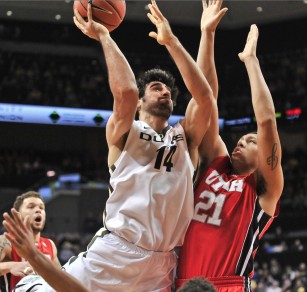 However, behind the play of a determined Arsalan Kazemi, the Ducks roared back and scored 51 points in the second period to whip the Utes, 73-64, and snap their losing streak at three.  Kazemi provided the hustle, rebounding and inspiration, while E.J. Singler and Damyean Dotson supplied the second half offensive firepower.
Coach Altman said, "Arsalan's performance in getting us going definitely changed the game.  In the second half, he was unbelievable: blocking shots, rebounding, starting the break.  That was as good as a half as he's had all year.  E.J. and Dot hit some big shots, but Arsalan was the difference in the game."
Dotson and Singler combined to score Oregon's first 16 points in the second half comeback.  Singler, limited to just one shot and three points in the first period, came back to lead all scorers with 21 points, including 12 of 13 free throws.  Dotson shook off a recent shooting funk and added 16 points.
Before the coaching staff visited with the team during the halftime break, senior Arsalan Kazemi held court.  The normally reserved Iranian decided it was time for the players to take matters in their own hands, saying, "I just told the guys that this is our team.  We can't let the coach care about the team more than we do."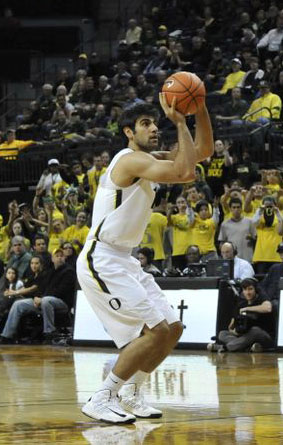 Dotson added, "He [Kazemi] was screaming, 'This is our team! We can't let the coaches get mad at us, we can't just let the coaches talk.  This is our team! We've got to step up and do it.  We can't just talk about it.'" Dotson mentioned, "That was the first time I saw that side of him."
Altman said of Kazemi, "He's got that laid-back-cool, you know, and he's the nicest guy in the world, but basketball's a game of passion.  We want our guys to be emotional.  At halftime, he let his teammates know it's important to him."
According to the coach, defense was the primary difference in the game for Oregon, especially in the second half.  Full court pressure and tough man defense in the half-court led to nine second half Utah turnovers, resulting in 15 Oregon points. The defensive catalyst was the ball-hawking Kazemi, who added four steals and three blocks to his sixth double-double of the season and 51st of his career (14 rebounds and 11 points).
Oregon dominated the rebounding statistics throughout the game.  By halftime, the Ducks were out-rebounding the Utes, 22-6, including a 11-0 advantage on the offensive boards. The final tally was 41-19 overall, with a 19-5 edge at the offensive end, leading to an overwhelming 24-6 advantage in second-chance points for the Ducks.  In reviewing the tremendous advantage in second opportunities, Altman said, "To beat someone 24-6 is huge for us.  That is a big stat."
The game got chippy early and stayed that way, as frustration spread among players, coaches, and the home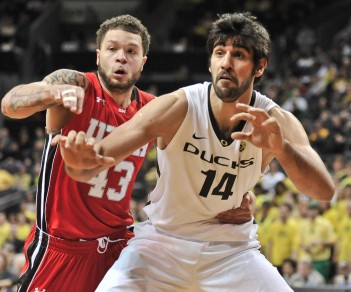 crowd with both the officiating and some hard no-calls.  The physicality led to numerous referee warnings and two technical fouls, both on Utah in the second half.  On the first one, Kazemi explained, "He grabbed me by my hip and threw me down. It was a wrestling move. We watch a lot of wrestling in Iran."
After Oregon took the lead for good in the second half, Utah resorted to fouling to try to get back into the game. Oregon shot 35 free throws against the Utes, compared to just two in the upset loss to Colorado. What a difference a night makes.

Three players scored in double figures for Utah, (10-13, 2-9 Pac-12):  Jason Washburn, 20; Jarred DuBois, 15; and Jordan Loveridge 14.  The Utes came out firing at a 57% clip in the first half, but Oregon's defensive effort reduced that mark to 48% by game's end.
Altman summed up the up and down nature of the game. saying, "The great thing about college basketball is that you can lose your confidence in a weekend and you can get it back in a weekend.  Confidence is a funny thing.  One game can get you going, and one game can send you the other way. No doubt, this was an important game."
The most important thing about the win for the Ducks was staying close in the chase for the league title.  Oregon (19-5 overall, 8-3 Pac-12), stands alone in second place behind league-leading Arizona, and goes back on the road next week with games against Washington and Washington State.
Luke Roth (Basketball Analyst) is a retired teacher and coach who has lived in Eugene since 1977. He coached high school basketball for 34 years, including 26 years as Sheldon HS girls varsity basketball coach (1984-2010). Luke taught at Sheldon for 30 years, and in the International HS at South and Sheldon, for 20 years. He taught journalism and advised the school newspaper at Sheldon during his stint there. He is a long-time Duck fan and UO alum (MA 1985). Luke has been married to his wife Catherine for 36 years with two grown children and one eight-year-old grandson. In retirement, Luke spends his time hiking, biking, gardening, writing, and playing the stand-up bass in the Sorrel Way Jam. Follow Luke on Twitter: @luke_lukeroth
Articles EVERY DAY Again on FishDuck!
Our focus is now on this wonderful Oregon Sports Community, and we will have at least a short article every day to begin the Duck Discussion.
You are also welcome to post other current events or items about Our Beloved Ducks in the comments as well.
Our 32 rules can be summarized to this: 1) be polite and respectful, 2) keep it clean, and 3) no reference of any kind to politics. Easy-peasy!
Take note though, there are NO STRIKES, NO WARNINGS, and NO SLACK given. Violate the rules and you are gone, as this is what the 99% who post superb comments want. (The Ban could be for weeks, months or permanent)
For the 1% out there who do not have impulse-control … as you write your comment that violates our rules, ask yourself, "is this worth getting banned over?"
FishDuck members….we got your back.  No Trolls Allowed!
New at FishDuck? Learn about the site right here!