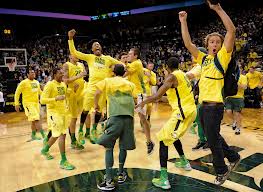 For roughly 35 minutes on Saturday, Oregon seemed to be in position to earn a split in the dreaded Bay Area Trek, a trip that has been so haunting in past seasons.
Unfortunately, the five wayward minutes were too much to overcome.
For Dana Altman's squad, the line between victory and defeat is smaller than most.  A team littered with transfers and freshmen, Oregon lacks the cohesiveness of the more experienced squads, and the talent of the elite.  For all that they have accomplished through the first 21 games — an impressive non-conference resume bolstered by a blistering PAC-12 start — the Ducks showed Saturday why a long March run is still in all likelihood a pipe dream.
Two wins in the tournament?  It's possible.  An Elite Eight berth?  Seems just out of reach at this point.  Oregon has been a fantastic story this season. They are no longer the underdogs; they have showed grit, brawn and some clutch play.
Unfortunately, most of the damage has come from home. A place they will not be when it matters most.
A clutch victory at UCLA and UNLV aside, Oregon had yet to be tested on the road until this weekend.  The Bay Area trip was supposed to be a tell-tale sign of where Oregon is compared to the rest of the top-10 in the country.
A winless trip, with a blowout and a choke, doesn't signal good things for the stretch run.
It's completely conceivable that Oregon pulls it together and makes a deep run in the tournament.  They have proven time-and-time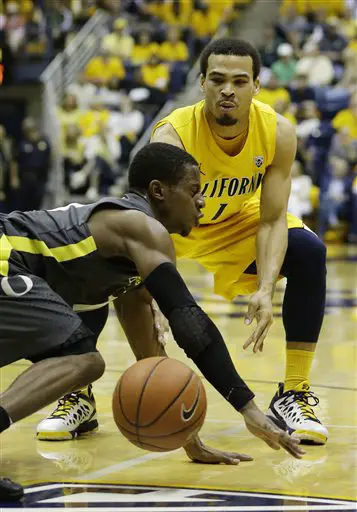 this season that you simply cannot predict how this team will react to situations; however, finding success on the road will be the biggest obstacle between an early exit and a postseason to remember.
The 2007 squad — the school's last Elite Eight appearance — was experienced, poised and above all else, supremely talented. They had depth, shooting and a confidence that things were going to be okay. The 2013 squad has just a little less of all those things, but that doesn't mean big things cannot happen. Plus, if point guard Dominic Artis returns, the whole outlook can change.
With nine conference games left, plus the PAC-12 tournament, there's plenty of time to turn things around. Losing two in a row on the road is nothing to panic about; however, losing in the fashion they did is a little troubling.
The blowout loss? That happens. It's forgivable, if not a little disheartening.
The late game faltering against California? That also happens.
In a long season, things even out. If Oregon wants to take 2013 and turn it into a special campaign, they need to close out those tough road games against lesser opponents.
Nine opportunities remain to unite, regroup and click. Will this be 2007 all over again?
We'll find out soon enough.

Joel Gunderson grew up in a small town, where the only thing he did for fun was worship the Oregon Ducks. He later moved to Eugene, where he studied journalism at the U of O. After working in radio, he married the woman of his dreams and settled down. Joel now spends his days studying Journalism and the fine world of grammar, all the while worshiping the ground that Charles "Chip" Kelly walks on! Follow him on twitter @gundy85
SIGN UP for the New FishDuck Commenting/Posting System!
The first step toward some big additions to the site is moving away from the Disqus system, to our own new commenting/posting system for the great discussions below the articles.
It takes a minute is all, and will allow us to continue our amazing discussions of Oregon Sports in a new format that will allow more flexibility over time as we add features.  Sign-up now!  
Mr. FishDuck