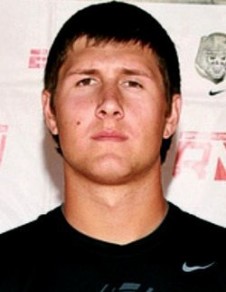 Oregon's young and versatile tight end group just became younger now that 4-star John Mundt has signed his letter of intent.  He comes out of Modesto, California from Central Catholic High School where he just led his team to a Division IV state title.  Mundt initially verbally committed to Oregon last summer prior to his senior season.
John rose in the recruiting ranks amidst his solid junior season at Central.  He started on both sides of the ball while racking up 17 rec, 314 yds, 5 TDs, 45 tkls, and 7.5 sacks.  Apparently the Ducks saw enough and offered him a scholarship.  Believe it or not, he had even better numbers throughout his 2012 senior season. 33 rec, 625 yds,  8 TDs, 80 tkls, and 15.5 sacks… Wow.
Here are some of his senior year highlights:
So what kind of player is he? And what exactly can he do for Oregon?
First of all, he stands at 6'5″ and weighs 235 lbs.  That is an impressive size at most positions off of the line, nonetheless at tight end.  As a receiver, he is a more possession type of player with great hands and no
fear.  Mundt is the kind of guy who'll risk his body on a slant up the middle and come down with the ball 99% of the time.  And as a blocker, he is a very disciplined athlete who can serve just fine in our run offense.  Let's assume he'll put on a bit more weight and become much more stronger and powerful on the line.
There is a bit of a logjam at tight end at the moment (Lyerla, Baylis, Brown) so a redshirt freshman season may be in his near future.  However, tight end/special teams coach Tom Osborne feels like he can be a great asset on special teams with his size.  Fellow TE/LB recruit Danny Mattingly looks like he will come into Eugene primarily as a linebacker so don't expect to see John taking snaps at linebacker.
I see his former Duck comparison as David Paulson; being a very reliable, disciplined, and composed tight end that'll never let you down.
Here are his thoughts on Oregon and his high school postseason:
The sudden departure of ol' Chip left many recruits with mixed emotions along with confusion.  It was unfortunate to see Dontre Wilson head to Ohio St, but it was very relieving to see such great recruits stick with our program and make 2013 one of the highest rated recruiting classes of the 2000s.  Here's to Mark Helfrich, and here's to the 2013 season.  It's closer than you think…
Visit our Sister Site, the new Our Beloved Ducks Forum!
This new forum that is unlike anything you have ever seen between our civilized discussion, (NO TROLLS ALLOWED) complete directions available for easy usage and the delivery of all Oregon Sports News.  (That last part is a gradual transition up to Spring Football)
Go to the forum where we delve into today's article and so many more topics and the nuances within them over there.
We have a topic post begun over at the forum for today's article; it is a free site and offers more opportunity for the exchange of opinions on all the Oregon Sports subjects of the day. (And there are some very cool features!)
An introduction article about the new forum is right here.