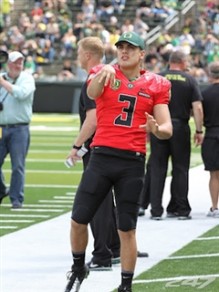 With the recent departure of Bryan Bennett, Duck fans must be wondering, "Who's our backup now?"  Well, right now most of the media is pointing fingers towards redshirt freshman Jake Rodrigues and that the backup position is his to lose over fellow redshirt freshman Jeff Lockie (the guy who held up all those bizarre "play call signs" between snaps).
Rodrigues committed to Oregon all the way back in May of 2011 during his junior year in high school.  He comes from Rocklin, CA where he played football for the Whitney HS Wildcats.  He lead his team to a league championship during his senior year and his accolades include All-league offensive player of the year, Whitney football player of the year, and was an Elite 11 QB finalist.
His junior and senior statistics were jaw dropping.  Throughout those two relatively even and successful seasons, Rodrigues accumulated around 4,100 passing yards for 47 TD's, and just under 2,000 rushing yards for 37 TD's.  All you can say is… Wow!  He started out as a 3-star recruit, but shortly after his junior season, he became a nationally touted 4-star, picking up offers from Michigan, Miami, Notre Dame, and USC.
Here are some of his senior year highlights:

So what kind of player is he?  And what exactly can he do for Oregon?
In 2011, scouting services were calling Rodrigues the best dual-threat quarterback in the West. There is no clear-cut skill that sticks out above the rest in his game.  He has a VERY strong arm backed up with sub 4.7 speed.  One thing to note about Rodrigues is the athleticism he demonstrates while running the ball.  He won't just run for an 8-yard gain out of bounds when the defense slacks off, he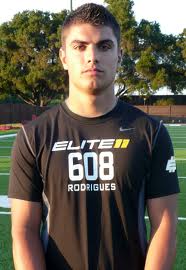 will look to scramble when given wiggle room and make cuts right up the middle of the field towards the heart of the defense.
Recruiters have questioned his decision making at times amidst his high school career, however, considering his stat line (including only 14 ints throughout high school), I say just let him play.  I'm sure the Oregon coaching staff has helped him develop into a more poised quarterback throughout his resdhirt year, as being the Duck QB in the spread offense is faced with numerous decisions every snap.
As far as a former Duck comparison, I think this kid is very similar to Marcus Mariota.  They are similar in size, speed, and style of play.  That style of play involves a calm, cool, and collected demeanor that can kill defenses with the arm or legs at any given time (just like every other Oregon QB in recent years!).  One exception to this comparison is that Mariota seems to have a softer pass with more touch while Rodrigues likes to fire it in there, perhaps a bit similar to Jeremiah Masoli's passes.
Jake Rodrigues, unfortunately, came to Eugene to find himself stuck in a logjam at the QB spot.  His talents and ascension up the depth chart have shown he is for real.  Now I am in no way shape or form claiming that Rodrigues is the next Mariota.  However, assuming he does his job and beats out Jeff Lockie for the backup spot, it will be very exciting to see him develop his game during "garbage time" that we Duck fans are so used to seeing.  Should Mariota ever go down or enter the NFL draft early after a Heisman Trophy season (hey, it could happen), rest assured that our quarterback position is deep and talented with Jake Rodrigues at the top of that list.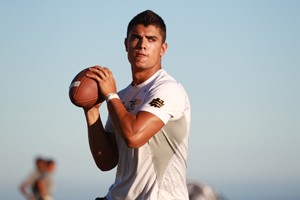 Joe Packer is a sophomore at the University of Oregon, majoring in Journalism. A Portland, Oregon native, he has been an avid Duck fan his whole life, attending his first of countless Duck football games at the age of 2. He played Lacrosse in high school, and today enjoys shooting hoops and a round of golf just about every day. As a player, referee, and youth sports coach, Joe looks to share his diverse perspective on the world of sports. He welcomes your feedback. Follow him on twitter: @JoePa_
FishDuck Has New Off-Season Schedule and see the OUR BELOVED DUCKS Forum!
FishDuck articles will now be on Monday-Tuesday-Wednesday only during the off-season, and then we will go back to seven days a week during the football season beginning in August.
We will have some occasional guest articles later in the week, but the hottest Oregon football information will be posted in the OBD forum!
The Our Beloved Ducks Forum (OBD) is where we we discuss the article above and many more topics, as it is so much easier in a message board format over there.  At the free OBD forum we will be posting Oregon Sports article links, the daily Press Releases from the Athletic Department and the news coming out every day.
Be a part of the forum and stay caught up!  When you wish to post there, do know that you are protected just as you were on FishDuck. Join us on the free forum right here!
Our 33 rules at the free OBD Forum can be summarized to this: 1) be polite and respectful, 2) keep it clean, and 3) no reference of any kind to politics. Easy-peasy!
OBD Forum members….we got your back.  No Trolls Allowed!