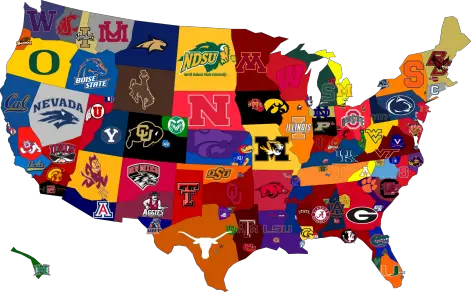 Signing day is almost here, college football's version of the NFL draft.  It gives fans a chance to see how their team is filling their offseason needs, and possibly put the pieces into place for a title run.  It can also give fans hope for the upcoming season if things didn't go so well for them last year (Auburn knows what I am talking about).  We can still follow all of the Te'o stories at Notre Dame if you're interested in that. Right now I am giving my focus into how my team will finish come signing day.
1. Must be nice being the nation's #1 recruit.  Robert Nkemdiche just got done with his visit to LSU, and while on the visit he got to meet former LSU Tiger and NBA great Shaquille O'Neal.  I would love for top recruits to write stories and let everyone know how their "official" visits went to campuses. I bet it is the best times of their lives and would make for some good entertainment. I am sure the NCAA would come down pretty hard on schools after recruits told their stories of all the "fun" times they had.  I am sure a lot more pictures like this can be posted as more top recruits take their visit.  Here is a list of some of the recruiting visits and action going on before signing day.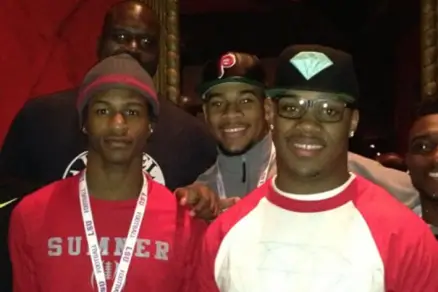 2.  A sad part of history is about to be destroyed, as Auburn is finally taking down the trees on Toomer's Corner.  Rivalries are fun in college sports, but it shows how serious some fans take the Alabama vs. Auburn rivalry.  Let's hope fans will keep things in perspective in the future, not go to such extremes as one fan did and taking away an important part of a school's tradition and history.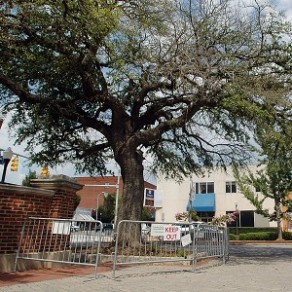 3. Les Miles of LSU just got a 15% raise, or another $549,000.  Most Americans wont make that in five to ten years.  It is crazy how much coaches are being paid these days.  The more they are getting paid, the more the fans get to pay the bill.  Recently, Ohio State  raised ticket prices from $70 to $79.  Holy cow, that is a lot of money to go to a game.  With how expensive college sports is getting, soon most fans will be forced to watch games from home.  I know the NFL is having this problem now and soon it will trickle it's way down to college athletics.
4. Looks like the Big Ten is the one to keep us talking about "Conference Expansion" during the offseason right now.  State president E. Gordon Gee said there is even talks about going to 16 or 20 teams.  Superconferences look out.  Just when the Big East talked about getting settled again, looks like they will be raided again. Before you know it we will have four 16-team conferences, and schools won't play anyone outside their conference.  We will miss out on the Oregon vs. LSU, Clemson vs. Auburn, or even Michigan vs. Alabama matchups.  I am still getting used to the 14 teams in the SEC, can we just keep it at that for now?  When will the NCAA or fans just step back and say enough is enough?  Pehaps it doesn't matter what anyone thinks as long as the dollar sign is the driving force behind all this movement.  The Big 12 wants to have a title game with only 10 teams and if the NCAA shoots them down, then look for them to add 2 more teams.  It's going to be an eventful summer.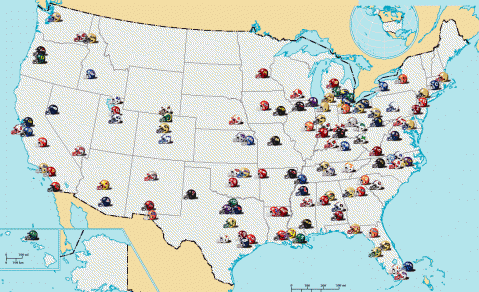 5. During this off season the biggest question will be…who can dethrone the SEC and win a national title? It looks like LSU and Alabama could be representing the SEC in the title game again for this upcoming season….but who will be the one to put it all to an end? Despite the coaching change, I still think Oregon could have a shot at winning a title.  All the pieces are in place for the offense, and the defense should come along just fine for the upcoming season. Ohio State could also be another good one. Urban Meyer has his new Tebow in Braxton Miller, and could lead the Buckeyes to another undefeated season and possibly into the title game. We saw how Texas A&M's Johnny Football gave LSU and Alabama fits with his running style.  Both Oregon and Ohio State have a QB that could do that.  We all saw how Notre Dame did vs Alabama…so we will leave them out of this one.
The offseason is here, and Signing Day is coming up. I am interested to see how certain schools will finish with their recruiting classes. It always impresses me that schools such as Boise State are never mentioned in top recruiting reports, but still hang with the big dogs. They've beaten Georgia, Virginia Tech, and Oklahoma.  It makes you think that maybe it is not always about getting the best recruits, but rather comes down to preparation and coaching.  Now it's time to get ready and enjoy the SUPER BOWL….once that is over, that's it until September.
NATIONAL NEWS:
1. Texas two step
2. K-State happy with Snyder
3. Michigan looking to avoid catfishing
4. Texas A&M players starting to act like SEC players
5. College football mailbag

Jeff Hostetler may not have won a Super Bowl with the Giants ( though his uncle of the same name did). He has been an obsessed college football fan living in Florida ever since the Gators beat FSU in the Sugar Bowl to earn the UF's first national championship.
Ever since Jeff has immersed himself in everything possible related to college football. He enjoys watching, writing, playing, and otherwise obsessing over all things football. A graduate of the University of Florida, he brings a perspective to FishDuck free of our extreme green & yellow homerism glasses to look at the current landscape of collegiate athletics.
For Greybeards … the EYES Have it!
Want to know a secret about web behavior? Readers don't like long stretches of sentences in comment posts without any breaks, and most readers don't even like long paragraphs.
Break it up! After every third sentence in your post…hit "enter" on your keyboard twice if your computer is a PC, or "return" twice if you have a Mac.
This creates natural breaks between scads of sentences, and so many of us thank you for making it easier on our "Greybeard-age" eyes!