Rent versus Buy and the PAC-12 Coaching Carousel
Not living up to your potential?  Cross town rival forcing you to eat crow for the entire off season?  Maybe it's time to fire your coach?  While it's a boon to commercial movers, real estate agents, and assistant coaches; it may not fix the real problem, such as being geographically challenged, playing football at a basketball school, or the lasting impression outdated facilities leave on potential recruits.
Last year brought a wave of new coaches to the PAC-12, and with four new coaches for 2012 it was the most beheadings in one year since 2002.  As we wind down the year and head into the bowl season, how did it work out and is there more to come?
Report Card: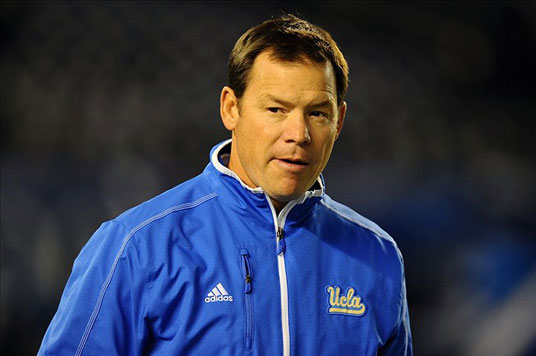 UCLA:    UCLA and Jim Mora are clearly winners.  In dispatching Rick Neuheisel to intimidate the newly minted PAC-12 network broadcasting crew, UCLA is now a more disciplined team that finally seems to have an offensive plan.  With Mora, UCLA got itself into the PAC-12 title game for the second straight year and this year it isn't because USC had been banned, but because they finally beat their crosstown rival.  That alone is worth whatever buy out was extorted to get Neuheisel to leave town (or at least the campus).
Grade – A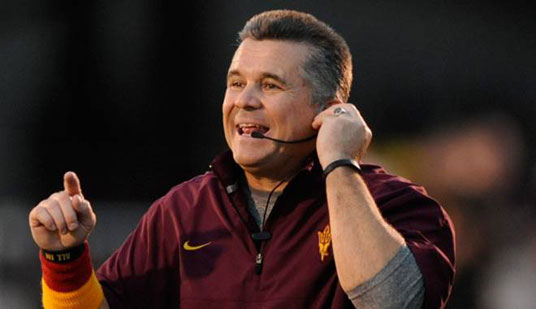 Arizona State:  Todd Graham moved ASU from a 6-7 record in 2011 to 7-5 in 2012 and a bowl invitation.  That was very much a step forward.  While not earth shattering, the frosting on that cake was a comeback win in Tucson to take the Territorial Cup.  While ASU had 12 games on its schedule for 2012, what was really important in Tempe was the Sun Devils' performance against the Wildcats.  ASU started the season 5-1 prior to a mid-season 4 game losing streak to the likes of Oregon, UCLA, OSU and USC; but managed to close out with wins against WSU and at rival Arizona to keep it respectable.  Graham and his coaching staff were successful in implementing their philosophy on defense, and Sun Devil discipline improved as ASU went from the most-penalized team in the Pac-12 (79.8 penalty yards per game in 2011) to the least-penalized team in the conference (36.2 penalty yards per game in 2012) – the 2011 penalties a legacy of Dennis Erickson coached teams.
Grade – B+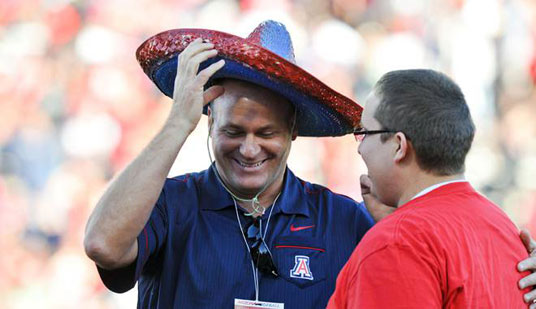 Arizona:  Rich Rodriguez was probably the most well-known hire to join the PAC in the 2012 season. Rodriguez is widely considered one of the pioneers of the no huddle, run-oriented version of the spread offense.   He first developed this offense at Glenville State, refined it at Tulane, Clemson, and West Virginia before stubbing his toe at Michigan, where he had been brought in to modernize their stodgy BIG-10 offense.  Three years later, he was out at Michigan and Arizona had the answer to their coaching search.    So how did it work out?  Following a 4-8 record in 2011, the 7-5 record with looming bowl invite is a step forward.  The only fly in the soup is that previously mentioned loss in the Territorial Cup to rival ASU.  There were some quality wins: Oklahoma State, Washington, USC.  Some close calls included a 54-48 OT loss to Stanford and 4th quarter collapse at home to ASU.  There were also some downright ugly losses: they lost 49-0 at Oregon, and 66-10 at UCLA.  All in all I would say this has been a positive outcome for Arizona.
Grade – B-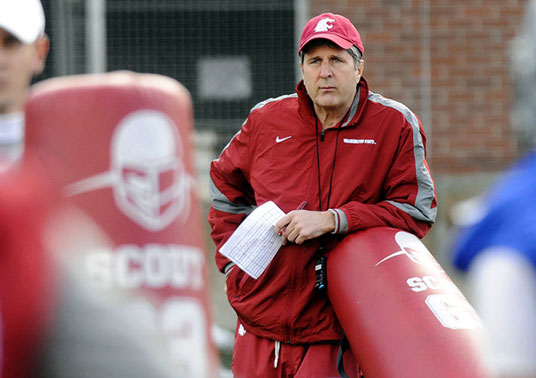 Washington State:  It's easy to throw rocks at the Cougars.  Mike Leach is the only new coach whose team record actually got worse, having gone from 4-8 in 2011 to 3-9 in 2012.  Another regrettable event was Wazzu wide receiver Marquess Wilson walking off the team and accusing the Cougar staff of "abuse."  I'm not going to say this was unfounded, but Wilson's details of abuse include being benched for not working hard in games and practice.  What Mike Leach has going for him is a win in the Apple Cup and a common sense athletic director in Bill Moos.  Add to that the challenge of bringing big time recruits to eastern Washington, or coaches for that matter, and I think WSU is doing the best that it can right now.  Despite the poor performance the first year out I don't see a change coming any time soon.
Grade  – D-
So what's next?  Following the 2012 campaign, Cal dismissed coach Jeff Tedford, and Jon Embree was fired at Colorado, both under very different circumstances.
Tedford had presided over the California Bears for 11 seasons, some of which were the best in Bear football history.  It may be his early success that ultimately doomed him.  He had pushed for upgraded facilities and was rewarded with a $321 million renovation to memorial stadium and an adjacent $150 million on-campus High Performance Center, which finally give Cal the facilities to compete with the rest of the conference.
Unfortunately, losing to Stanford for the third straight season and a 2-5 campaign in that beautiful new stadium probably spelled the end of his reign.  All of the basics for Cal are now in place, but will Sonny Dykes be a better answer for them?
Colorado chose to go another direction after Embree's two seasons of 3-10 and 1-11.  The controversy over the firing of a minority coach and former Colorado favored son only two years into turning around a broken program will be starkly remembered if Mike Macintyre has the same results.  The roster Embree inherited initially included 12 senior defensive linemen, forcing him to start freshmen in year two because there was nobody else available.  There are also the strange University of Colorado restrictions on hiring employees and recruiting rules that make the NCAA rules look wild and reckless.  Any new coach at Colorado would be looking at a long term rebuilding project.
Those are the hires for the year, but we'll see how long USC fans tolerate Lane Kiffin if he continues to do less with more talent and lose to UCLA.  He's already offered his father, Defensive Coordinator Monte Kiffin to calm the masses.  Going into this year, USC was sporting a senior quarterback, a Heisman candidate at wide receiver and 18 starters returning off of their 10-2 2011 team.  The hottest remaining seat in the PAC-12 has got to be Lane Kiffin's.
Michael (Editor) is a lifelong Duck fan. He grew up in Eugene attending Churchill High School and after four years in the Army he attended the University of Oregon majoring in Finance and Human Resource Management class of 1991. Following college, he received a commission in the United States Air Force where he rose to the rank of Lieutenant Colonel before retiring in 2011. He had assignments all over the world including twice to Germany, and three tours in the Middle East and as a young captain he spent three years as an Assistant Professor of Aerospace Studies AFROTC at Oregon State University. Mike is currently working as a consultant at the Space and Missile System Center in El Segundo California and living in Rancho Palos Verdes.
Articles EVERY DAY Again on FishDuck!
Our focus is now on this wonderful Oregon Sports Community, and we will have at least a short article every day to begin the Duck Discussion.
You are also welcome to post other current events or items about Our Beloved Ducks in the comments as well.
Our 32 rules can be summarized to this: 1) be polite and respectful, 2) keep it clean, and 3) no reference of any kind to politics. Easy-peasy!
Take note though, there are NO STRIKES, NO WARNINGS, and NO SLACK given. Violate the rules and you are gone, as this is what the 99% who post superb comments want. (The Ban could be for weeks, months or permanent)
FishDuck members….we got your back. No Trolls Allowed!