Yesterday, a long, perplexing and generally crazy cycle came to an end. 19 commits faxed in their letters of intent.  Here's a look at the class using the tier system I created a couple ago:
Tier-E: 5-star rating by at least one service
Tier-1: 4-star rating by at least two services
Tier-2: 4-star rating by one service
Tier-3: 3-star rating by at least two services
Tier E: Thomas Tyner RB
Tier 1: Darren Carrington WR
Tier 1: Devon Allen WR
Tier 1: Evan Voeller OL
Tier 1: Cameron Hunt OL
Tier 1: Torrodney Prevot DE
Tier 1: Tyrell Robinson LB
Tier 1: Danny Mattingly LB
Tier 1: Tyree Robinson DB
Tier 2: Johnny Mundt TE
Tier 2: Chris Seisay DB
Tier 3: Juwaan Williams DB
Tier 3: Joe Walker LB
Tier 3: Damion Hobbs QB
Tier 3: Kani Benoit RB
Tier 3: Doug Brenner OL
Tier 3: Elijah George OL
Tier 3: Jake Pisarcik OL
Tier 3: Matt Wogan K
The final tier breakdown looks like this:
Tier E: 1
Tier 1: 8
Tier 2: 2
Tier 3: 8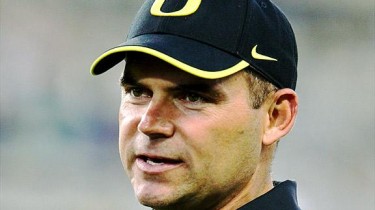 The Ducks finished 16th on 247Sports, 17th on Scout and 21st on Rivals.  All things considered, this was a great finish for Helfrich and his staff.  Not all was good, however, as Oregon lost Dontre Wilson to Ohio State on Monday.  Despite how some are twisting that news, it definitely hurt, and leaves the Ducks with a need at the "TZR" position going forward.  That said, the Ducks have shown an ability to recruit elite playmakers and DeAnthony Thomas continuing to tear up defenses in 2013 won't hurt their cause.
While they did lose Wilson a couple days ago, Oregon was able to secure commitments from Tier-1 tackle Cameron Hunt and Tier-1 defensive end Torrodney Prevot, as well as the Robinson twins (who visited UW over the weekend).  Hunt's commitment was expected, but Prevot's announcement came as a big surprise.  Not only did he de-commit from USC, he chose the Ducks over hometown favorite Texas A&M.  As for the Robinsons, they were said to be thinking very seriously about flipping to Washington, which luckily didn't happen.  As a whole, signing day was a huge success for the Oregon program.
Given the context of the last three weeks, Oregon fans should be ecstatic with how the class rounded out.  Not only did the coaches avoid disaster, they put together a very good class.  Two weeks ago, not many thought things would turn out this well.
Now that the 2013 recruiting season is behind us (for the most part), it's time to look ahead to 2014.
What kind of class should Oregon fans expect, both in terms of quantity and quality?  Well, if the last few weeks are any indication, they should expect a lot.
First, let's take a look at the numbers.  As of today, the Ducks have 13 scholarship seniors going into 2013 with 5 additional "open" spots that weren't filled up yesterday.  Assuming those 5 spots remain open (keep an eye on Nic Purcell) there will be 18 open spots for the 2014 class entering the spring.  When you look at expected attrition, including early entries into the 2014 NFL draft (like Lyerla, DAT, Ifo or Mariota) and transfers, it looks like Oregon will have between 22 and 25 scholarships available.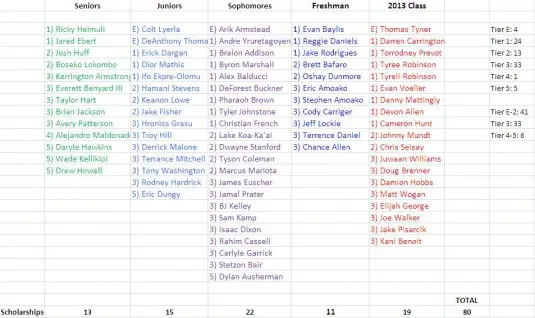 It's possible that sanctions could cut into this scholarship number, but that's impossible to predict so let's set that aside for now.  Let's also assume that two players decide to leave early for the NFL draft. That leaves 20 open spots.  Now add in five more transfers, a conservative number based on recent history, and that means Oregon would be able to take a full, 25-player class in 2014.
We've certainly made some assumptions here, but in order to do a prediction like this a year beforehand, it's necessary to do so.  Here's how I see the 25 spots getting filled based on expected roster depth and class balance:
2 QB
2 RB
1 TZR
2 WR
1 TE
4 OL
5 DL
4 LB
4 DB
= 25 commits
Even if Oregon can only take 20 (which I see as the minimum based on possible sanctions), they'll still be in great shape.  Oregon is set up to be an incredibly deep, talented team, even more so than they already are.
Obviously, quantity means nothing without quality so you know that Helfrich and Co. want to continue adding elite talent.  If the Ducks can have a successful season on the field, recruits will know that the Oregon program is and always has been more than just one man.  Combined with what appears to be a more aggressive recruiting approach under Helfrich (a topic I'll cover next week), Oregon could be in line to have one of its best recruiting classes ever.
The future is bright in Eugene.  Another great class rounds out an already talented roster, and the 2014 class looks like it could be truly special.  By this time next year, the national audience might finally realize that the Oregon program is here to stay.

CAN YOU HELP US?
The pictures you see of the Ducks on FishDuck.com come from professional photographers that must be paid! Please donate through one click so we have pictures from all the games this fall to use through the year. All previous donations helped to pay our big Web Developing bills recently, and I do appreciate it.
Our staff and the photographers who have thousands of dollars invested into their equipment to provide the high quality pictures do sincerely thank you.   Charles Fischer