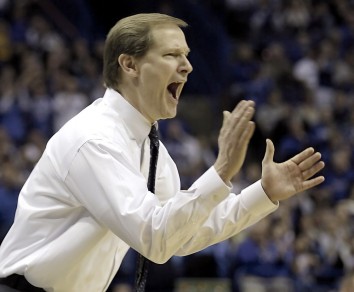 The Oregon Ducks sit in plain view atop the Pac-12 men's basketball standings, but it's as if they are wearing camouflage jackets and the hunters are sleeping in.  Hoops pundits who speculate about the contenders in the West want to skip over Oregon and set their sights on Arizona and UCLA as the Conference contenders.  Bill Walton made a comment during a recent broadcast that the Pac-12 should be worried about WCC teams like Gonzaga and St. Mary's getting more publicity than their BCS conference neighbors.  I'm sure Dana Altman's bunch are not concerned.  He's thinking: talk about the other guys and their blue chip recruits and NBA prospects, then be surprised when we punch them in the mouth.
With a de facto two-game lead over UCLA and Arizona in the standings, Oregon is just a few conference wins away from winning it's fourth Pac-12 crown.
This year's team of unsung unknowns is curious in contrast to Oregon contenders of years past.  They lacks the star power that Duck fans have seen in conference-leading squads of years past.  Fans remember the high-flying slams of Frederick Jones, and the Jedi-like execution of Luke Jackson and Luke Ridnour.  All three saw playing time in the NBA.  Ridnour is still in the NBA, and has started as recently as this season with Minnesota.
The 2012-2013 Ducks don't have a superstar in the midst.  EJ Singler, Oregon's winningest player in team history, isn't even the best player in his family.  Arsalan Kazemi's primary footnote is that he's the first Iranian-born player to play in the NCAA.  Perhaps if Oregon makes a splash in the NCAA Tournament, people will stop talking about "Kyle" and "Iran."  They'll talk about "glue guys" and "grit" and "winners.
Oregon continues to get wins, but they aren't getting the respect.  So what does it mean?  Nothing, really. Motivation? Bulletin board material?  Not for long.  Tourney foes will watch tape and see what this team is all about.  They'll see a team that is unselfish, almost to a fault.  They'll see a team that battles on the boards, bangs down low and defends the perimeter (except say, at the end of the games against Washington State).  They'll also see a team that (without Artis) is having a hard time scoring off the dribble.
Oregon has five games remaining, and none of them are easy ones.  Stanford and Cal come to Eugene, having beaten Oregon handily.  Oregon State is one of those awful 2-foot putts that you expect to sink every time, but will bite you in the rear end if you're not focused.  Utah is playing better, recently giving national darlings Arizona a run for their money.  And Colorado?  Why do the Buffs feel like they are emerging as a new hated rival for Oregon? Maybe because they should be charged with petty theft for the way they've stolen a few against the Ducks, most recently in a late game collapse that had Oregon go completely scoreless for the last 5 minutes of the game.
If Oregon can take the Pac-12 title, put up a good showing in the Conference tournament, and slip in as top-5 seed, they have a punchers chance of advancing to the Sweet Sixteen.  And with a little luck of the draw (read:  Los Angeles region), they may be returning to Staples Center for a shot at finally cracking the Final Four.
Perhaps by then, "Kyle Singler's brother" will be known for more than a famous sibling.  He'll go down as one of the greatest Ducks ever.

Dan Hendricks is a graduate of the University of Oregon, where he spent four years working in the Athletic Media Relations office. He also served a year in Public Relations at the Pac-12 Conference, and worked game nights for the Golden State Warriors. His favorite journalism moment was being threatened by Rasheed Wallace during a post-game interview. He currently resides in Los Angeles, where he's constantly irritated by USC fans.
You can follow him on Twitter @DanHustle
Trust me: A FORUM is going to HAPPEN!
Our Beloved Ducks Forum:
The forum is a boatload of work, and we are still chipping away at it and will have it available sometime this season.  It will be a blast when we do with this community!
We will also have something up every day; either an article or a Ponder-Point being published on FishDuck.  Participate in the comments!
Do Register to Post Comments! 
It takes a minute is all, and will allow us to continue our amazing discussions of Oregon Sports. Register here… 
Our 29 rules about posting a comment at FishDuck can be summarized to this: 1) be polite and respectful, 2) keep it clean for the grandchildren reading, and 3) no reference to politics!
Easy-Peasy!
Want to add a link to your comment?
Go to this page for directions and you'll be able to do it 30 seconds and share other articles with this great community!