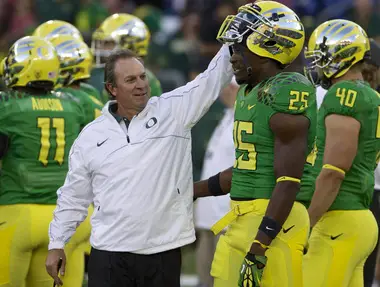 With word leaking out this week about some extra-curricular activities going on with Major Applewhite, Texas Longhorns co-offensive coordinator, perspective was brought to order concerning the Oregon coaching staff.
If you haven't heard, Major Applewhite, a former quarterback for the Longhorns, admitted to having a one-night stand with a staff member a few seasons ago.  He was given a pay freeze and allowed to keep his title.  This came on the heels of Bev Kearney, the head track & field coach, who was let go for having a relationship with a student-athlete as well.  Kearney is an African-American, lesbian woman. Applewhite, a Caucasian male.
From the outside, it appears that race and gender played a key role in the outcome of the two situations.  Throw in the fact that football is a major money-making sport — and track is not — Texas faces an uphill battle of ethics and racial discrimination.
Which brings us to the University of Oregon, tucked away quaintly in the rolling hills of Eugene.
Oh, sure, it's not perfect.  The threat of NCAA sanctions are still looming over the program.  The stability of the coaching staff, however, is something to be celebrated.  With five coaches who have been with the program for 20+ seasons, the comradery and fluidity of the coaching staff has had a direct correlation with the rise of the program to unprecedented heights.
With the promotion of the all-american-boy and former offensive coordinator Mark Helfrich to head coach, the next phase of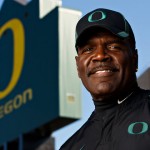 Oregon's rise will feel much the same of the last, when then-OC Chip Kelly took over for Mike Belotti.
Mike Belotti went from OC to coach as well. The tradition continues, it seems.
It's rare in the big-money world of college football to keep such high-caliber assistants together for more than one season, let alone multiple decades. While certain coaching positions — see: receivers coach, defensive line — the main core of coaches has been here from the beginning of the rise.
The situation at Texas is by no means an inditement on the University itself. These type of situations cannot be avoided. Programs that have coaches come and go, however, run the risk of a coach-gone-a-foul, and not finding the right fit.
Gary Campbell, Don Pellum, Nick Aliotti, Steve Greatwood and Jimmy Radcliffe have all been with Oregon since Rich Brooks was running the show, and six wins was considered a success. Now, expectations are anything less than an undefeated campaign being viewed as a letdown; those core five need to get credit for that, and get the recognition they deserve.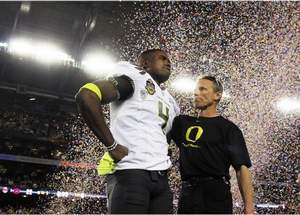 Eugene sometimes gets a bad rap in the college football world, due to the fact that it's not football-fever 365 days a year. In Texas or Alabama, any topic other than football is met with a glazed-stare. Not here. Coaching staffs in those parts of the country would not have survived six-win seasons. They would not have had the opportunity to put their stamp on a program. New staffs would be brought in, wads of cash being shoved in front of them, then they would move on to the next job.
The situation in Texas should be a cautionary tale to any program. If you have something that works, stick with it. If you have good people in line, keep them there. Hopefully the Major Applewhite story-line works out for the best, and Texas learns it's lesson.
For Oregon, look at the situation in Austin from afar, and thank the coaches you have for sticking with the program through the dark times.
Then, get back to work and finish what they started 20 years ago.
Joel Gunderson grew up in a small town, where the only thing he did for fun was worship the Oregon Ducks. He later moved to Eugene, where he studied journalism at the U of O. After working in radio, he married the woman of his dreams and settled down. Joel now spends his days studying Journalism and the fine world of grammar, all the while worshiping the ground that Charles "Chip" Kelly walks on! Follow him on twitter @gundy85
The Comments Below are CLOSED, as we are moving to the OUR BELOVED DUCKS Forum!
Comments below articles are now closed as we have moved all conversation over to the free Our Beloved Ducks Forum. It has been a big success already with many more posts than what we could fit into the comments below articles.
The Our Beloved Ducks Forum is where we we discuss the article above and many more topics, as it is so much easier in a message board format over there.  At the free OBD forum we will be posting Oregon Sports article links, the daily Press Releases from the Athletic Department and the news coming out every day.
Be a part of the forum and stay caught up!  When you wish to post there, do know that you are protected just as you were on FishDuck. Join us on the free forum right here!
Our 33 rules at the free OBD Forum can be summarized to this: 1) be polite and respectful, 2) keep it clean, and 3) no reference of any kind to politics. Easy-peasy!
OBD Forum members….we got your back.  No Trolls Allowed!