On Monday, the Ducks announced that they were replacing a September 7th road game against Nevada in Reno with a game against Virginia in Charlottesville the same day.  It was a move that made sense for all parties involved: Nevada wanted out of an already loaded non-conference schedule that included UCLA and Florida State, and Virginia needed a replacement for their schedule after Penn State dropped them to add Central Florida.
Oregon, meanwhile, may have made out the best of anyone involved.  They filled a vacancy for a 2016 out-of-conference home game with an AQ opponent, turned a road game against Nevada into a home game for only $650,000, all while building a $1 million buyout into the agreement so they could afford any replacement to the Wolf Pack should they drop.  In the short term, they enhance the profile of their 2013 schedule – subbing in an AQ school for a non-AQ one.  (Although if this were the sole motivation for scheduling, it would be misguided, as this is the last season of the present BCS system, which rewards going undefeated far more than strength-of-schedule for any AQ school.)
From a football perspective, this arrangement makes sense for everyone.  Yet there is a collateral damage that is lost in the shuffle of all this scheduling: the last chance for a great Ducks road trip for at least a decade is now lost.
The easy counterargument to that statement is "what about the five or so road games the Ducks play each season?"  First, let's define what a "road trip" should be for this argument: any game that's within a reasonable driving distance – namely any trip that can be easily pulled off in a weekend without taking an excessive amount of time off, and preferably to a destination that's worth visiting.  You can drive to Los Angeles and back in a weekend, but it's not realistic for most people to leave Eugene on Friday, go to a game on Saturday, and come back in time for school/work on Monday by car.  Using the weekend trip as the criteria, let's see how many road games on Oregon's 2013 schedule would qualify as "roadtripable":
(Time determined by distance from Autzen Stadium to opponent's home stadium.)
September 7th: Virginia, 42 hours away – NO
October 5th:  Colorado, 19 hours, 47 minutes away – NO
October 12th: Washington, 4 hours, 32 minutes – YES
November 7th: Stanford, 8 hours, 36 minutes – YES (but pushing it…)
November 23rd: Arizona, 19 hours, 35 minutes – NO
Going to the Virginia, Colorado, or Arizona games?  You're getting on a plane.  Stanford would be the best option for a road trip, except for the Pac-12 schedulers, for some completely insane and incomprehensible reason, have decided to have the conference's marquee game on a weeknight, even though they have clear evidence that games during the week at Stanford Stadium are an attendance disaster.  Having the game on a Thursday night requires taking a lot of time off, especially if driving, leaving the October 12th contest in Seattle as the only road game many local Oregon fans may drive to.
Invading Husky Stadium may be fun, but the quick trek up I-5, especially for the many fans who live in Portland, doesn't fit many people's definition of a "road trip".  Washington State is the best fit for one, but with the Cougars recently adopting the philosophy of playing their games against the Oregon schools in Seattle, who knows when the Ducks will play again in eastern Washington.
(Washington State has scheduled their Seattle game this season against Stanford, but it is undetermined if this is a shift away from scheduling the Oregon schools there, or whether they will play their marquee games, including Oregon, in Seattle going forward.)
Even if that matchup returns to the Palouse, having the remote outpost that is Pullman as a destination holds little in the way of interest beyond the game itself.
Reno may be as remote as Pullman, but there sure is a lot more to do.  Featuring 24 hour entertainment – casinos, no last call, and Lake Tahoe only an hour away, it is a city that makes for a tantalizing road trip destination; one located less than eight hours from Eugene.  Throw in being only four hours from the Bay Area and seven from Los Angeles, and you have a destination that appeals to Oregon fans all over the west coast.  Tickets may have been hard to come by (Mackay Stadium only seats 30,000), but for those interested, the game and its location definitely fall under the umbrella of "roadtripable".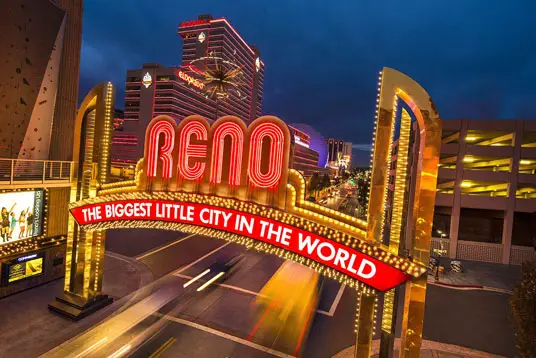 Unfortunately, such a trip will likely never come to pass.  With Oregon adopting the philosophy of only playing non-conference road games every other year, and with no such game available until 2023, it could be a long time before an opportunity like Nevada would even be entertained.  By then, the separation between the programs might be even more pronounced, further decreasing the likelihood that Oregon would travel to play a program of Nevada's stature, meaning the opportunity to take that road trip may be lost forever.
With conferences getting bigger, both geographically and financially, opportunities for fans to road trip are evaporating.  The teams within those conferences are spreading out, and scheduling decisions for games outside the conference are made to generate revenue to keep the program competitve.  Throw in the cost of gas, and opportunities to pack up the car and visit enemy territory are becoming fewer and far between.  Nevada is one of only nine FBS programs within a ten hour drive of Eugene, meanwhile a program like Ole Miss, has 46 FBS schools, including all 13 of their SEC opponents within the same distance.  That proximity is part of what has helped fuel fan passions and fill the stadiums.  Picking up the game in Charlottesville is a fantastic opportunity for Ducks, one that's a big win for the program.  It's a road game that will make a great trip for the fans.  Unfortunately, few, if any, will come from Oregon by car.

Visit our Sister Site, the new Our Beloved Ducks Forum!
This new forum that is unlike anything you have ever seen between our civilized discussion, (NO TROLLS ALLOWED) complete directions available for easy usage and the delivery of all Oregon Sports News.  (That last part is a gradual transition up to Spring Football)
Go to the forum where we delve into today's article and so many more topics and the nuances within them over there.
We have a topic post begun over at the forum for today's article; it is a free site and offers more opportunity for the exchange of opinions on all the Oregon Sports subjects of the day. (And there are some very cool features!)
An introduction article about the new forum is right here.