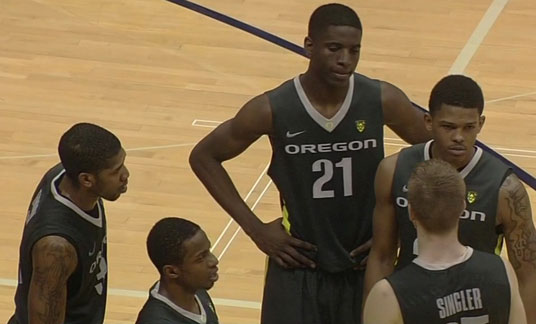 BERKELEY, Calif. — When Tony Woods made a tough bucket inside to put No. 10 Oregon up 54-48 over California with 4:20 remaining Saturday, it looked like the Ducks were going to do just enough to gain a split in their series in the Bay Area and hold off the Bears.
But Oregon didn't score again, as Cal jacked up its quick-handed defense and scored the final 10 points of the game to hand the Ducks their second straight Pac-12 loss, 58-54.  It was the tenth straight win by Cal over Oregon; the longest such streak to any league opponent.
With the contest tied at 54-54, Justin Cobbs hit a long two-point jumper to put the Bears up by two with 1:35 remaining. The two teams then each shot airballs on their next possessions, before Oregon called time-out after rebounding with 16.5 seconds left.
Going for the lead, Oregon's E.J. Singler cut hard off a screen and stepped back for a wide-open three-pointer that glanced off the front of the rim with seven seconds left; to Woods, who attempted a put-back, but was blocked and then tied up by David Kravish at the 5.2 second mark.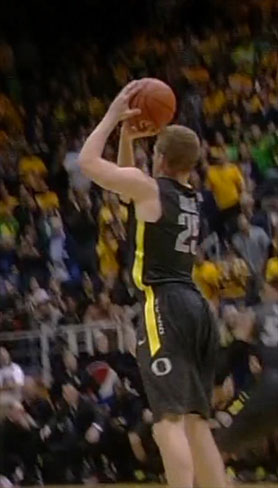 The possession arrow favored the Bears, and the Ducks had to foul. Cobbs put the game out of reach with 3.9 seconds left when he hit both free throws for the final margin. After Oregon's last unsuccessful attempt to score, Haas Pavilion erupted in a yellow mass of celebrating students and players. It was the first win for California over a top-ten team since 2008 as the Bears improved to 13-8 overall, 5-4 in the Pac-12.
This loss was completely different than Wednesday's Stanford drubbing, as Oregon's defensive effort and overall focus and intensity forced Cal into sketchy offensive possessions for most of the game. But while the overall effort was much improved, the Ducks failure to get defensive stops the last four minutes did them in yesterday.
Coach Dana Altman said, "The guys played really hard. We didn't play really well. I love the effort. The guys played their tails off." 
Altman continued, "We didn't execute down the stretch and we didn't get stops. We didn't have good possessions late and we didn't finish. That's my fault as much as anyone else's."
How does a team outrebound and outshoot an opposing team by 12 percentage points, and still lose, especially when holding an eight-point lead with just over six minutes left in the game?  Two simple answers.
The first: this season's Duck nemesis, TURNOVERS. Oregon, the Pac-12 leader in this unfortunate category, had 22 against Cal, which led to 25 points for the Bears, while the Ducks scored just 12 points off 14 California miscues. In the first four Pac-12 games, Oregon averaged just 11.3 TO's per game. In the second four, Oregon upped their average to 18.8. That average will rise again after Oregon committed 20 or more turnovers for the third consecutive game yesterday.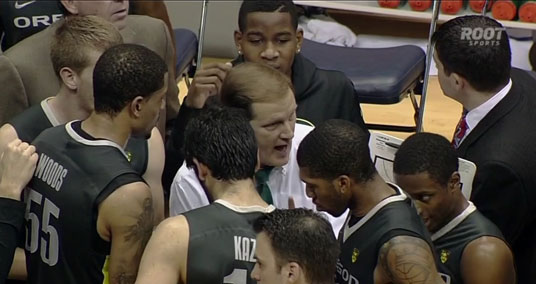 The second glaring statistic that would help explain how Oregon lost: SECOND-CHANCE POINTS.  Despite Oregon holding a 32-31 overall rebounding advantage, the Bears owned the offensive boards with a 12-4 edge, and Cal had a ten-point advantage over Oregon in second opportunities, 13-3. Those two statistical categories: points off turnovers, and second-chance points alone, gave Cal an overwhelming 23 point lead in what was just a four-point win.
Altman is tiring of attempting to explain the turnover epidemic that has spread to the entire team. He said, "We've been turning it over all year. We've got to do a better job making decisions. We need to make simpler plays. Turnovers are killing us, there's not doubt about it."
Johnny Loyd, starting his third straight game after an undisclosed foot injury to regular point guard Dominic Artis, went down with what looked like a serious thumb injury just before the half. Loyd returned to action, playing through it to score eight points and dish out seven assists.  Despite Loyd's efforts, the Ducks clearly miss Dominic Artis. His unusual poise for a freshman and his outside shooting abilities have been lacking in the turnover-plagued performances of the last three games.
Altman said, "We have struggled without D.A. [Artis] a little bit. But with the turnovers, it's everybody. Everyone had one."
Woods led the Ducks with 14 points and a season-high eight boards. Despite Oregon having five players average double figures in scoring for the year, Arsalan Kazemi was the only other Duck to reach that figure against Cal, scoring 10 points. He also grabbed six rebounds.

Richard Solomon and league-leading scorer Allen Crabbe each scored 13 points for the Bears, and Tyrone Wallace pitched in 12.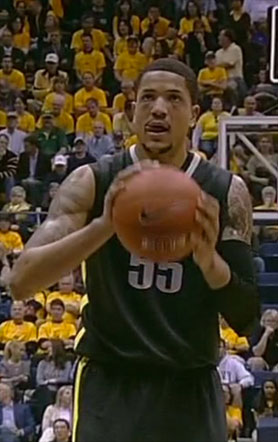 When the Ducks were streaking to their recent winning ways that brought national acclaim, they found ways to win close games. Not being able to take care of the basketball has made it particularly tough to win, especially on the road. Losing control of the basketball and giving up those extra possessions is the primary reason the Ducks were swept in the Bay Area this weekend, the eighth year out of the last ten that such a fate has occurred.
Despite the disheartening loss yesterday, the Ducks are still tied with Arizona for the Pac-12 lead at 7-2, and this week the Ducks return home to face Colorado and Utah at Matt Knight Arena, where Oregon has won 20 straight games. 
Putting an end to many of the unforced errors the Ducks have been making will help end the current losing streak, and will be certainly be necessary if Oregon realistically wants to retain its share of the conference lead.
Luke Roth (Basketball Analyst) is a retired teacher and coach who has lived in Eugene since 1977. He coached high school basketball for 34 years, including 26 years as Sheldon HS girls varsity basketball coach (1984-2010). Luke taught at Sheldon for 30 years, and in the International HS at South and Sheldon, for 20 years. He taught journalism and advised the school newspaper at Sheldon during his stint there. He is a long-time Duck fan and UO alum (MA 1985). Luke has been married to his wife Catherine for 36 years with two grown children and one eight-year-old grandson. In retirement, Luke spends his time hiking, biking, gardening, writing, and playing the stand-up bass in the Sorrel Way Jam. Follow Luke on Twitter: @luke_lukeroth
Articles EVERY DAY Again on FishDuck!
Our focus is now on this wonderful Oregon Sports Community, and we will have at least a short article every day to begin the Duck Discussion.
You are also welcome to post other current events or items about Our Beloved Ducks in the comments as well.
Our 32 rules can be summarized to this: 1) be polite and respectful, 2) keep it clean, and 3) no reference of any kind to politics. Easy-peasy!
Take note though, there are NO STRIKES, NO WARNINGS, and NO SLACK given. Violate the rules and you are gone, as this is what the 99% who post superb comments want. (The Ban could be for weeks, months or permanent)
For the 1% out there who do not have impulse-control … as you write your comment that violates our rules, ask yourself, "is this worth getting banned over?"
FishDuck members….we got your back.  No Trolls Allowed!
New at FishDuck? Learn about the site right here!