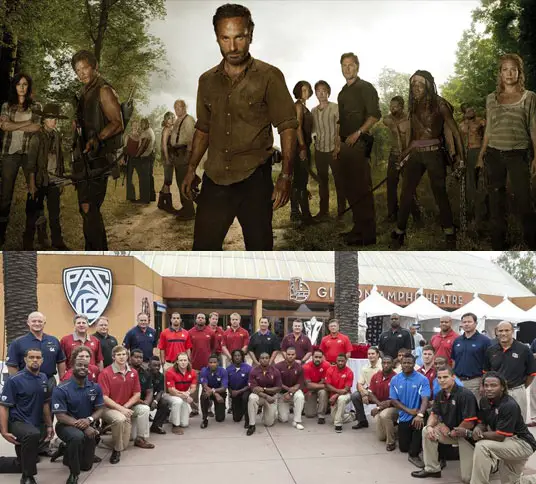 With Signing Day come and gone, and the Spring Game still two months away, we've now reached the one of the quietest periods of the sports year: six weeks of post-Super Bowl, pre-March Madness doldrums.  While the Ducks' basketball teams are in full swing, those games are only a couple of hours per week; besides, college basketball makes no bones about its spotlight time being the postseason, which is still a month away.
This downtime could drive a lot of fans mad.  While it can be hard to deprogram one's self from sitting down on a Saturday morning and waiting for twelve hours of games before realizing they will never come, I channel my energies into getting things done that have been put off for far too long.
At least I try to, but instead I usually end up watching a bunch of TV shows.
Watching TV might be the epitome of laziness, but it can be purposeful, too.  Getting into certain shows that can be discussed with others can go a long way towards replacing that communal experience lost during the offseason.  One of those shows is The Walking Dead, a show that has become so popular that no cable series ever has done as well in the highly-coveted 18-49 demographic as last Sunday's episode did.
There is considerable speculation as why zombie-related media is so popular; although it is largely assumed that the themes of societal breakdown are fascinating to audiences; that people want to imagine what a world would be like without much of the structure that governs our everyday lives.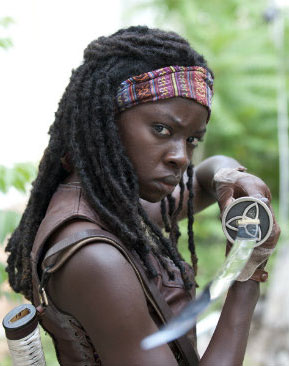 I have a lot of moments watching The Walking Dead where I think, "there is nothing about that world that seems even remotely desirable."  I assume that realization is the show's central message, although that theme is often buried amidst a flood of mindlessly entertaining zombie killing.
Still, it never dawned on me until watching the show last Sunday what one of the worst parts of a zombie apocalypse world would be.  We think of the offseason as difficult to get through now each year, but in a post-apocalyptic world, there's no football coming back, ever.  People just spend day after day trying to survive, but with no Saturday escape to come.
If there's no football, then many of those employed by the sport would have to find new roles in a world where the only skill sets that matter are surviving and killing zombies.  Given the varied tapestry of characters The Walking Dead has given us, it made me wonder, who would some of these people become?  More specifically, who would those coaches in the Pac-12 be in The Walking Dead world?
Below are the descriptions of which character from The Walking Dead each Pac-12 coach is most similar to:
Some notes:
1)      The descriptions herein are solely from the TV show, not the comic books.
2)      I only wrote the character descriptions up through the midway point of season three (following episode eight, prior to last Sunday's episode).  However, SPOILER ALERT!, nothing happened in that episode that would dramatically shift the perception of any single character.
3)      To that point, there are MAJOR SPOILER ALERTS contained in this article, which I don't alert anywhere after this sentence.  If you haven't watched the show and are planning to, stuff's getting ruined in this article.  If you want to check out now, that's ok, just know you've been warned.
Mike Leach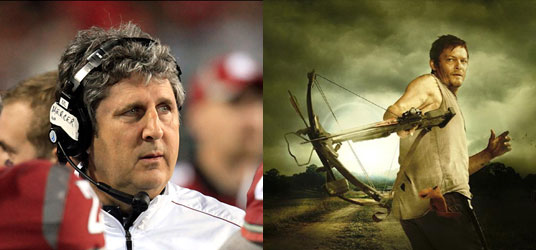 The Walking Dead soulmate: Daryl
Let's see: shared expertise in, and love of, hunting? Check.  Thriving when placed in the remote outposts of society?  Fondness for playing by their own rules?  Check and mate.
Steve Sarkisian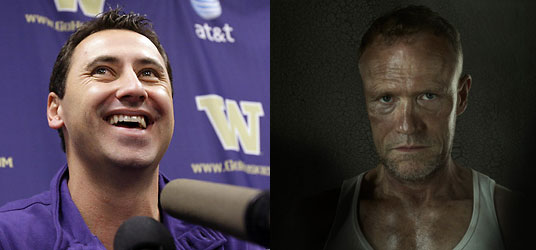 The Walking Dead soulmate: Merle
If Mike Leach is Daryl, it reasons that his in-state rival has to be Daryl's brother, Merle.  The Huskies under Sarkisian have the embodiment of Merle: the appearance of being a menace, showing flashes of being a legitimate threat, and yet, every time you watch them, there's a certainty that there is no way that this threat will ever ultimately prevail in the end.
Mike Riley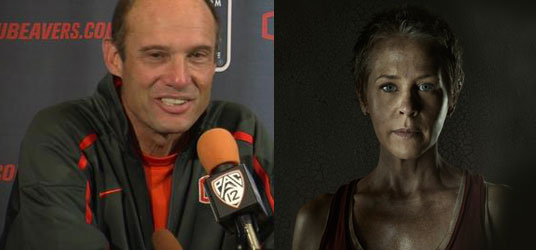 The Walking Dead soulmate: Carol
Chip Kelly once said, "How could you not love Mike Riley?"  Same could be said for Carol, the only character on the show who has avoided battling with any other characters.  (Except Lori, but she filled the role of grating shrew who seemed to have a problem with everybody.)  Who could have a polarizing opinion about Carol?  Does she go extended periods of time on the show where you assume she's dead?  Yep, and what happens?  She always comes back to make a surprising contribution to the group.  Same could be said about Riley, who has seemingly been on the hot seat endless times, only to find himself returning to a prevailing position.
Mark Helfrich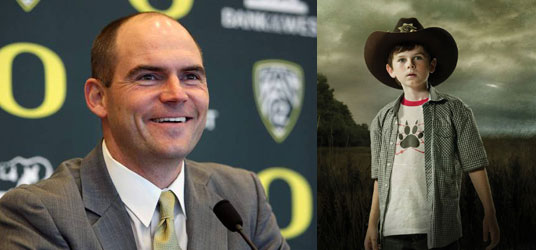 The Walking Dead soulmate: Carl
Learned everything he knows under the tutelage of the group's leader, has shown flashes when given the opportunity, his only question mark is presumably in the experience department.  Just as Carl's youth allowed him greater flexibility to assimilate to this new world order than his father, so did Helfrich show late in this year's recruiting process a flexibility to bring in recruits previously committed elsewhere (Cameron Hunt, Torrodney Prevot) and in doing so, showed that these adjustments could produce results his predecessor's rigidity may not have.
Sonny Dykes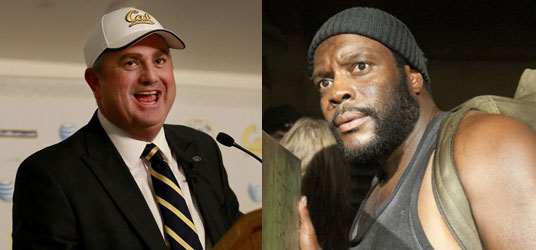 The Walking Dead soulmate: Tyreese
Much like Tyreese up to this point in the show, little is known about Dykes.  However, great things are expected of Dykes – he's only 43, and last season coached the only offense in the country that outscored Oregon per game.  Dykes and Tyreese both come from great pedigree – Dykes is the son of famed Texas Tech coach Spike Dykes and coached under Hal Mumme and Mike Leach, while Tyreese is played by actor Chad Coleman, best known as Cutty from the highly-acclaimed TV series The Wire.
David Shaw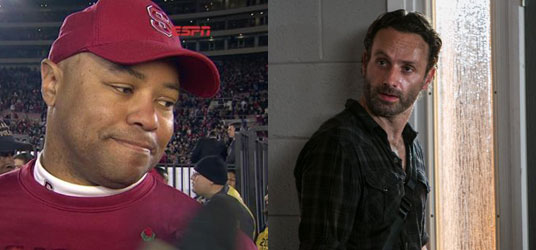 The Walking Dead soulmate: Rick
Rick may be the leader of the group, but he is also prone to highly questionable decision-making that could compromise that status.  The same could be said about Shaw, who may have won the Pac-12 in 2012, but his questionable decision-making (the Notre Dame goal-line debacle, failing to pick the correct quarterback to replace Andrew Luck coming out of fall camp) gives observers pause as to how solid his position as leader of the group really is.
Lane Kiffin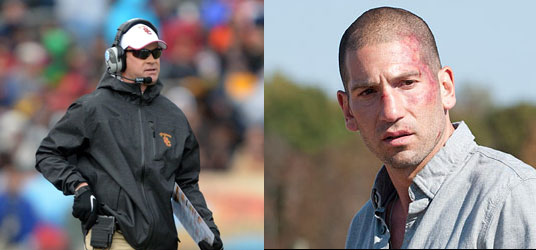 The Walking Dead soulmate: Shane
This has to be the easiest comparison, right?  Both are notorious loose cannons who lack plans and seem to be instruments of destruction and disaster wherever they go.  Yet despite all the trouble they create for themselves and those around them, they have an astounding ability to yield significant results in certain areas, as seen in Kiffin's current recruiting class averaging 4.5 stars, his "Shane and the Barn" moment.
Jim Mora
The Walking Dead soulmate: Glenn
Expectations for both Glenn and Mora were the same – those observing their situations early on assumed that we wouldn't be seeing them for very long.  Just as Glenn surprised people by being the pizza delivery kid who has managed to evolve into an effective warrior, one who can get the girl and escape torturous hostage situations, so has Jim Mora has gone from the washout pro coach with zero collegiate experience, to the guy who owned the South Division in his first season.  No one saw this outcome from either of them.
Rich Rodriguez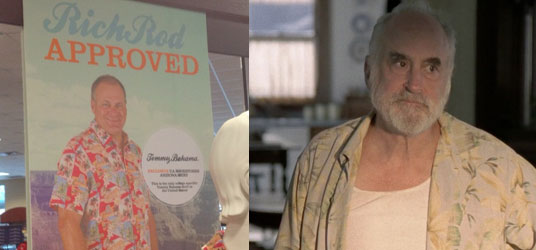 The Walking Dead soulmate: Dale
Don't know if Dale's Tommy Bahama shirt is "RichRod Approved", but they both clearly have an appreciation for fine men's casual apparel.
Todd Graham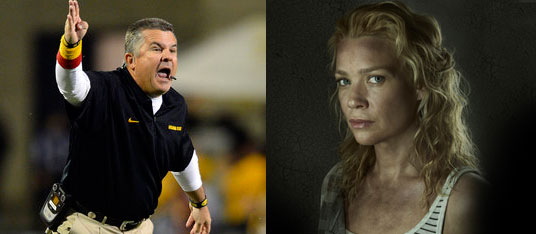 The Walking Dead soulmate: Andrea
The easy joke here is that Graham would be Michonne, never staying in one place for too long.  That's only a half-truth, besides Michonne is way too awesome a character to give Graham that comparison.  Really, he's more like Andrea, someone who imagines themselves as a Michonne-type, always trying to stay on the run, but once she finds some semblance of comfort like she does in Woodbury, she's putting down roots.  Same story with Graham, his previous stops were in Tulsa and Pittsburgh, neither town being quite as inviting as the climate of Tempe.
Kyle Whittingham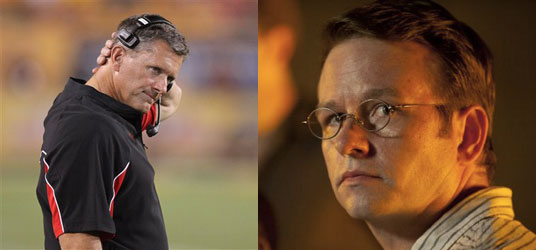 The Walking Dead soulmate: Dr. Milton Mamet
Both served as the right hand man to an evil leader (Urban Meyer, The Governor) who managed to convince a bunch of Southerners that he was a good man with pure intentions, only to be revealed as nothing more than a single-minded, self-aggrandizing charlatan.  Meanwhile, Whittingham's decision to bring in a new offensive coordinator for the third consecutive year, this time naming Dennis Erickson co-offensive coordinator, is not unlike Dr. Milton's use of unconventional methods to deal with a severe problem (Utah's offense, the zombie plague) that we aren't certain will ever be solved.
Mike MacIntyre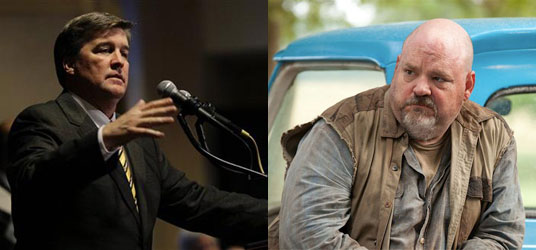 The Walking Dead soulmate: Otis
Remember Otis?  The guy from Hershel's farm who accidentally shot Carl?  How afterwards, all he wanted to do was get the supplies to help save Carl and right his wrong, only to be betrayed by Shane?  That's going to be Mike MacIntyre and Colorado's administration.  All Mike MacIntyre wants to do is help that program in any way he can, and as we saw with Jon Embree, all the Buffs' administration is going to do is shoot him and leave him for zombie food.
Nathan Roholt is a senior writer and managing editor emeritus for FishDuck. Follow him on Twitter @nathanroholt. Send questions/feedback/hatemail to nroholtfd@gmail.com.
Articles EVERY DAY Again on FishDuck!
Our focus is now on this wonderful Oregon Sports Community, and we will have at least a short article every day to begin the Duck Discussion.
You are also welcome to post other current events or items about Our Beloved Ducks in the comments as well.
Our 32 rules can be summarized to this: 1) be polite and respectful, 2) keep it clean, and 3) no reference of any kind to politics. Easy-peasy!
Take note though, there are NO STRIKES, NO WARNINGS, and NO SLACK given. Violate the rules and you are gone, as this is what the 99% who post superb comments want. (The Ban could be for weeks, months or permanent)
For the 1% out there who do not have impulse-control … as you write your comment that violates our rules, ask yourself, "is this worth getting banned over?"
FishDuck members….we got your back.  No Trolls Allowed!
New at FishDuck? Learn about the site right here!