It would appear that the Ducks' late game luck was all used up this weekend, and Oregon fell to USC yesterday, 5-3.  Oregon had won the first two games of the Pac-12 opening weekend against the Trojans, using late game heroics from the pitching staff in game one, and the offense in game two to get the Ducks off to a hot start in conference play.  Despite mounting a bit of a comeback late in the game, the Trojans (8-11, 1-2) buried the Ducks with an early 4-0 deficit that proved to be too much for the Oregon (15-6, 2-1) offense.
Cole Irvin pitched considerably well, but was tapped for four early runs to drop his first loss of the season, bringing his record to 3-1.  Most of Irvin's struggles started with command, a walked batter came around to score, and another base on balls would compound a Trojan rally in the fourth inning.  USC's starting pitcher Kyle Twomey successfully out-dueled his counterpart, pitching eight innings and allowing just two earned runs on five hits.  Irvin did not look like the same efficient pitcher that we've seen earlier in the season, but this outing can reasonably be chalked up as a mere setback in what proves to be a dominant freshman season for Irvin.
The big surprise for the Oregon offense this week came from Mitchell Tolman, whose big game on Saturday carried the Ducks to a win, and another good performance on Sunday finished off a good weekend at the plate.  After falling down 4-0 in the fourth inning, Tolman did all he could to answer back as he hooked a fly ball to deep right field that clunked off the foul pole to give Tolman his first career home run.
USC would answer right back with another manufactured run in the bottom half of the fifth inning to push their lead back up to four (5-1).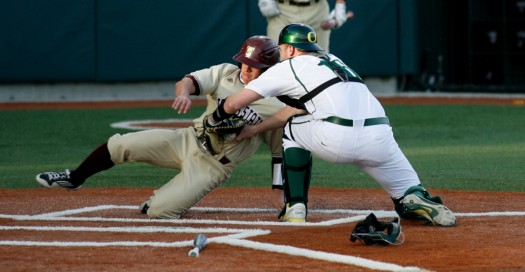 The Ducks rallied again in the top of the eighth inning against Twomey, as the bottom of the lineup started to make the Trojans sweat a bit in the late going.  Connor Hofmann led the inning off with an infield single, and J.J. Altobelli brought him home with a double to left field.  Oregon moved Altobelli over to third, and was able to bring the number nine hitter home to make the score 5-3, but the rally ended as the top of the lineup couldn't keep things going.
All in all, it was a good weekend for the Ducks, who showed plenty of resilience to open league play.  The pitching was solid all weekend, and the offense was, at the very least, not painful to watch by any means.  With a series with Arizona at PK Park looming, the Ducks can rest up with a much needed off week before getting back into conference play.