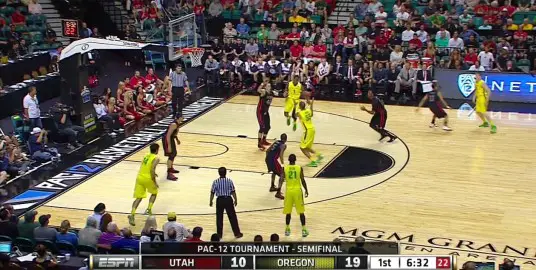 LAS VEGAS, Nev. – Utah ended Oregon's goal of winning the regular season conference championship a week ago in the final Pac-12 game in Salt Lake City with a stifling performance against a flat and uninspired Duck effort.
Last night in semifinal action from the MGM Grand Garden Arena, in No. 10-seed Utah's third game in three nights, Oregon got payback from the Utes 64-45, and advanced to tonight's championship game of the Pac-12 Tournament against No.1-seed UCLA.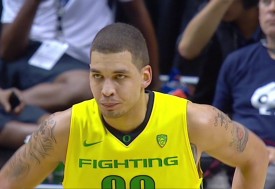 E.J. Singler, Oregon's decorated senior who provided leadership, 14 points, eight rebounds, and three steals to help the Ducks withstand a brief second-half Utah rally, said, "It's all about the team. When we play as a team, when we show passion and have fun, it just shows how good we can be."
Passion was in abundance with the players in the bright yellow uniforms, especially in the first half, when the Ducks powered their way to what would be an insurmountable lead.
Oregon (25-8) was led for the second straight night early in the game by Damyean Dotson. The silky-smooth shooting guard hit four of his first six shots as he scored 10 of his 14 points in the first half, when the Ducks pulled out to a 29-15 advantage.
Utah (15-18) won its last two final league games and twice in the tournament, upsetting No. 7-seed USC and No. 2-seed California, and momentum seemed to be with the Utes until last night, when they turned the ball over often and didn't shoot the ball the way they had in their four previous games.  They seemed tired early and were shut out on the offensive boards in the first half.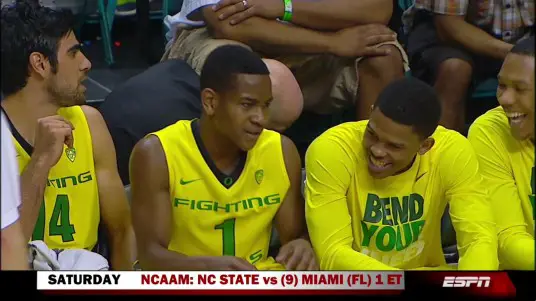 Utah coach Larry Krystkowiak said, "I don't think we wore down, I think they are a really good defensive team and they took us out of a lot of the stuff that we wanted to do."
Two players that hurt Oregon in their recent matchup were held in check.  Jarred DuBois had averaged 21 points in the two previous tourney games for Utah, but last night he didn't score. Jason Washburn, who dominated the inside against Oregon last week, came alive in the second half to score all 12 of his points. He was shut out in the first period when Oregon jumped out to its commanding lead.
Oregon started Dominic Artis for the second game in a row; the point guard who missed nine games because of injury struggled to find his way in any consistent fashion, and Johnathan Loyd steadied the Duck ship.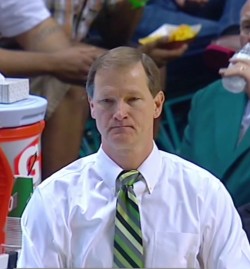 Coach Dana Altman said, "Now that D.A. is back, he's having a little hard time adjusting — he was out eight weeks. It's much harder for a freshman to bounce back after missing eight weeks, than it is maybe a senior or a junior. But he hit two key shots for us in the second half and he had four assists."
Altman also said, "Johnny's really picked things up for us and he's really taken charge of our team." Loyd, who prepped at nearby Bishop Gorman in Las Vegas, scored 10 points as he hit all eight of his free throws, had two assists, two steals, and no turnovers.
Two other Ducks played key roles in the semifinal victory, both off the bench. Carlos Emory scored 10 points and grabbed three rebounds, and Waverly Austin played well inside as he scored six points, including a nice hook shot, and he pulled down four boards.
Utah got back to within eight points with just under 10 minutes left in the game before Oregon made them pay from the foul line. The Ducks hit 15 of 19 for the game, all in the second half, including their final 10 in a row.
All the statistical advantages leaned to the Ducks as Oregon shot better from the field, the three-point line, and the free throw line. The Ducks had more rebounds, fewer turnovers, more points off turnovers, more points in the paint, more fast break points, more points from their bench, and more points from second-chance opportunities. No wonder the 19-point win felt like such a rout.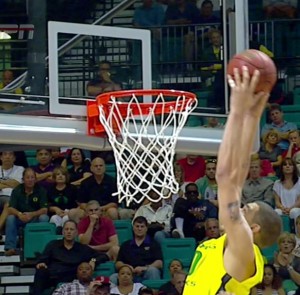 Oregon plays for the championship against UCLA (24-8). The Bruin locker room was somber instead of celebratory when the team and coaching staff learned that guard Jordan Adams, who scored 24 points to lead all scorers in their comeback 66-64 win against No. 4-seed Arizona in the first semifinal, broke a bone in his foot on the final play of the game and will miss the rest of the post-season.
The Ducks were unaware of Adams' injury until the post-game press conference.  Altman said, "I had no idea.  I'm sorry to hear that."
As the Ducks prepare for the championship game, Singler said, "I think we're starting to play like we were in January."   That's when the Ducks were 7-0 in Pac-12 play, 17-2 overall, and headed to a top-ten national ranking.
"It's going to take the same thing (tonight). We've got to show a lot of passion, play together, have fun, and good things will happen for us.  If we do that, I feel really good about our chances," Singler said.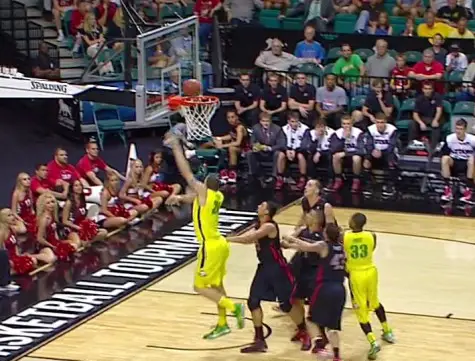 DUCK NOTES —
*After tonight's game, Singler became the 12th Duck to reach the 1,500 point mark.  He has 1501.  Singler is 10 points shy of Aaron Brooks (2003-07) for 11th all-time at UO.
*Oregon improved to 3-5 all-time in Pac-12 Tournament play.  The previous two times the Ducks won semifinal games, they went on to claim the championship.
*UO's 19-point win was the largest margin of victory in this year's tournament.
Follow Luke Roth on Twitter:  @luke_lukeroth
Luke Roth (Basketball Analyst) is a retired teacher and coach who has lived in Eugene since 1977. He coached high school basketball for 34 years, including 26 years as Sheldon HS girls varsity basketball coach (1984-2010). Luke taught at Sheldon for 30 years, and in the International HS at South and Sheldon, for 20 years. He taught journalism and advised the school newspaper at Sheldon during his stint there. He is a long-time Duck fan and UO alum (MA 1985). Luke has been married to his wife Catherine for 36 years with two grown children and one eight-year-old grandson. In retirement, Luke spends his time hiking, biking, gardening, writing, and playing the stand-up bass in the Sorrel Way Jam. Follow Luke on Twitter: @luke_lukeroth
The Comments Below are CLOSED, as we are moving to the OUR BELOVED DUCKS Forum!
Comments below articles are now closed as we have moved all conversation over to the free Our Beloved Ducks Forum. It has been a big success already with many more posts than what we could fit into the comments below articles.
The Our Beloved Ducks Forum is where we we discuss the article above and many more topics, as it is so much easier in a message board format over there.  At the free OBD forum we will be posting Oregon Sports article links, the daily Press Releases from the Athletic Department and the news coming out every day.
Be a part of the forum and stay caught up!  When you wish to post there, do know that you are protected just as you were on FishDuck. Join us on the free forum right here!
Our 33 rules at the free OBD Forum can be summarized to this: 1) be polite and respectful, 2) keep it clean, and 3) no reference of any kind to politics. Easy-peasy!
OBD Forum members….we got your back.  No Trolls Allowed!