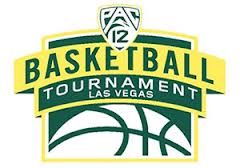 Going into the last week of the regular season Oregon was on top of the PAC-12 and poised to win it.  That was not to be, as the Ducks turned in back-to-back losses to Colorado and Utah last week, dropping Oregon into a 3-way tie for 2nd place in the PAC-12 and out of the AP Top 25 rankings.  While Oregon did receive 4 votes in this week's poll, this is not where fans and analysts alike expected Oregon to be at the end of the regular season.
With the losses, Oregon dropped to #3 in PAC-12 tournament seeding due to tie-breaker rules heading into the PAC-12 tournament.  The tournament, being held for the first time in Las Vegas, will run March 13-16.  All the games will be broadcast on either the PAC 12 Network or on ESPN, making it easy for us to all keep up with the team of our choice.
As a result of their #3 seed in the PAC-12 tournament, Oregon will not be playing on the first day of the tournament.  The Ducks will await the result of the Washington v. Washington State (March 13, 8:30, PAC 12 Network).  Regardless of the winner of that game, Oregon should not have a hard time beating them as they swept both teams earlier on in the season.  After that, there is a likely rematch with a Cal team that has had Oregon's number all season.  Let's hope that Oregon has found an answer to the Bear's in time to get back to their winning ways.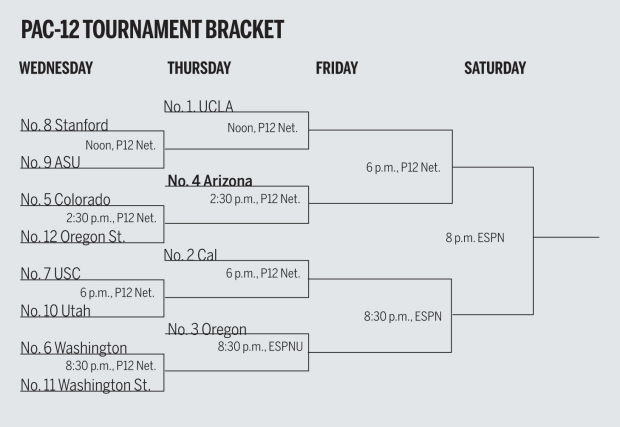 Here are the other first round games:
USC v. Utah (6:00 pm, PAC 12 Networks)

The winner of this game will face Cal on March 14th (6:00 pm, PAC 12 Networks)  and the winner of that game will then play the winner of Oregon v. Wash/WSU

Stanford v. ASU (12:00 pm, PAC 12 Networks)

Winner of this game will play UCLA on March 14th (12:00 pm, PAC 12 Networks).

Colorado v. Oregon State (2:30 pm, PAC 12 Networks)

The winner of this game will face Arizona on March 14th (2:30 pm, PAC 12 Networks) and will then face the winner of the UCLA v. Stanford/ASU.
The PAC 12 championship game will be held on March 15th at 8:00 pm and will be shown on ESPN.
The winner of the conference tournament automatically gains a entry to the tournament.  Oregon is currently projected on ESPN Bracketology as a #9 seed in the west regional, but a bad performance in the tournament could change that.  As little as a week ago, Oregon was projected as a #3-4 seed after going on a 5-1 run and with the return of star point guard Dominic Artis.  Dominic's minutes and production are way off mid-season, and Oregon will need to find an answer if they don't want this season to slip away.
Win out and their bracket standing is sure to improve.  Anything else, and the Ducks will be nearing bubble status.
Selection Sunday is on March 17th this year and we can hope that Oregon has impressed the committee enough with there level of play to warrant an at-large bid to the NCAA tournament , if they aren't the conference winner.  They have some quality wins against Arizona and UCLA, though Arizona has also dropped in stature a bit as the season progressed.
This year has been a confusing one for Oregon Men's Basketball as we've seen the team play like one of the best teams in the country but then do a role reversal and play badly in the next game. I still love my ducks though and think they are good enough this year to win the PAC 12 and then go on to win the NCAA tournament.
GO DUCKS!!!