LAS VEGAS, Nev. – First, Johnny Loyd made two critical free throws to tie the score and send the game into overtime.
Then, Arsalan Kazemi awakened from a two-and a-half-game funk in time to score 11 points and grab three rebounds in the extra period to lead the Ducks into the semifinals of the Pac-12 Tournament Wednesday night with a hard-fought 80-77 win over Washington (18-15).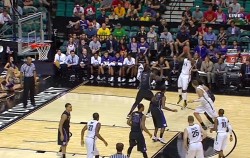 Oregon (24-8) let the league title slip from their grasp last week when they lost their final two regular season games on the road in two subpar performances. The puzzling losses lacked intensity and effort, but there would be no lack of energy or passion in this game. The third win over the Huskies this season certainly didn't come easily, as both teams battled for 45 minutes through seven ties and 14 lead changes before the Ducks took charge in overtime.
Coach Dana Altman said, "We knew we were going to have our hands full and we did. I thought we played really hard. We made some mistakes but we kept battling, and we hit our free throws which was really important down the stretch."
Oregon started strong behind the inside game of Tony Woods, who finished with a career high 19 points and eight rebounds, and Damyean Dotson's perimeter game. Dotson bounced back from his first scoreless performance of the season against Utah to hit five of eight shots and 13 points in the first half against the Huskies, before finishing with 17. Oregon led 39-34 at the half by shooting 50% from the field and 67% from beyond the arc.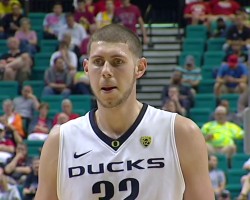 E.J. Singler contributed 16 points on a seven of ten shooting performance, despite being hounded all night by several UW defenders. Kazemi finished with 14 points and nine rebounds.
Washington was the aggressor in the second half and the Huskies took the lead 44-43 with 15:50 to play and behind the play of C.J. Wilcox with 12 points, and Scott Suggs with 10, controlled the game until Loyd tied the game 60-60 on a three-pointer with 4:13 left.
Loyd scored just five points for Oregon, but they all came in the final minutes of regulation to help extend the game. He came off the bench for the first time since replacing injured Dominic Artis at point guard in late January. Artis started for the first time since January 23, but got into early foul trouble and didn't appear yet to be ready for extended minutes.
"I'm just really proud of the guys," Altman said. "We had guys make big plays all night. Tony Woods had a career-high 19 points.  We kept going to him over and over again.  Johnny Loyd hit two free throws to put us into overtime, and I thought Arsalan's rebound put-back in overtime was maybe the game changing play."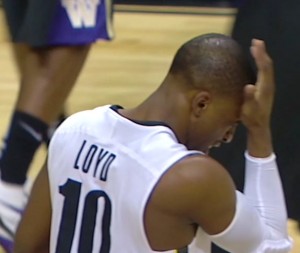 It was Loyd's defensive tenacity that helped keep the Ducks close in the second half. Coming back to play in his hometown, Loyd was instrumental in Oregon taking control of the extra period. The highlight of the night was Loyd's spot-on behind-the-back pass to Kazemi for a thundering dunk on a fast break with 2:42 left in OT, which gave Oregon a 72-65 advantage.
Kazemi wasn't on the court for most of the second half after struggling for his third straight game.  Altman said, "Arsalan just wasn't very sharp."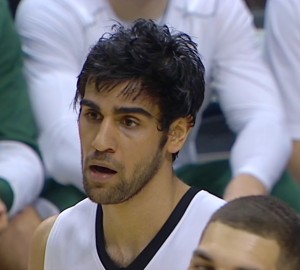 Kazemi said, "I was just hoping coach would give me a second chance. I knew if he put me back in, I wasn't going to slip." Altman, recently named the Pac-12 Conference John Wooden Coach of the Year, gave Kazemi the opportunity, and Oregon's leading rebounder didn't disappoint.
With the win, Oregon now faces Utah in tonight's semifinal action. The No. 10-seed Utes upset No. 2-seed California yesterday, coming from behind to beat the Bears in overtime. At the moment, the Utes, winners of four straight games, appear to be the hottest team in the conference.  Utah slammed the door shut on Oregon's title chances last Saturday with a win in Salt Lake City.  Tonight's 8:30 rematch gives the Ducks the chance to make up for that performance, and to advance to the tournament championship.

Altman knows it will be another dogfight.  Each game in the Pac-12 Tournament has been. Two of the four games yesterday went to overtime, and every game has been closely contested.  With their large traveling contingent, Utah will outnumber Duck fans by a large margin.
The other semifinal matches No. 1-seed UCLA vs. No. 4-seed Arizona at 6:00, which has the largest crowd-following in Vegas.  Count on the MGM Grand Garden Arena to be very, very red.
Follow Luke Roth on Twitter:  @luke_lukeroth
Luke Roth (Basketball Analyst) is a retired teacher and coach who has lived in Eugene since 1977. He coached high school basketball for 34 years, including 26 years as Sheldon HS girls varsity basketball coach (1984-2010). Luke taught at Sheldon for 30 years, and in the International HS at South and Sheldon, for 20 years. He taught journalism and advised the school newspaper at Sheldon during his stint there. He is a long-time Duck fan and UO alum (MA 1985). Luke has been married to his wife Catherine for 36 years with two grown children and one eight-year-old grandson. In retirement, Luke spends his time hiking, biking, gardening, writing, and playing the stand-up bass in the Sorrel Way Jam. Follow Luke on Twitter: @luke_lukeroth
Articles EVERY DAY Again on FishDuck!
Our focus is now on this wonderful Oregon Sports Community, and we will have at least a short article every day to begin the Duck Discussion.
You are also welcome to post other current events or items about Our Beloved Ducks in the comments as well.
Our 32 rules can be summarized to this: 1) be polite and respectful, 2) keep it clean, and 3) no reference of any kind to politics. Easy-peasy!
Take note though, there are NO STRIKES, NO WARNINGS, and NO SLACK given. Violate the rules and you are gone, as this is what the 99% who post superb comments want. (The Ban could be for weeks, months or permanent)
For the 1% out there who do not have impulse-control … as you write your comment that violates our rules, ask yourself, "is this worth getting banned over?"
FishDuck members….we got your back.  No Trolls Allowed!