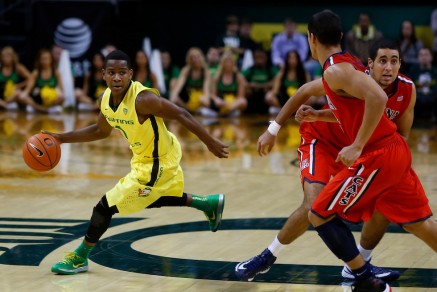 The stats were not overwhelming, and they may not be for the rest of the year.  Six points in 12 minutes won't blow your hair back . However, the return of freshman point guard Dominic Artis did do one thing for the Oregon Duck basketball team Thursday night, and that one thing may be the key to post-season success:
He brought a swagger back to the Ducks that left when he got injured.
Oregon was riding high, 17-2 on the season and a perfect 6-0 in conference play when Artis went down with his injury.  The Ducks stumbled along without him, compiling a 5-4 record, while struggling and out of sync the entire time.  There seemed to be a feeling that the team was lost, awaiting the return of their savior, as if Artis held the magic key.
Perhaps they were right.  After his return against Oregon State, even his coach was convinced that Artis brings something a little special to the table.
"Man, what a difference he made," UO coach Dana Altman told reporters after the game.  Interesting comments concerning a guy who had six points and no assists.  It seems that Artis' value lies somewhere beyond what the stat sheet says.
With two games remaining before the PAC-12 tournament in Las Vegas, Artis and the Ducks have a perfect opportunity to gain back the momentum that was lost when their point guard went down.  A road trip to the conference newcomers — Colorado and Utah — will help Artis get back his legs, and the team to re-insert him into the lineup, where Jonathan Loyd has filled in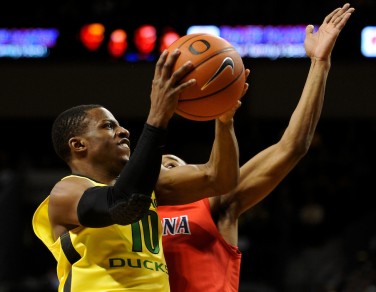 admirably, even if he has (by his own admission) sometimes fallen short.
There is still time for this to be a memorable season for the Ducks, despite the late conference slump.  Being able to stay atop the conference with one weekend remaining, with arguably your best player having missed nine games, is something to applaud.  Coach Dana Altman and his staff should be given an awful lot of credit for keeping this team together.  A wonderful mixture of freshman and seniors has blended nicely, giving the team youthful exuberance and veteran savvy.
In the heart of it all lies a 6′-1″ point guard who holds the season in his hands.
Artis is not a Kyrie Irving-like game breaker.  Instead, he is the embodiment of a leader; a young man who makes his team brim with confidence just by being on the floor.  The stage is now set with his return.
Let's hope his body holds up, his swag returns, and the team continues to ride the wave of emotion set off by his return.

Joel Gunderson grew up in a small town, where the only thing he did for fun was worship the Oregon Ducks. He later moved to Eugene, where he studied journalism at the U of O. After working in radio, he married the woman of his dreams and settled down. Joel now spends his days studying Journalism and the fine world of grammar, all the while worshiping the ground that Charles "Chip" Kelly walks on! Follow him on twitter @gundy85
For Greybeards … the EYES Have it!
Want to know a secret about web behavior? Readers don't like long stretches of sentences in comment posts without any breaks, and most readers don't even like long paragraphs.
Break it up! After every third sentence in your post…hit "enter" on your keyboard twice if your computer is a PC, or "return" twice if you have a Mac.
This creates natural breaks between scads of sentences, and so many of us thank you for making it easier on our "Greybeard-age" eyes!