With two games left in the season, and only seven days until the start of the PAC-12 Tournament, the regular season of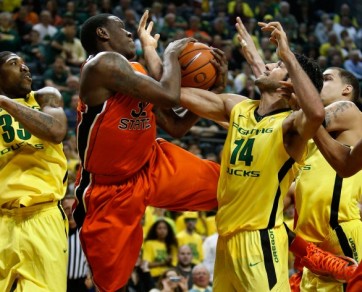 Oregon men's basketball is winding to a close.  The Ducks have made it this far with a record of 23-6, 12-4 in the PAC-12.  They are ranked #19 in the country — up five spots from last week — and once again occupy the first place position in the PAC-12.
The Ducks played only one game last week, which was against hated in-state rivals, the Oregon State Beavers.  In a game that would turn out to be filled with heart attack moments during the first half — and feature a Duck dominant second half — Oregon beat the Beavers 85-75.
This improved Oregon's record at Matthew Knight Arena to 17-2, which ties Oregon's single school record for wins at home.  This will have to stand for another season as the Ducks remaining two games are away, at Colorado and Utah respectively.
Up next for the Ducks are the Colorado Buffaloes, tomorrow (March 7) at Coors Events Center in Boulder at 9:00 PM ET, and will be available on ESPN 2 or WatchESPN.
Colorado, which has a record of 19-9, 9-7 in the PAC-12, is coming off a tough loss to California in which the Bears simply overwhelmed the Buffaloes.
Earlier in the season, on February 7, the Buffaloes dealt the Ducks their third loss in their mini three game losing streak by defeating them 48-47.  After defeating Oregon, Colorado went on to beat a #9 Arizona team, showing that they are not a team to be taken lightly.
The Buffaloes record truly does not show how good the team really is.  Tomorrow's game should be interesting to say the least as we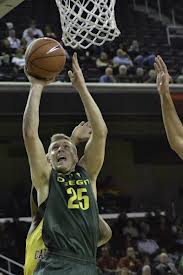 all look to see how Oregon's offense does against Colorado's defense, which had managed to keep the Ducks to their second lowest points of the season at 47 (the lowest points of the season were against Oregon's second loss to California on February 21st).  If the defense can keep the Buffaloes to some of their lowest points of the season as well, we should have a true fight on our hands.
Two days later Oregon faces Utah in the last game of the regular season.  The Ducks won handily in their first meeting on February 9 and should be able to do the same.  Utah is not having the greatest season and has a record of 11-17, 3-13 in the PAC-12.
Oregon goes to Utah to play the Utes at Jon M. Huntsman Center in Salt Lake City at 2:30 PM ET.
If Oregon wins this week's games, the Ducks should rise in the polls by at least 2-3 spots. That could mean that Oregon would be seeded fourth.
A good showing in the PAC-12 tournament could push the Ducks in the rankings just enough to have them seeded perhaps third or fourth. Win out and win the tournament and is a #2 seed in the offing?
What else could the team and Duck fans ask for?

Pat Pannu (Editor and Writer) is a recent graduate of the University of Oregon. Pat's been a crazy Duck fan since she moved to Oregon in early 2004 and has been 95% of all home games since the 2005 football season. She loves to talk about sports though those talks somehow always end in arguments. Pat loves to hear other's view of the sports and teams that she loves and can't wait to hear from you all. Follow her on twitter @patpannu
For Greybeards … the EYES Have it!
Want to know a secret about web behavior? Readers don't like long stretches of sentences in comment posts without any breaks, and most readers don't even like long paragraphs.
Break it up! After every third sentence in your post…hit "enter" on your keyboard twice if your computer is a PC, or "return" twice if you have a Mac.
This creates natural breaks between scads of sentences, and so many of us thank you for making it easier on our "Greybeard-age" eyes!