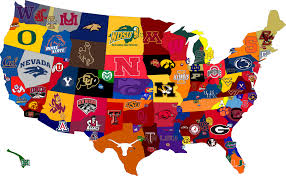 Spring football is here but I still can not shake the March Madness.  Seeing the playoff atmosphere for the college basketball scene gets me even more pumped for when the college football playoffs arrive!  Here is a full list of when practices begin and spring games will occur…something to help plan out your spring break.  Let's get into some news and thoughts for the week:
1.  Great to see Marcus Lattimore back on his feet.  NFL scouts cheered him on during his Pro Day.  Good to see such a great player recovering from such a severe injury and showing scouts he still has it.  Whoever picks up this guy will get a steal and probably a long time solution at the running back position.
2.  So Mike Gundy was nearly the head coach of Tennessee?  I am glad he stayed at Oklahoma State.  He has everything going for him at Oklahoma State.  Gundy can win 7 or 8 games and not have the athletic department all over his back.  Try to keep only winning 7 or 8 games at Tennessee and you will find yourself in the unemployment line.  It's good to see coaches showing some loyalty and not jumping at the next big pay raise.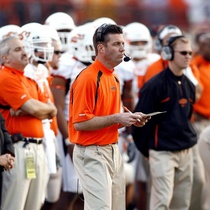 3.  You know it is slow pickings for college football news when Johnny Manziel leaving his Twitter account gets major attention.  I suppose it can definitely be something to discuss.  He seems to have been making the news for all the wrong reasons after winning the Heisman.  It is probably for the better he ends that Twitter account….for now.  It is cool that you can now follow your favorite teams, players, or coaches through social network sites, but sometimes having too much access is not a good thing.  It seems these days the accesss athletes have to social networks ends up getting them in serious trouble.  If I was a coach I would ban Twitter and anything else pertaining to social media that could make for a distraction for the team.  You never know when you will have a "loose cannon" posting tweets that could distract the team from the upcoming game.
Nothing really going on this week but the March Madness scene.  Bummer about the Ducks losing to Louisville.  With so many top teams left, I can only hope for Wichita State to win it all and become the Cinderella of the tournament.  Despite all the madness I will still be closely following how things are being handled in the football program at Oregon.  I am curious how the new coach will run the program and see if they even miss a beat with the "blur" offense.  Hopefully Chip Kelly keeps the attack mode style of coaching in the NFL.  The NFL needs that.  There should be some other interesting spring games, but we'll worry about that once they happened.  Gosh, I miss football already.  I guess Arena football will have to do…..for now.
NATIONAL NEWS:
1. Michigan ready for Bearcats.
2. Penn State not paying enough.
3. BCS buster ready to go.
4. Man down at USC.
5. Spurrier jabs at ESPN and USC.

Jeff Hostetler may not have won a Super Bowl with the Giants ( though his uncle of the same name did). He has been an obsessed college football fan living in Florida ever since the Gators beat FSU in the Sugar Bowl to earn the UF's first national championship.
Ever since Jeff has immersed himself in everything possible related to college football. He enjoys watching, writing, playing, and otherwise obsessing over all things football. A graduate of the University of Florida, he brings a perspective to FishDuck free of our extreme green & yellow homerism glasses to look at the current landscape of collegiate athletics.
Mr. FishDuck … You Simply Can't Handle MY Opinions!

Baloney. I want all opinions here as it enables us see the full spectrum of ideas and helps us to learn from others and modify our own views as a result. In fact, this is the only Duck website where you can safely share your full-spectrum views on Oregon Sports.
If there is a problem … it is with your behaviors, and not your opinion, even if unpopular. Be polite and courteous to others and you will be reciprocated, and consequently you'll have a tremendous experience on FishDuck.
The majority of our rules can be summarized to this: 1) be polite and respectful, 2) keep it clean for grandchildren reading, and 3) no reference to politics.
Easy-Peasy!