The Oregon Lacrosse team had undoubtedly their most invigorating game of the season this Monday at Papé field.  There were a total of ten ties and six lead changes throughout the match.  Oregon had a preview of this back and forth rallying on Saturday, but that was only the appetizer to yesteday's main course.  In the end, our Ducks came out of the evening with a victory against Vermont University after a triple overtime period.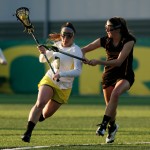 Throughout the game Oregon continued to set up their widespread offense to move the ball around and set up special plays.  A new play on the field this game was sending all the offensive players around the circle to behind the net, leaving two girls passing at the top of the twelve-meter.  After working around the defense for some time the two players up top would look for an isolation and then charge to goal.  When the score was 6-7 in Vermont's favor, the Ducks utilized this play to draw a free position shot.
As the match continued the Ducks never led by more than a point. When the score was tied at 11-11, defender Bridget Morrison caused a turnover and shot an incredible 35 yard floating shot that scored for the Ducks.  As a senior, this was the second goal of her career and a vital point for Oregon in the unpredictable game.  Shortly after this Oregon's senior goalie, Salliebeth Finnegan, had possession of the ball outside her crease.  She was powerfully marked by Vermont offense but maintained composure, allowing her to carry the ball around her side of the field until she found an open player.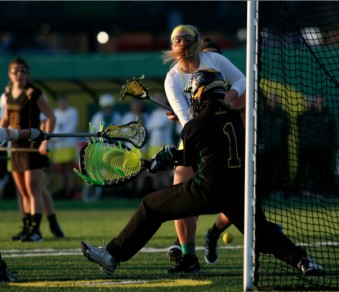 Some of Vermont's offensive plays came straight from the transition, where they would first go to goal and if there was a shot they would take it and look for the rebound.  This kept the Oregon defense on their feet with little time to set up, but also increased the amount of unsuccessful shots for Vermont.
For the last seven minutes of the game the score remained at 12-12, and brought the match into the first period of overtime. During the first half Jessica Roach scored for Vermont and the Ducks went into the second half of overtime with some catching up to do.  After two unsuccessful shots on goal and forty-five seconds left in the game, the Ducks called a timeout to ease the pressure and concentrate on the goals they needed to score. With twenty seconds to spare, Carly O'Connell came out firing but her shot went wide.  Shannon Propst went after the ball and maintained possession for the Ducks. This time they shot and scored, tying up the game once again.  That brought the game into an intense sudden victory period where neither team was able to score.  The third period of overtime finally ended the overwhelming game when Nikki Puszcz scored off of a free-position shot, winning it for the Ducks.