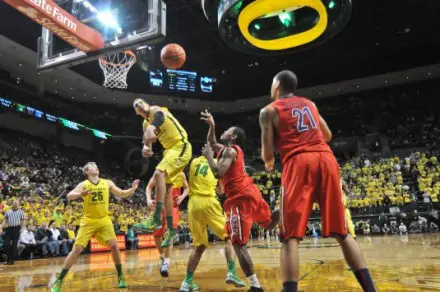 With Saturday's loss at Utah, Oregon is officially backing into the PAC-12 tournament, riding a two-game losing streak, and facing a mounting list of questions about where this team stands.
With a regular season conference title staring them right in the eye, Oregon laid down in the face of a challenge, falling to a lowly Utes team that is headed home for the offseason.
Coach Altman faces his biggest challenge as Oregon's leader.  Can he rally a team that was so close to the peak, only to trip and fall at the finish line?  Perhaps the challenge wouldn't be as tough if Oregon was the team that was supposed to finish strong and capture the title, but the Ducks were everyone's Cinderella; the consummate thorn in everyone's side that never went away.
Can a team that had no business being there, that was so close to capturing the elusive title, bounce back from the heartbreak of their last minute falter?
If they can't, this season will end in a heaping pile of flames.
Altman has been a master at making something out of practically nothing since he got to Eugene.  He has dealt with transfers, under achievers and malcontents.  He's taken a rag-tag squad and wrenched 20 wins out of them.  He's been to the CBI, the NIT and (presumably, this season) to the NCAA tournament.  He's transitioned to Matthew Knight Arena, won over boosters, and made most people forget the disappointment this program had become.
If he can rally this squad, make an run in the PAC-12 tourney, then make some noise in the Big Dance, it will be the best coaching job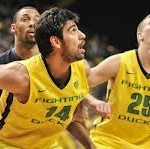 this school has ever seen; because make no mistake — these last two losses were absolutely deflating.
Heading into the weekend, with the possibility of a one-seed on the horizon, Oregon now heads to Vegas as a three-seed and needing to rebound to make something out of nothing.
This team, despite what was seen the last two games, can make it. They have the talent, the leadership, and — hopefully – the drive.
They got punched in the face…hard.  Now they need to prove their resilience.  Their backs are completely against the wall when it counts, because it's tournament time.  Good teams bounce back; pretenders stay down.  We are going to find out who these Oregon Ducks really are.

Joel Gunderson grew up in a small town, where the only thing he did for fun was worship the Oregon Ducks. He later moved to Eugene, where he studied journalism at the U of O. After working in radio, he married the woman of his dreams and settled down. Joel now spends his days studying Journalism and the fine world of grammar, all the while worshiping the ground that Charles "Chip" Kelly walks on! Follow him on twitter @gundy85
Please! No Politics…NOTHING Hinted, Implied, Linked…
My friends, I've had to delete six comments in the past six weeks that made some political reference, hint, link or implication from both sides of the political spectrum.
I delete all equally. Please see the rules page and read the rule below…
No. 12: No Politics and Religion: I do not allow even a hint of politics or subtopics pertaining to politics; no names, no terms, no links, not even a word or any references pertaining to anything political. Any of the aforementioned could initiate a political discussion, and veering in that direction at all will cause a site meltdown in today's acrimonious climate.
We do not allow anything negative directed at any religion, toward anyone in the LGBT community, or toward any race, gender or ethnic group. All of us in the categories above are fellow Ducks, and we want to hear all viewpoints.