SALT LAKE CITY, Utah – Jason Washburn threw the first punch.  His 15 first-half points left the Ducks shaken, dazed, and behind 44-30 at the break.  Then Jarred DuBois knocked the Ducks out.  His late, clutch shooting display helped the lowly Utes maintain their wire-to-wire lead and provided a monumental upset on the last day of the regular season. The inspired performance by the two Utah seniors in their last home game dashed No. 19 Oregon's Pac-12 title hopes in a decisive 72-62 victory Saturday afternoon.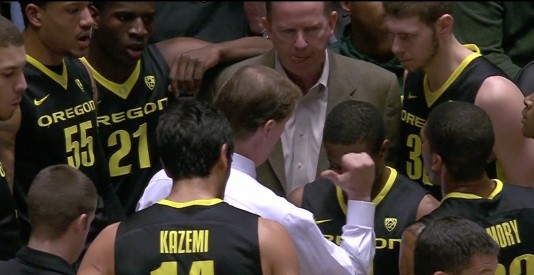 Jason Loveridge set the tone on Utah's first score of the game, giving a spirited indication of what the Ducks were in for when he slammed home an emphatic dunk to break Oregon's pressure defense.  Utah surged out to a 9-0 lead in the first minute-and-a-half of the game; one of two significant scoring runs in the first half that allowed Utah to control the contest's outcome. The second came after the Ducks had battled back to within six points at 34-28, when Utah then outscored Oregon 10-2 to close the half.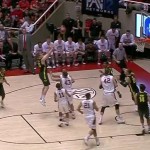 E.J. Singler bounced back from a poor performance against Colorado to lead Oregon.  He scored 21 points, grabbed seven rebounds, and tried to rally his teammates as he sensed the game slipping away, but the senior didn't get much help.  Tony Woods scored 13 points and blocked three shots, and Ben Carter came off the bench to spark a brief Duck first-half rally with six straight points.  In the second half, Singler's triple with 7:30 remaining pulled Oregon to within 60-54, but that was as close as the Ducks would come.  That is when DuBois took over the game for Utah, hitting three shots in the final minutes to finish with 15 points and end any Oregon title dreams.

For the second game in a row, Oregon's performance was puzzling. With so much riding on the outcome, the lethargy and uninspired performance by the league-leading Ducks was difficult to comprehend. Even when the effort was there to rally, Oregon missed point blank shots inside; and more disturbingly, for the second game in a row, missed a string of free throws that could have kept the Ducks in it.
Oregon's lack of energy was most apparent on defense. The Ducks gave up 44 first-half points to a team that averages 64 a game. Utah prides itself for working each shot possession as if it were gold, but on this day, it attacked Oregon and dominated the Ducks in the paint. Oregon is known around the conference as an excellent and tough defensive team, one that relies on help-side defense with good rotations.  Against the Utes, however, the Ducks were as leaky as Eugene's rainy season.
Utah outscored the Ducks 34-21 inside, and out-hustled and out-worked Oregon for 40 minutes. When a Ute would drive, he rarely met much resistance on his way to the hoop.  Utah shot a stunning 57% for the game, many on open layups.  In Eugene last month, Oregon out-rebounded the Utes by 22.  Yesterday, Utah controlled the boards 31-28, led by Washburn with 13.  Utah also scored 21 points off 15 Oregon turnovers.  Perhaps the most abnormal and telling statistic of all: the Ducks were held scoreless in transition fast break opportunities.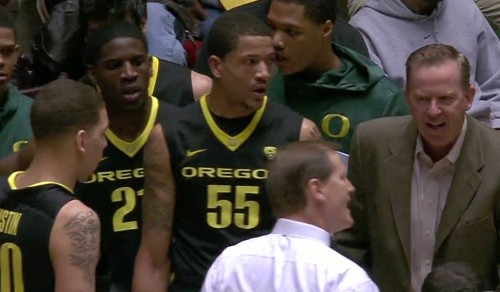 The Ducks looked fatigued and listless.  There was little communication on defense, and for the second consecutive contest, they certainly didn't resemble the team that had won 23 games.  The question must be asked.  How could the 10th-place Utes, playing for little more than celebrating their four seniors, have more energy and passion in this game than Oregon?  The Ducks have been in first place the entire season, and with a win, would have clinched their first conference title in 11 years.  There is no obvious explanation.  The question will be discussed by the Ducks and their fans for a long time.
Now the Ducks have until next week to contemplate what went so wrong on this final regular season road trip, when the chance to be league champions and secure the first such trophy for Oregon since 2002 slipped away. The Ducks play at 8:30 pm Thursday in the quarterfinals of the Pac-12 Tournament in Las Vegas, after slipping from the No. 1 seed to No. 3 with yesterday's loss. Oregon will play the winner of Wednesday's No. 6 Washington vs. No. 11 Washington State first-round match-up.
While the season certainly isn't over, the Ducks didn't do themselves any favors as far as reaching the NCAA Tournament, as the loss to Utah will be considered by selection officials to be a bad loss. Oregon will need to win a game or two in Las Vegas next week to feel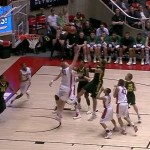 comfortable when the teams are announced on Selection Sunday.
The Ducks have proven before that they can bounce back. The men in green will need to completely shake off the Rocky Mountain Road-Trip K.O., get up off the canvas, and take advantage of the opportunity to fight again.
 Editor's Note:  Luke Roth will be covering the Ducks at the Pac-12 Tournament in Las Vegas. Follow him on Twitter: @luke_lukeroth
Luke Roth (Basketball Analyst) is a retired teacher and coach who has lived in Eugene since 1977. He coached high school basketball for 34 years, including 26 years as Sheldon HS girls varsity basketball coach (1984-2010). Luke taught at Sheldon for 30 years, and in the International HS at South and Sheldon, for 20 years. He taught journalism and advised the school newspaper at Sheldon during his stint there. He is a long-time Duck fan and UO alum (MA 1985). Luke has been married to his wife Catherine for 36 years with two grown children and one eight-year-old grandson. In retirement, Luke spends his time hiking, biking, gardening, writing, and playing the stand-up bass in the Sorrel Way Jam. Follow Luke on Twitter: @luke_lukeroth
Articles EVERY DAY Again on FishDuck!
Our focus is now on this wonderful Oregon Sports Community, and we will have at least a short article every day to begin the Duck Discussion.
You are also welcome to post other current events or items about Our Beloved Ducks in the comments as well.
Our 32 rules can be summarized to this: 1) be polite and respectful, 2) keep it clean, and 3) no reference of any kind to politics. Easy-peasy!
Take note though, there are NO STRIKES, NO WARNINGS, and NO SLACK given. Violate the rules and you are gone, as this is what the 99% who post superb comments want. (The Ban could be for weeks, months or permanent)
For the 1% out there who do not have impulse-control … as you write your comment that violates our rules, ask yourself, "is this worth getting banned over?"
FishDuck members….we got your back.  No Trolls Allowed!