Each year some players graduate and move on, while new players step onto the court at Matthew Knight Arena for the first time.  The people that are leaving have our gratitude for the year(s) they spent in the Oregon green and yellow, and our best wishes for the future.  Those returning or joining the team for the first time feel the weight of expectations on their shoulders as they work for the next six months until the new season starts.
A few players on Oregon's roster are almost guaranteed starters, barring (knock on wood) serious injury.  This includes underclassmen who were starters this year and those who got plenty of playing time off the bench.  Then there are the recruits who could work their way into the lineup depending on how they perform during the off-season.
First up, notable returning players:
Dominic Artis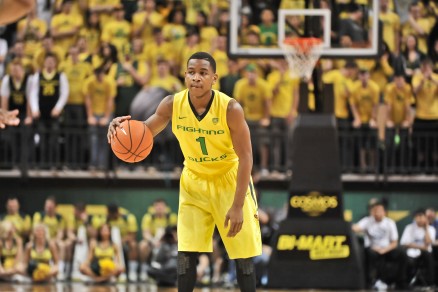 At 6-1 and 185 lbs., Artis played a huge role in most of Oregon's season.  With the exception of the month he missed with a foot injury, he was a steady force for the team.  Originally from San Francisco, Artis played his senior season at Findlay Prep in Henderson Nevada.  At Findley, he helped lead the school to a 32-1 record and an invitation to the ESPN National High School Invitational, where the Pilots won the title.   He received offers from UCLA, California, Georgia Tech, Memphis State, St. Johns and Florida State.  Artis originally committed to UCLA but eventually chose the Ducks over Bruins.
His first year at Oregon showcased his amazing talent and gave a preview of things to come.  He averaged 8.5 points, 2.2 rebounds, 3.2 assists and 1.5 steals in an average of 23.8 minutes per game.
Damyean Dotson
I doubt there is any Duck fan who does not know Damyean Dotson, especially after the spectacular 3-point shots he sunk in the NCAA
tournament.  It seemed at times like the 6-5, 202 pound Dotson was using the tournament to display his impressive shooting skills.
Dotson is from Houston, Texas, where he played prep basketball for Jack Yates High School.  As a senior, he averaged 21 points and 5 rebounds a game.  His team finished as the runner up in 4A state playoffs, and despite their loss in the final game it was a showcase for Dotson's talent.
This year for the Ducks, Dotson averaged 11.4 points, 3.5 rebounds, 0.9 assists and steals with 27.9 minutes played per game.
Johnathan Loyd 
Las Vegas, Nevada, native Johnathan Loyd made many Oregonians happy this year with his great play this year especially after he stepped in for Artis, when DA was hurt.  He played prep basketball for Bishop Gormon High School and led the school to 102 wins in his four seasons as a varsity starter.  Before choosing Oregon, Loyd also looked at George Washington, Northwestern, UCLA and Washington State.  Loyd is 5-8 and 165 lbs.
In this, his junior year at Oregon, Loyd averaged 5 points, 1.6 rebounds, 2.9 assists and 1.4 steals in an average of 22.1 minutes per game.
Ben Carter
In his first year at Oregon Carter did not make a huge impact, but when he did play he hinted at his true power. Originally from Las Vegas, Nevada, the 6-8, 219 pound Carter played at Bishop Gorman High School (the same school as Loyd).  This year at Oregon, he averaged 2.3 rebounds, .05 assists and 2.4 points in only 10.4 minutes per game.
Recruits - So Far
So far this year Oregon has seven commits in this year's recruiting class with offers to two players still out pending their decision.  Those commits include one 4 star player, one 3 star player and three ESPN top 100 commits.
One of the stars of Oregon's 2013 recruiting class is Jordan Bell of Long Beach, California.  He is a Rivals 4-star recruit who plays for Long Beach Polytechnic High School where he helped lead the Jackrabbits to 12-0 in league and 28-4 overall.  He averaged 13.6 points, 9.2 rebounds and 2.6 assists per game his senior year.
A.J Lapray, a 3 star recruit out of Sprague High School in Salem, Oregon, is also someone to look out for.  The other commits are twins Tyree and Tyrell Robinson from San Diego, California, Cristiano Felicio from Eugene, Oregon, Jallil Abdul-Bassit a transfer from North Idaho Community College, and Elgin Cook – another transfer from Milwaukee, Wisconsin, by way of Northwest Florida State Junior College.
With the 2013-2041 season 6 months away, it's hard to predict exactly who's going to start.  Some players are going to explode into the spotlight while others will undoubtably need time to adjust to the college game.  All we can do now is watch and see how the team develops during the off-season.
In other news, Oregon's head coach Dana Altman was named a national Coach of the Year and received the 2013 Jim Phelan Award.  Congrats to coach Altman for winning the award in his third year at Oregon, and we all hope that there are many more good things to come for both you and for the team.

Pat Pannu (Editor and Writer) is a recent graduate of the University of Oregon. Pat's been a crazy Duck fan since she moved to Oregon in early 2004 and has been 95% of all home games since the 2005 football season. She loves to talk about sports though those talks somehow always end in arguments. Pat loves to hear other's view of the sports and teams that she loves and can't wait to hear from you all. Follow her on twitter @patpannu
Announcements: FishDuck all WEEK and More!
We have decided to stay with our seven-day-a-week article schedule, as often we publish a short "Ponder-Point" to start a discussion in the comments.
Do Sign Up for our New Commenting System!
It takes a minute is all, and will allow us to continue our amazing discussions of Oregon Sports in a new format that will allow more flexibility over time as we add features.  Sign-up now!  
Our 29 rules about posting a comment at FishDuck can be summarized to this: 1) be polite and respectful, 2) keep it clean for the grandchildren reading, and 3) no reference to politics!
Easy-Peasy!