I am disappointed with coach Helfrich's decision to close practices, but it is fair that I give his side of it a bit more than I did in my earlier article.  I wish to emphasize that while I made a joke of how we were shut out whether it was Chip or Helf, the persona of MH is vastly different than that of Chip Kelly up close.  Coach Helfrich does not have the emanating personality that controls a room; by contrast he is unpretentious and was caring about us and the job we do…while he must do his.
He likes it
It was not stated as a reason, but it was very apparent that MH himself liked the closed practices because it removed a ton of other details and concerns from him and allowed him to focus on football.  I don't like it from my perspective, but I can see how I would if I were him.
Players like it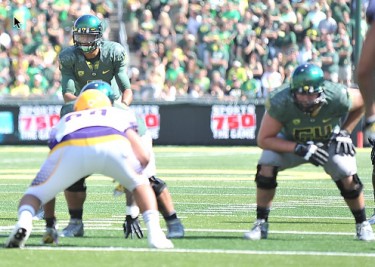 He made a point of several times that that players liked not being on display when they are working to improve.  Open practices allow an observer to report the player's error (while they are learning a play) on Twitter.  Many players do NOT like to read what is written about them when this is the result, and thus preferred closed practices.
We are Oregon
He stated that there ARE some things in practice that are not crucial from a play-calling strategic perspective, but those practice drills themselves are unique to us and we wish to retain our advantage for the short time that we can.  FishDuck.com is the only media to identify and explain the unusual game plans of Oregon, and he does not wish for anyone to see those until the games.  (FishDuck understands completely).
A Criminal Element
Oregon has hit the scene as big-time and thus has attracted the gambling and other criminal elements to our practices.  Eugene law enforcement agencies have stated that if Oregon has open practices to the public then certain individuals cannot be excluded, which opens Oregon up to new dangers that did not exist in the past.
Misinterpretation of Accurate Reports
Huh?  This is one that I never dreamed of…that we have had players transfer in the past because they or their parents did not understand the context of how their son was being written about.  A fictitious example?  We accurately write that WR "A" caught two passes in the scrimmage, but WR "B" caught TEN passes and looked great doing it, went up and pulled down some dandies, etc.  What was written was precisely correct, but what if the two caught by WR "A" was during "ball-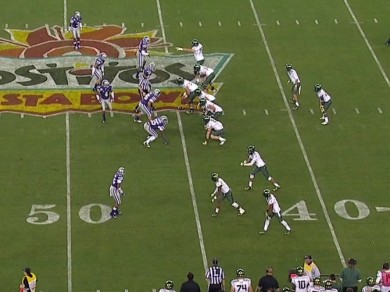 control" drill at the end of the game when we are trying to run the ball and run the clock down, and throw only to make the first downs?  What if WR "B" caught all of his during a two minute drill where we are purposely trying to throw the ball and score as we did before halftime in the Fiesta Bowl?  Parents of WR "A" are infuriated that their son is not being given the same chances as others, when it was the drill, not the intention to throw more or less to another WR.  Parents of the neglected WR get riled up, get their son riled up, and a transfer is in the making over the misinterpretation of an accurate, if incomplete, practice report.
I originally wished that we could go into just a few practices for a short time, but after hearing Mark's side (and learning a lot in the process), I am much more understanding of his position.  Let's give him a ton of credit for taking the time to TELL us his side, to set up this meeting and have a dialogue instead of stonewalling us with indifference and disrespect as we had in the past.
It shows me that while some things at Oregon are not going to change, the WAY we do some things are changing, and I wanted to give coach Helfrich all the credit and  respect that he gave to us.

Visit our Sister Site, the new Our Beloved Ducks Forum!
This new forum that is unlike anything you have ever seen between our civilized discussion, (NO TROLLS ALLOWED) complete directions available for easy usage and the delivery of all Oregon Sports News.  (That last part is a gradual transition up to Spring Football)
Go to the forum where we delve into today's article and so many more topics and the nuances within them over there.
We have a topic post begun over at the forum for today's article; it is a free site and offers more opportunity for the exchange of opinions on all the Oregon Sports subjects of the day. (And there are some very cool features!)
An introduction article about the new forum is right here.